Veal Chop Saltimbocca "Milanese Style"
You must be signed in to print this content
"Veal Chop Saltimbocca \"Milanese Style\""
Author:
Giada De Laurentiis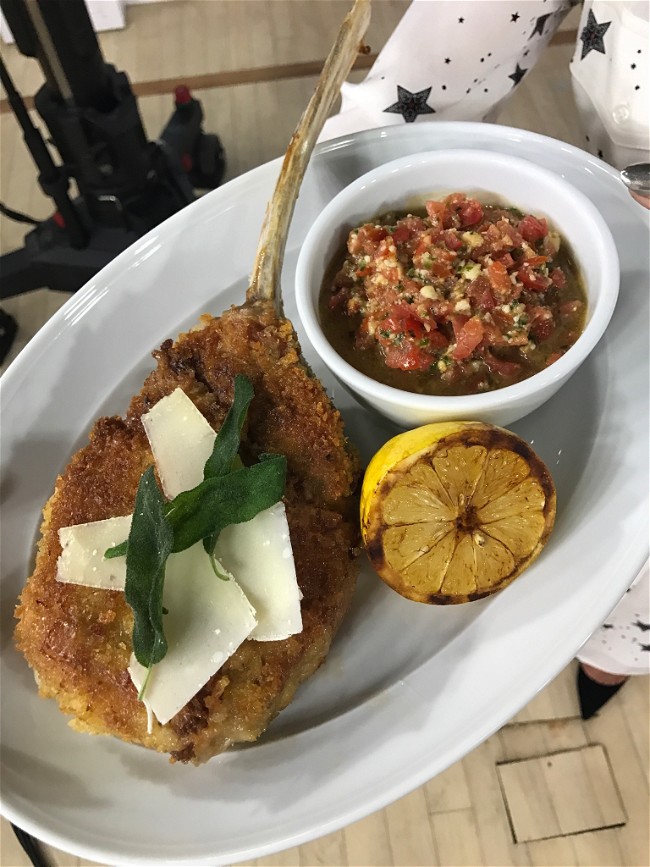 Ingredients
One 12-ounce bone-in veal rib chop
5 thin slices Fontina cheese (about 1 ounce total)
6 small sage leaves
4 thin slices prosciutto
1/2 cup flour
2 eggs (beaten)
3/4 cup panko breadcrumbs
3/4 teaspoon kosher salt (divided)
1/4 teaspoon black pepper
1/3 cup extra virgin olive oil
Parmesan shavings (if desired)
Fried sage (if desired)
Grilled lemon (if desired)
Instructions
Preheat the oven to 400°F.
Using a sharp thin knife, cut a slit into the flesh side of the veal chop almost to the bone. With your hand placing pressure on the top of the chop, move the knife in a slicing motion to form a 3-inch pocket in the chop. Cover the chop with a piece of plastic wrap. Using the flat side of a meat mallet or a small heavy skillet, gently pound the chop until it is about 1/3-inch thick. Remove the plastic wrap and discard.
Stuff one piece of the fontina cheese into the pocket of veal and close the meat around it. On one side of the chop, place 3 small sage leaves on the meat. Cover the sage leaves with 2 pieces of cheese and follow that it with 2 pieces of prosciutto. Turn the chop over and repeat on the other side.
Place the flour, egg and breadcrumbs in 3 separate shallow dishes and season each of them with 1/4 teaspoon of the salt. Season the flour with the pepper. Dredge both sides of the wrapped veal chop in the flour and shake off the excess. Then place the chop into the egg, and then into the panko packing the breadcrumbs on to the chop to help them stick.
In a medium skillet, heat the olive oil over medium high heat. When the oil is hot, add the breaded chop and cook for about 2 minutes or until the breadcrumbs on the first side are golden brown. Using tongs or a spatula, carefully flip the chop and continue to cook until the other side is golden brown as well. Remove the chop to a baking tray and place in the preheated oven for about 8 to 10 minutes until cooked to 155°F. Allow the veal to rest for 5 minutes before serving.
Serve topped with Parmesan shavings and fried sage along with a grilled lemon on the side if desired.
Nutrition
Amount/Serving
% Daily Value
Carbs

41 grams

Protein

50 grams

Fat

68 grams

Saturated Fat

18 grams

Cholesterol

325 milligrams

Sodium

1465 milligrams

Fiber

2 grams

Sugar

2 grams