Giada's Braised Turkey Braciole
You must be signed in to print this content
Giada's Braised Turkey Braciole
Author:
Giada De Laurentiis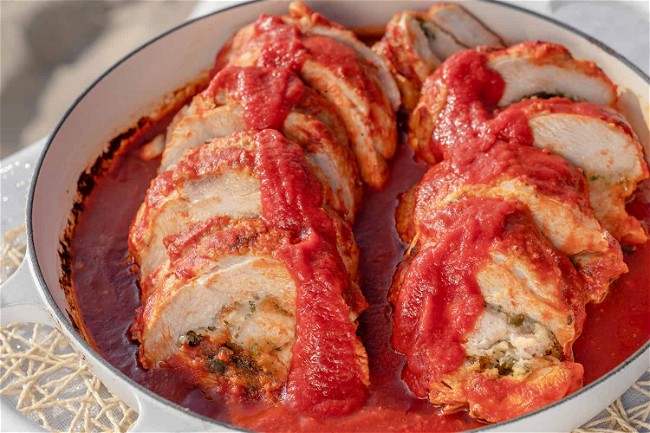 Ingredients
3/4 cup breadcrumbs
1/2 cup freshly grated Parmesan cheese
1/3 cup chopped fresh Italian parsley
2 1/4 teaspoons kosher salt
Two 2.5-pound boneless turkey breast halves (butterflied and pounded slightly)
6 slices provolone cheese
2 cloves garlic (smashed and peeled)
1 cup dry white wine
2 sprigs fresh basil
Instructions
This recipe originated on Giada's Holiday Handbook. Episode: Family and Friends Thanksgiving.
Preheat the oven to 400 degrees F.
In a medium bowl, combine the breadcrumbs, olives, Parmesan cheese, capers, parsley, 2 tablespoons of the olive oil and 1/4 teaspoon of the salt.
Lay the turkey breasts flat on a work surface. Season the insides evenly with 1 teaspoon salt. Place 3 slices of cheese down the center of each breast. Sprinkle the breadcrumb mixture evenly over the breasts. Beginning at the end without the skin, begin to roll the turkey breasts up so that they resemble an unstuffed breast. Tie the breasts in 3 places with butchers twine. Season the outsides evenly with the remaining teaspoon of salt.
Heat a medium ovenproof braising pan over medium-high heat. Add the remaining olive oil to the pan and heat another minute. Add the turkey breasts skin-side down to the pan and cook, undisturbed, until a deep golden brown, 4 to 5 minutes. Flip the breasts and cook an additional 3 minutes to brown the other side. Remove the breasts to a plate.
To the pan, add the garlic and cook for 2 minutes. Deglaze with the white wine and stir up all the brown bits from the bottom of the pan using a wooden spoon. Bring to a simmer. Stir in the tomato puree and nestle in the basil. Return to a simmer and add the breasts back to the pan. Cover the pan with the lid and place in the oven until the internal temperature reaches about 145 degrees F, about 30 minutes. Uncover the pan and return to the oven until it reaches 160 degrees F, an additional 15 minutes. Allow the turkey to rest in the pan for 15 minutes before slicing and serving with the sauce.
Nutrition
Amount/Serving
% Daily Value
Carbs

17 grams

Protein

70 grams

Fat

18 grams

Saturated Fat

5 grams

Cholesterol

168 milligrams

Sodium

1761 milligrams

Fiber

2 grams

Sugar

6 grams