You must be signed in to print this content
Author:
Giada De Laurentiis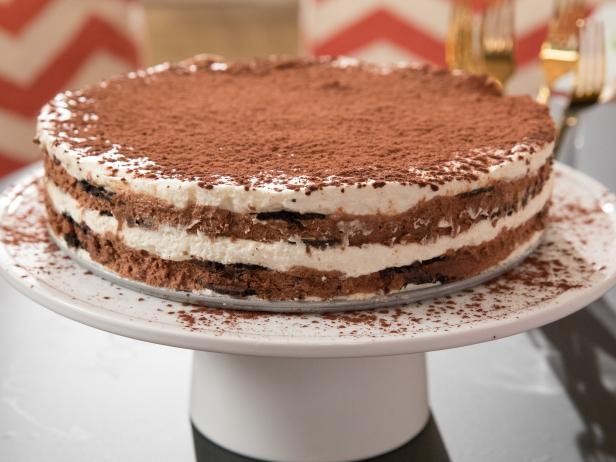 Ingredients
1/2 cup bittersweet chocolate chips
2 teaspoons instant espresso powder
1 pint 2 cups heavy cream, chilled
8 ounces about 1 cup mascarpone, chilled
1/3 cup sugar
2 tablespoons sweet Marsala wine
1/4 teaspoon kosher salt
55 chocolate wafer cookies (about 1 1/2 nine-ounce boxes)
Unsweetened cocoa powder (for dusting)
Instructions
This recipe originally appeared on Giada's Holiday Handbook. Episode: Chicken and Pie Party.
Special equipment: a 9-inch springform pan
Combine the chocolate chips and espresso powder in a medium bowl. Place the bowl over a snug-fitting saucepan with 2 inches of simmering water. Cook, stirring often with a rubber spatula, until the chocolate is just melted. Remove from the heat and let cool slightly.
In a large bowl, combine the cream, mascarpone, sugar, Marsala and salt. Using a hand-held mixer, beat on high speed until medium-soft peaks form, about 8 minutes. Remove one-third of the whipped cream to the bowl with the cooled chocolate and quickly fold it in with a rubber spatula until fully combined.
Line the bottom of a 9-inch springform pan with 11 wafer cookies. Spoon one-third of the white cream over the cookies and spread evenly with an offset spatula. Arrange another layer of cookies, followed by half of the chocolate cream. Repeat the layers. Finish the cake with a final layer of cookies, followed by the remaining white cream -- there will be five layers of cookies, three of white cream and two of chocolate cream. Cover the cake and refrigerate for at least 6 hours or overnight. Serve with a dusting of cocoa powder.