You must be signed in to print this content
Author:
Giada De Laurentiis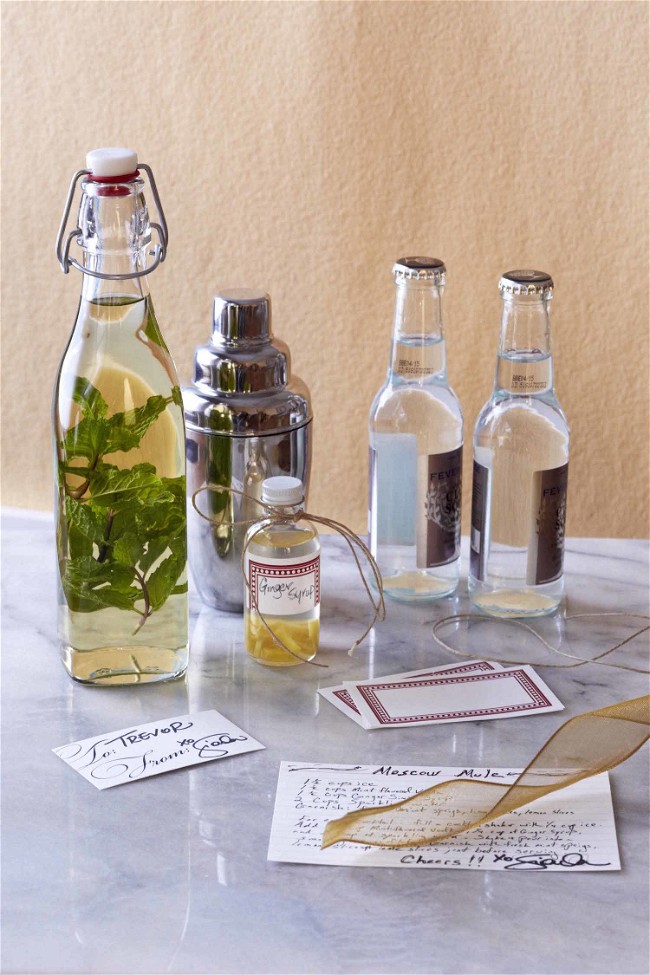 Ingredients
1 1/2 cups ice
1 1/2 cups Mint-Flavored Vodka (recipe follows)
1/2 cups Ginger Simple Syrup (recipe follows)
2 cups sparkling water

For the Garnish:

Fresh mint sprigs
Lime slices
Lemon slices

For the Mint Flavored Vodka:

2 large bunches fresh mint
1 750-ml bottle vodka

For the Ginger Simple Syrup:

1 cup sugar
1 cup water
1 3-inch piece of fresh ginger, peeled and
chopped
Instructions
For each cocktail: Fill a cocktail shaker with 1/4 cup of ice. Add 1/4 cup of mint-flavored vodka, 1/4 cup ginger syrup, and 1/3 cup of sparkling water. Shake and pour into a tall glass or flute. Garnish with fresh mint sprigs, lemon slices, and lime slices just before serving.
For the Mint-Flavored Vodka: Place the mint in a 2-quart pitcher. Pour the vodka over the mint and cover with plastic wrap. Allow the mixture to stand for at least 3 days at room temperature. Remove the mint and discard. Makes 3 cups.
For the Ginger Simple Syrup: In a small saucepan, combine the sugar, water, and ginger over medium heat. Bring to a boil, reduce the heat, and simmer for 5 minutes, stirring occasionally, until the sugar has dissolved. Remove the pan from the heat and allow the syrup to cool, about 20 minutes. Strain before using. Makes 1 1/2 cups.