Here's How To Perfectly Pair Pasta & Sauce
You must be signed in to print this content
Not all pasta shapes were created equal! Here's how to pair pasta shapes with their most complimentary sauces.
All pasta shapes exist for a specific reason and purpose - and that purpose is generally how they're intended to be eaten! Every pasta shape brings its own uses to the table (literally) and here's how to ensure you're getting the most bang for your bite.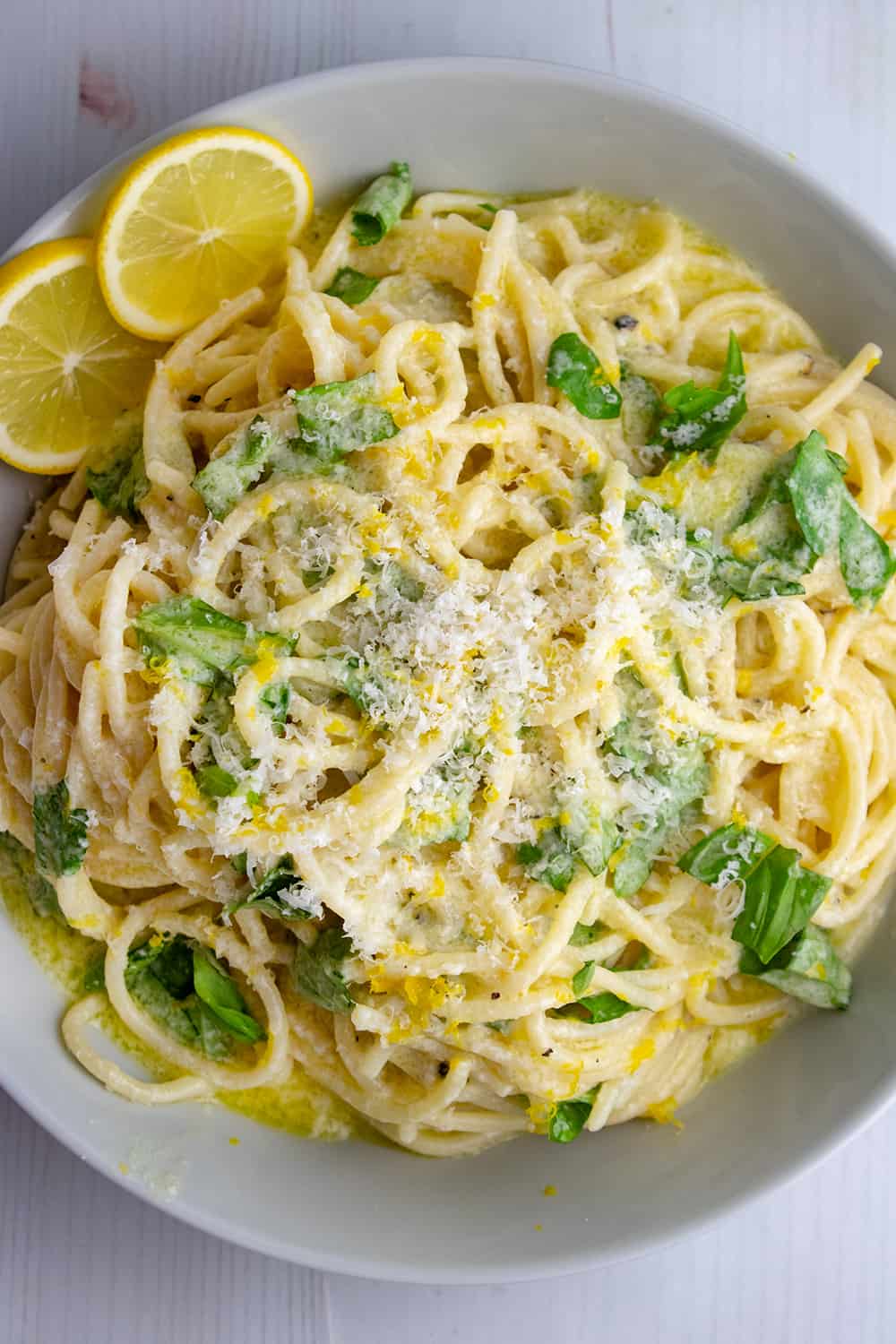 Long & Skinny Pasta
(Spaghetti, Bucatini, Spaghettini, Fusilli Lunghi, Angel Hair)
Thinner pastas:
Angel Hair, Spaghettini
Uses:
Very light sauces and bright flavors, like
checca
. Heavy sauces, even a simple tomato sauce, will overwhelm the thin noodles and potentially overcook the thin noodles very quickly. 
Thicker pastas:
Spaghetti, Fusilli Lunghi, Bucatini
Uses:
Tomato sauce like
simple pomodoro
, light cream sauces like
lemon spaghetti
, or light sauces with finely chopped or small ingredients like
marinated cherry tomato pasta
. Reserve heavier, creamier sauces for thicker and wider pasta shapes.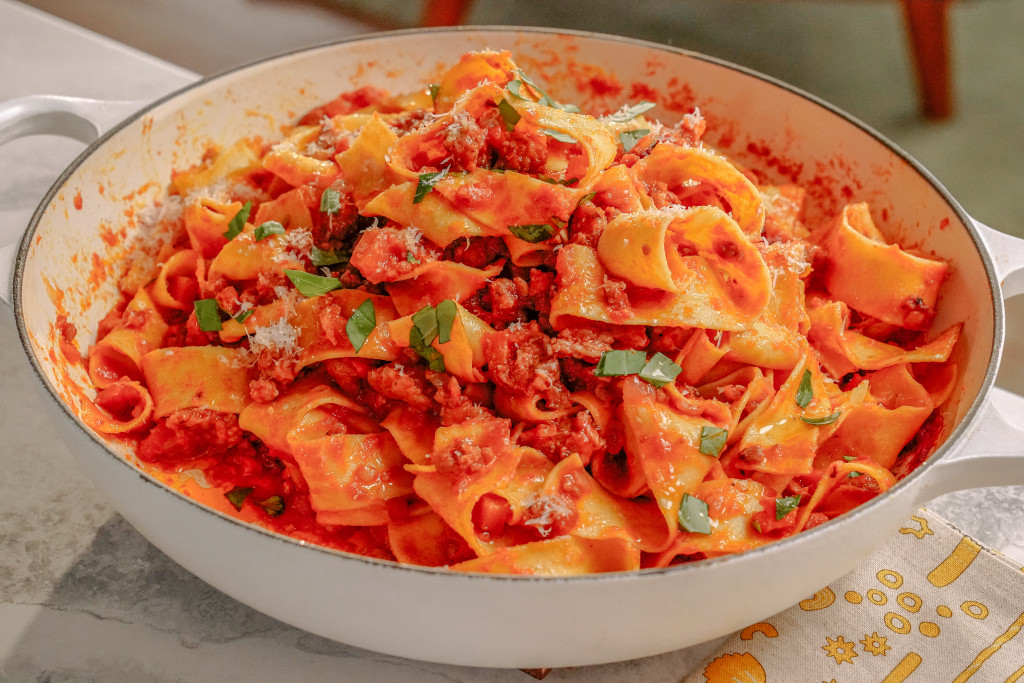 Flat And Wide Pasta
(Fettuccine, Linguine, Tagliatelle, Pappardelle, Lasagne, Manfredi Lunghi)
Thinner pastas: Linguine, Fettuccine, Tagliatelle
Uses
: Creamy sauces like
alfredo
, tomato sauces, pastas with light proteins such as
linguine with walnuts and anchovy
,
linguine with shrimp and asparagus
, and
crab and cherry tomato fettuccine
. 
Wider pastas:
Pappardelle, Lasagne, Manfredi Lunghi
Uses:
Hefty sauces, ragus such as
Bolognese
or
sausage ragu
, rich sauces such as
Pesto alla Genovese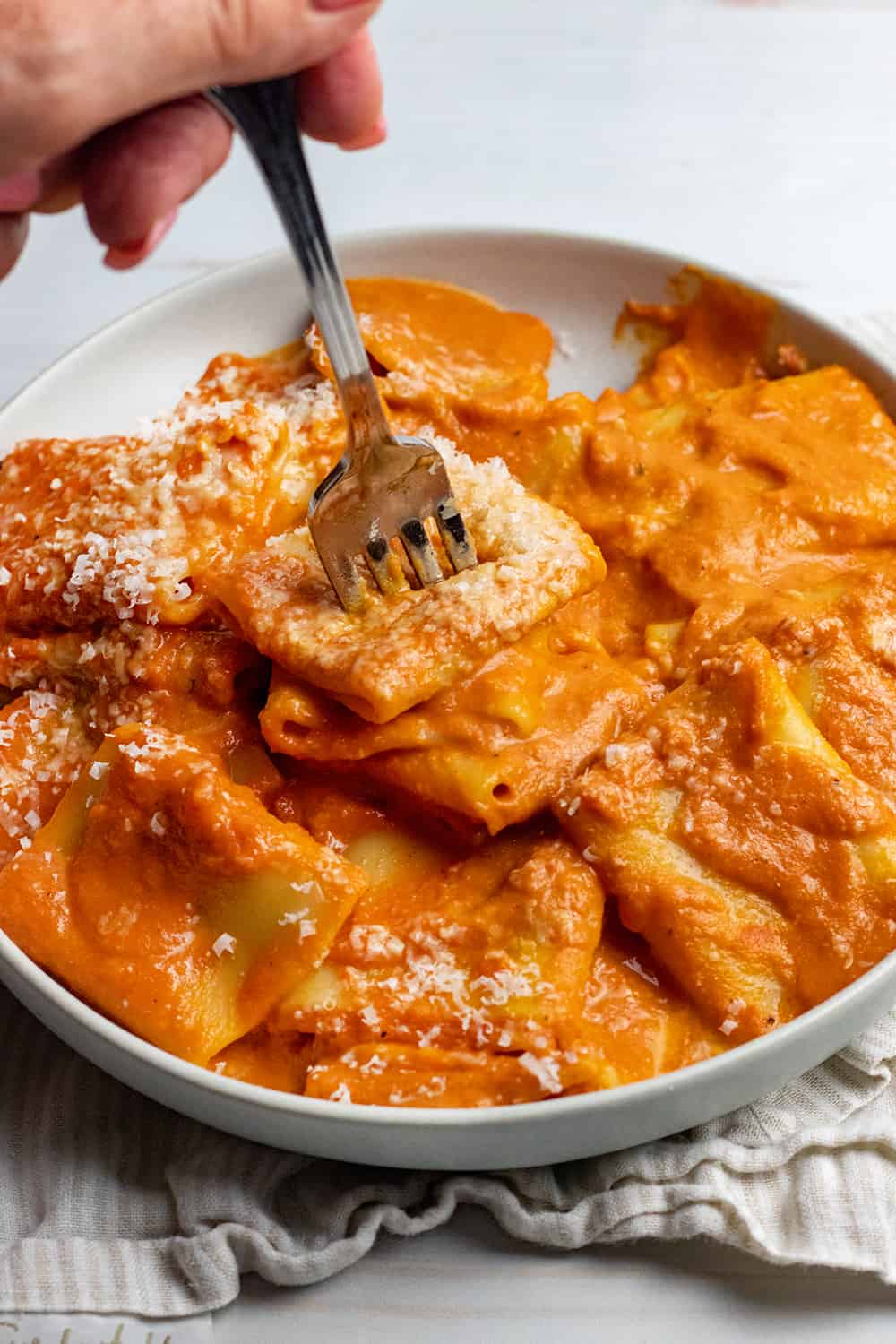 Short, Tubular Pasta
(Penne, Rigatoni, Paccheri, Elicoidali, Ziti Corti, Mezze Millerighe, and more!)
Uses:
Bolognese
and ragus with ingredients that can get caught in the hollow centers for a perfect bite, like
rigatoni with pork ragout
. Baked pastas such as Giada's
baked penne with roasted vegetables
, or
baked rigatoni with sausage
. 
Short, Curved Pasta
(Farfalle ("bow-tie"), Orecchiette, Cappelletti, Fusilli, Fusilli Corti, Nodi Marini, Fiorentini, Eliche Grandi, Strozzapreti and more!)
Uses: Pasta salads such as Romesco Pasta Salad with Burrata, Creamy Pasta Salad and more. Hot pasta dishes with small ingredients, like Giada's pasta with mini meatballs, or sausage and sun-dried tomato pasta - recipes that have individually chopped ingredients than actual sauce.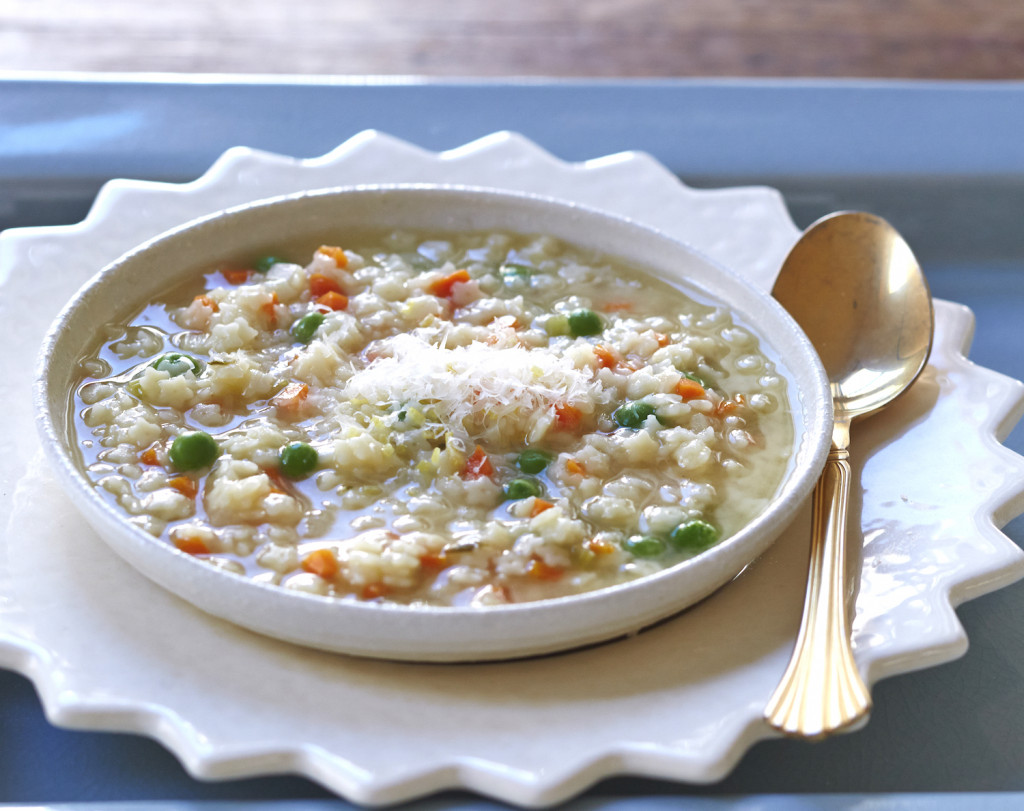 Tiny Pasta
(Orzo, Pastina, Ditaloni, Fregola, Elbow Noodles, Gnochetti Napoletani)
Uses: Brothy soups with chopped ingredients, like Italian Wedding Soup and comforting Pastina Soup. Orzo in particular is often cooked in similar methods to rice, like Giada's one-pot creamy orzo, or orzo-stuffed peppers. Avoid cooking these pasta shapes with heavy sauces that they could get lost in.