You must be signed in to print this content
Author:
Giada De Laurentiis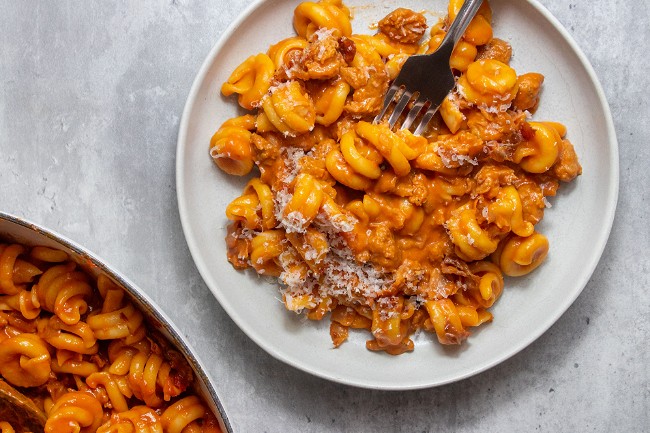 Ingredients
4 large egg yolks
1/4 pound diced pancetta
1 tablespoon olive oil
1 pound sweet Italian sausage, casing removed
2 shallots, diced
3 cloves garlic, smashed and peeled
1/4 teaspoon kosher salt
Instructions
In a small bowl, combine the egg yolks, parmesan and pecorino cheeses. Stir together with a rubber spatula. Set aside.
Bring a large pot of water to a boil over high heat. Season the water generously with salt.
Meanwhile, add the pancetta and 1 tablespoon olive oil to a large skillet. Place over medium heat and cook, stirring often until the pancetta is brown and crispy, about 5 minutes. Using a slotted spoon, remove the pancetta to a plate. To the hot pan with the pancetta fat add the Italian sausage. Cook the sausage, breaking it into small pieces with the back of wooden spoon, until the sausage is lightly browned and cooked through, about 7 minutes. Add the shallots, garlic and salt to the pan and cook until soft and fragrant, another 3 minutes. Add the passata and Calabrian chili paste. Stir to combine. Simmer the sauce for 10 minutes to allow the flavors to marry.
Meanwhile, add the pasta to the boiling water and cook until just barely al dente, about 11 minutes. Drain the pasta reserving 1 cup of pasta water.
Add the cooked pasta to the sauce along with 1/2 cup pasta water. Toss and stir to coat the pasta in the sauce and finish cooking the pasta. You may need to add an additional 1/4 cup pasta water if the sauce gets to thick. Temper the egg mixture with 1/4 cup pasta water, stirring constantly to prevent scrambling. When the pasta is al dente and coated in the sauce, remove the pan from the heat. Quickly stir in the egg yolk mixture and the pancetta, tossing and stirring until the sauce is creamy, glossy and clings to the pasta. Serve with additional cheese if desired.