Giada's Thanksgiving Menu For 2019: Go Big Or Go Home
You must be signed in to print this content
If there's any meal to go big with, it's Thanksgiving- and Giada's Thanksgiving menu for 2019 is all about decadence.
If you ask anyone what the biggest and most important meal of the year is, chances are they'll answer with one word: Thanksgiving. While we're all about keeping things easy, why not really bring it home with some seriously decadent flavors? From a crispy-skinned turkey loaded with truffle to one of our favorite Thanksgiving desserts
ever, 
we put our heads together with Giada to create a meal that feels all-out fabulous, but isn't actually all that difficult to get on the table. We're talking make-ahead dessert, a turkey that only takes an hour and a half in the oven (seriously!) and side dishes that look seriously impressive. Giada's Thanksgiving menu for 2019 is all about big flavor and decadence, but don't worry - it's secretly all pretty easy to pull off!
---

This appetizer falls so perfectly in theme with this go-big menu: it requires such minimal make-ahead prep work, but the lump crab really sets the tone for a decadent and impressive meal ahead. Bake off the bread ahead of time, and you can mix up the topping hours ahead and let it hangout covered up in the fridge. When guests arrive, all you need to do is add a generous scoop to each crostini. Easy as that!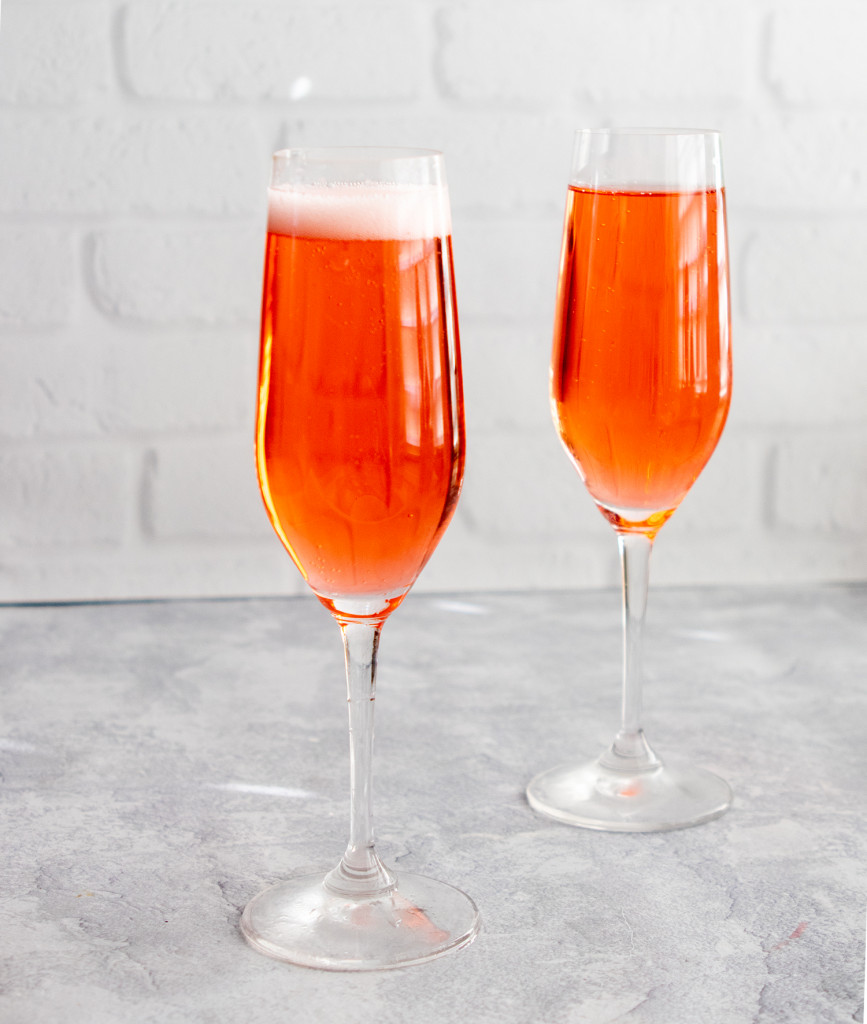 We love a good cocktail hour while the main meal finishes up in the kitchen, and this brightly-hued sipper couldn't be quicker to mix up. It pairs perfectly with the crab crostini, and easy as that, you've got an impressive aperitivo and appetizer pairing that everyone will be raving about.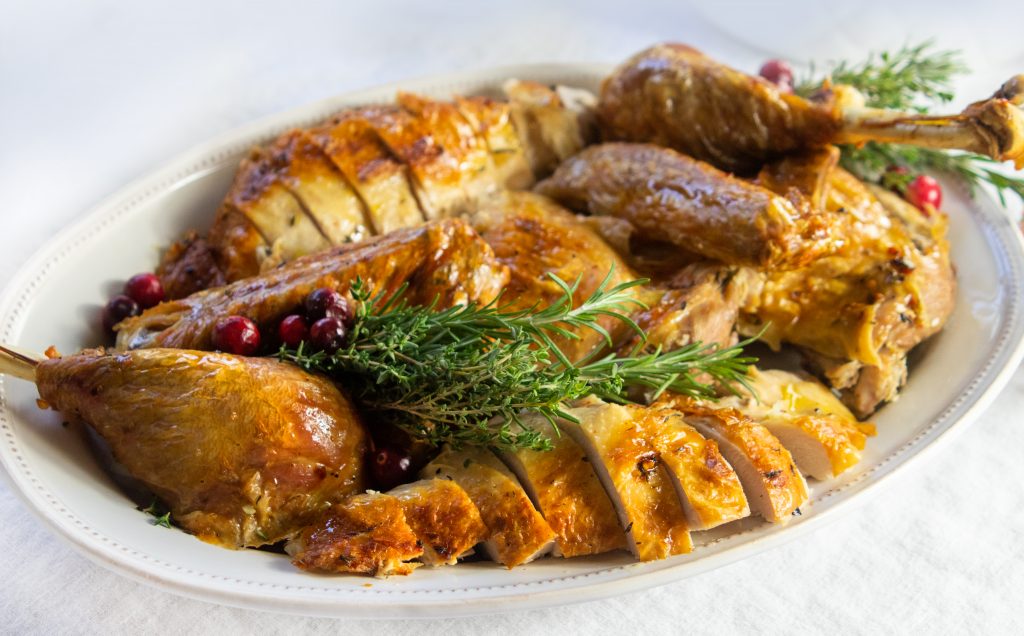 If you're looking for that wow-factor in a Thanksgiving turkey, don't look any further - not only is this bird super easy and fuss-free to cook, but it has a fantastic umami flavor from black truffle salt and truffle butter. What makes this turkey so easy is that it's spatchcocked - basically, you cut out the backbone which allows you to cook the turkey almost flat (you can ask the butcher to do this for you - but if you have a good pair of kitchen shears, you can conquer it yourself!). By cooking the turkey this way, it cooks more quickly and evenly... plus there's more skin being exposed to get crispy-crackly. Forget cooking your bird for 3 to 4 hours - this method literally cuts it in half. Dry brine the bird a day or two in advance, so that on t he day of, all you have to worry about is throwing it in the oven.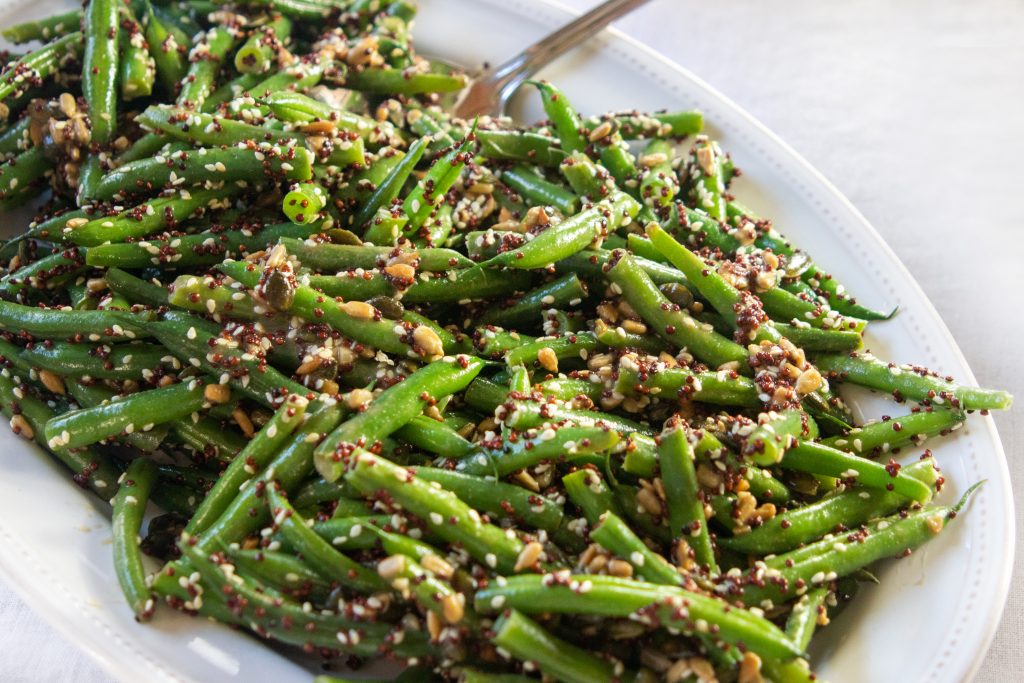 Green beans have long earned their place at the Thanksgiving table, but why not mix things up a bit? This recipe uses crunchy popped quinoa, pepitas and sunflower seeds to give the green beans lots of great crunch and texture. They're served up chilled, so you can prepare everything in advance and toss it all together when it's time to serve up. It's a great dish to make to utilize a traditional Thanksgiving side, but amped up to something super interesting (and all Thanksgiving plates could use some extra crunch!).
Sweet and Salty Mashed Potatoes are the best of both worlds - creamy Yukon gold potatoes, sweet potatoes, and a crunchy topping of crispy prosciutto. Something for everyone!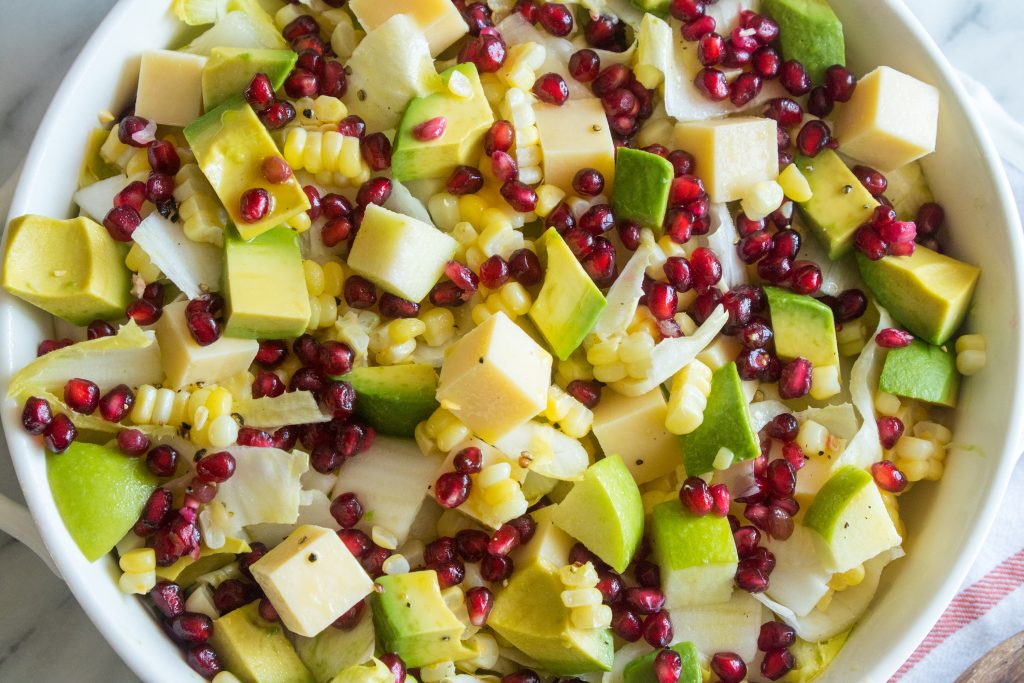 Aunt Raffy's salad may be titled for the holidays, but whenever we're making a special meal, it's always at the top of our list for a salad. Loaded with avocado, creamy cheese, sweet corn, pomegranate seeds and beyond, it's definitely not your average "side salad" - it's a little more special and over the top. Even better - other than chopping up some apples and avocado (a task easily assigned to any willing dinner guests) you can prep it all in advance. Perfectly thematic for our go-big menu!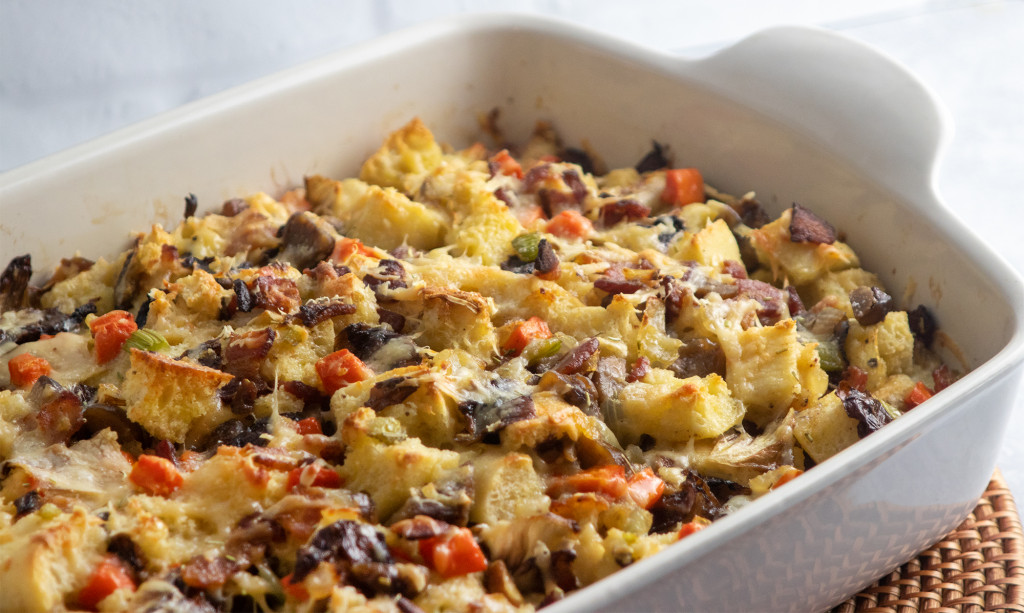 One of the most quintessential sides of Thanksgiving, stuffing is one of those dishes that's hard for people to agree upon. We studded this ciabatta-based version with lots of bacon, a classic mirepoix of veggies, seasonal chestnuts, lots of parm, and the twist? Radicchio! It adds some fun color to an otherwise generally brown dish, and lends even more great flavor to the stuffing.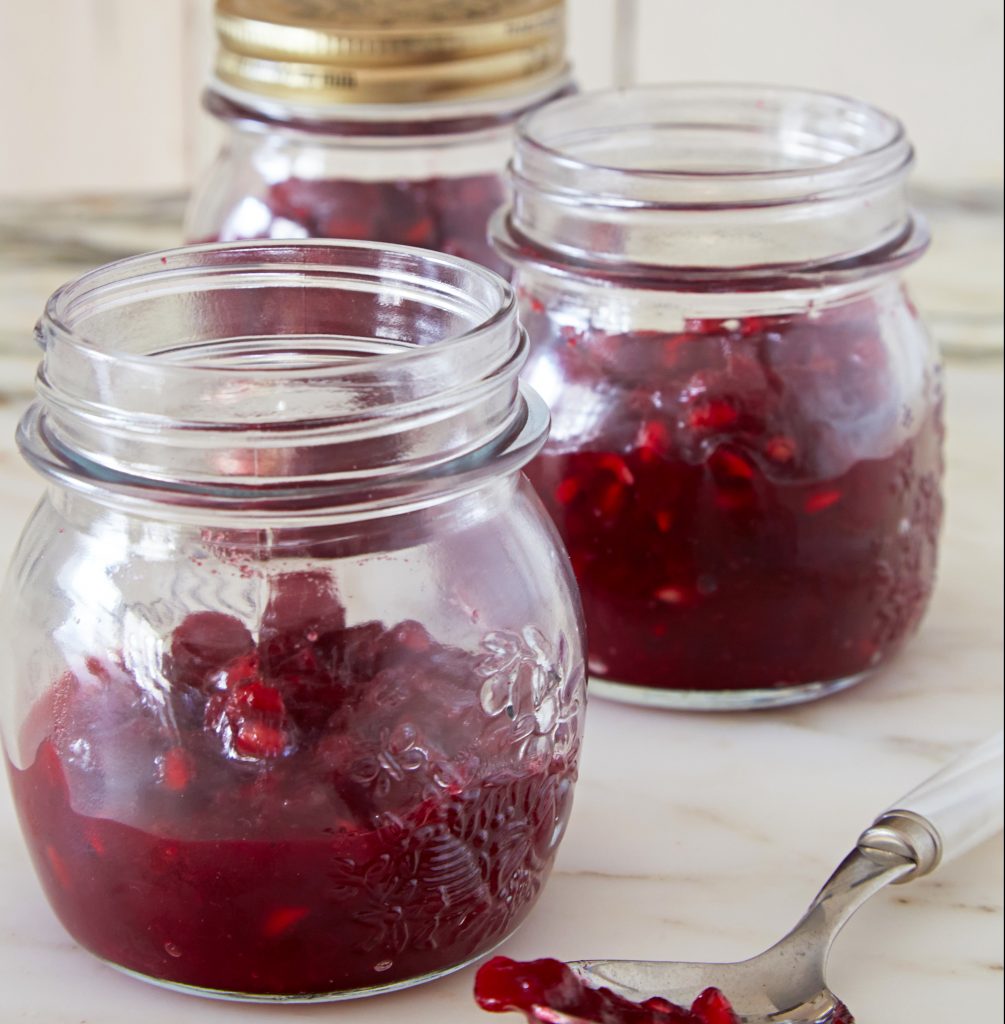 Visually, gems of pomegranate seeds take this tart chutney into a super visually appealing territory. Make it a day or two ahead of time, and instead of serving in a bowl, give the presentation an update by offering a few clear jars of it around the table. It's just as tasty as it is pretty, and it adds beautiful color to the Thanksgiving table!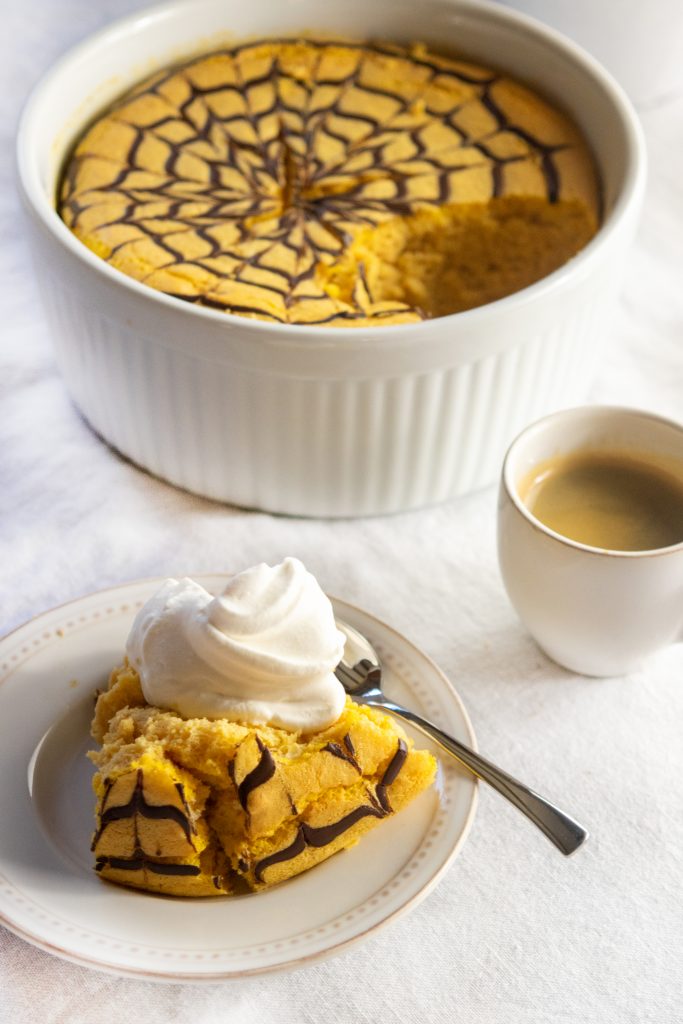 It's hard to give this dessert justice in words alone! Think one part ultra-fluffy Japanese cheesecake, one part souffle, and one part pumpkin pie filling, all bundled up into this light-as-a-cloud dessert. The silky-smooth, ultra fluffy texture is unbeatable, and the best part? No fussy pie-cutting involved - everyone can dig right in. Offer up a bowl of lightly sweetened fresh whipped cream to really drive it home. It's an amazing end to the meal that won't have you feeling painfully full and in need of laying down!