Apulian Pasta and Chickpeas
You must be signed in to print this content
Category
dinner Main Course
Author:
The Giadzy Kitchen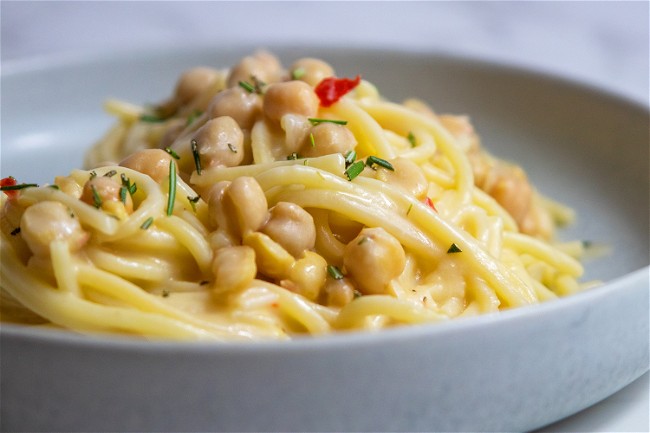 Ingredients
2 shallots, (chopped)
2 cloves garlic, (smashed and peeled)
1/4 teaspoon kosher salt, (plus more for the pasta water)
1 15.5ounce can chickpeas, drained and the liquid reserved
1/2 cup dry white wine or dry vermouth
1 cup freshly grated Parmigiano Reggiano, (plus more to serve)
1/2 cup freshly grated Pecorino Romano, (plus more to serve)
1 tablespoon freshly squeezed lemon juice, (from 1/2 a lemon)
Instructions
Bring a large pot of water to a boil over high heat. Season generously with salt. Add the pasta to the water and cook for 2 minutes less than package directions, about 10 minutes. This should be about perfect timing to add it directly to the pan
Heat a large skillet over medium heat. Add the oil to the pan and heat an additional 30 seconds or until the oil shimmers and moves freely. To the hot oil add the shallots, garlic and salt. Cook stirring often until the vegetables are soft and fragrant, about 2 to 3 minutes. Add the drained chickpeas to the pan and cook until heated through, about 3 minutes. Mash a few of the chickpeas with the back of a fork to break them apart. Deglaze the pan with the white wine. Cook until the white wine is almost entirely reduced, about 2 minutes. Stir in the chili paste and 1/2 cup of reserved chickpea liquid. Discard the remaining liquid. Simmer for another 2 minutes.
When the pasta is barely al dente, use tongs to remove the pasta directly from the water to the pan with the chickpeas. Add about 3/4 cup of pasta water to the pan with the pasta. Sprinkle the cheese over the bare pasta and toss well to coat. Continue to toss and cook the pasta in the liquid until a creamy sauce has formed that clings to the pasta, about 2 minutes. You may need to add another 1/4 cup of pasta water if the sauce gets too tight or if the pasta needs it to finish cooking. Add the rosemary, lemon juice and another drizzle of olive oil. Toss well to combine. Serve with additional cheeses and olive oil if desired.
Nutrition
Amount/Serving
% Daily Value
Carbs

60 grams

Protein

19 grams

Fat

12 grams

Saturated Fat

5 grams

Cholesterol

20 milligrams

Sodium

471 milligrams

Fiber

3 grams

Sugar

3 grams

Unsaturated Fat

6 grams