You must be signed in to print this content
Author:
Giada De Laurentiis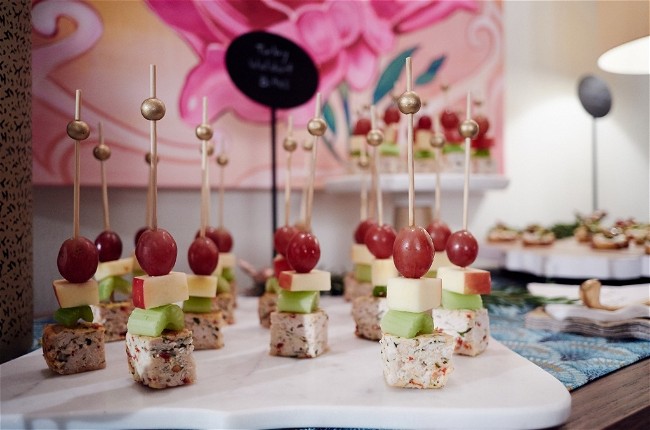 Ingredients
Nonstick cooking spray
1/2 cup panko breadcrumbs
1/2 cup freshly grated Parmesan
2 tablespoons milk (room temperature)
2 eggs (room temperature)
2 teaspoons Dijon mustard
4 jarred piquillo peppers (drained and finely diced)
1 shallot (minced)
1 pound ground turkey
1/4 cup fresh basil leaves (chopped)
3/4 teaspoon salt
40 red seedless grapes
2 stalks celery (cut into 3/4-inch pieces)
1 apple (such as Fuji, diced into 40 pieces)
Instructions
As seen on: Giada's Holiday Handbook, Episode 3. Friendsgiving Party.
Spray a 10-by-5-inch loaf pan with nonstick cooking spray. Cut a piece of parchment paper to line the bottom and the two long sides of the pan, leaving 2 inches of overhang on either side.
In a large bowl, mix together the breadcrumbs, Parmesan, milk, eggs and mustard. Set aside to soak for 5 minutes. Add the peppers, shallots, turkey, basil and salt, and mix well with your hands until fully combined. Press the meatloaf mixture into the prepared loaf pan and smooth the top.
Bake until the meatloaf reaches an internal temperature of 160 degrees F, about 30 minutes. Let cool in the pan for 5 minutes, then run a knife along the two parchment-free sides of the pan to release the loaf. Using the paper as handles, lift the meatloaf from the pan to a cooling rack and let cool to room temperature.
When cool, place the meatloaf back in the pan and fold the parchment over the top to cover. Place a weight or heavy object on top of the loaf to press, and then place the whole thing in the refrigerator to chill completely, at least 4 hours or up to overnight.
To serve, unmold the meatloaf and cut it into 1-inch squares. Using 4-inch skewers or decorative toothpicks, skewer a grape, a piece each of celery and apple, and, lastly, a cube of meatloaf to use as a base. Stand the skewers upright on the meatloaf.
Serve cold or at room temperature.
Nutrition
Amount/Serving
% Daily Value
Carbs

2 grams

Protein

4 grams

Fat

1 grams

Saturated Fat

1 grams

Trans Fat

1 grams

Cholesterol

15 milligrams

Sodium

87 milligrams

Fiber

1 grams

Sugar

1 grams

Unsaturated Fat

2 grams