You must be signed in to print this content
Author:
Giada De Laurentiis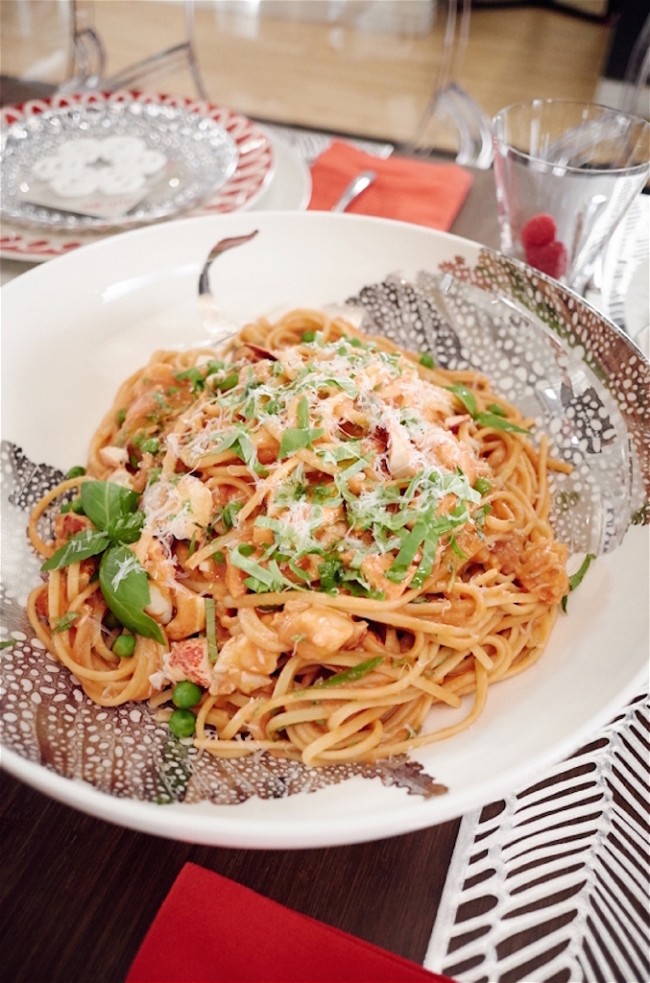 Ingredients
3 tablespoons extra-virgin olive oil
2 slices bacon (chopped)
3 shallots (minced)
2 cloves garlic (chopped)
1/4 teaspoon red pepper flakes
1/2 teaspoon salt
2 cups tomato puree
1/4 cup cream
1 pound linguine
1/4 cup freshly grated Parmesan (plus more for serving)
1 cup baby arugula (roughly chopped)
1/2 cup fresh basil leaves (roughly chopped)
1/4 cup fresh tarragon leaves (roughly chopped)
1 cup frozen peas (thawed)
Two 1 1/2-pound lobsters (steamed, meat removed)
Instructions
As seen on: Giada's Holiday Handbook, Episode 4. Santa's Grab Bag.
Heat a large straight-sided skillet over medium heat. Add the olive oil and bacon and cook until the bacon is beginning to crisp, 8 minutes. Add the shallots, garlic and red pepper flakes and cook for an additional 3 minutes, until fragrant. Add the salt, tomato puree and cream, stir to combine. Reduce the heat to low and simmer for 5 minutes.
Bring a large pot of salted water to a boil. Cook the linguine for 1 minute less than the package instructions, about 10 minutes. Using tongs, remove the pasta from the water and add it directly to the pan with the sauce. Sprinkle the cheese directly on the naked pasta and toss to coat in sauce. Add up to 1 cup of the pasta water to loosen the sauce as needed. Stir in the arugula, basil, tarragon, peas and lobster meat, simmer until everything is heated through, 1 minute.
Serve with additional Parmesan if desired.
Nutrition
Amount/Serving
% Daily Value
Carbs

39 grams

Protein

11 grams

Fat

16 grams

Saturated Fat

5 grams

Trans Fat

1 grams

Cholesterol

21 milligrams

Sodium

345 milligrams

Fiber

5 grams

Sugar

7 grams

Unsaturated Fat

10 grams