You must be signed in to print this content
Author:
Giada De Laurentiis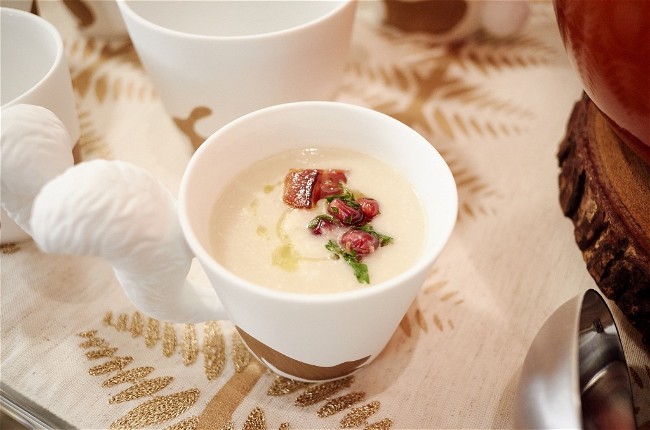 Ingredients
4 parsnips (peeled and chopped into 1-inch pieces (about 1 pound))
2 stalks celery (chopped)
2 bulbs fennel (trimmed and chopped into 1-inch pieces)
1 onion (chopped)
1/2 teaspoon fennel seeds
1 1/2 cups unsweetened almond milk
Crispy cooked bacon (chopped, for garnish)
Grated Parmesan (for garnish)
Pomegranate Gremolata (for garnish, recipe follows)
Pomegranate Gremolata:
1/2 cup chopped fresh Italian parsley
1/4 cup pomegranate seeds
1 teaspoon lemon zest
1/8 teaspoon salt
Instructions
As seen on: Giada's Holiday Handbook, Episode 1. 'Tis The Season.
Heat the olive oil in a 3 1/2-quart Dutch oven medium-high heat. Add the parsnips, celery, fennel, onion, salt and fennel seeds. Reduce the heat to medium and cook for 6 to 8 minutes, stirring occasionally with a wooden spoon. Add 4 cups water and the bay leaf to the pan, and stir. Bring to a simmer, reduce the heat to medium-low, and cover with a lid. Simmer for 30 minutes, or until the vegetables are very soft. Allow to cool slightly.
Puree the soup in two batches, adding half of the almond milk to each batch. Return the soup to the Dutch oven, and heat to warm through--alternatively, pour the soup into a slow cooker and keep warm on the low setting.
Serve garnished with bacon, Parmesan and pomegranate gremolata.
Pomegranate Gremolata: In a bowl, mix together the parsley, pomegranate seeds, lemon zest and salt.
Nutrition
Amount/Serving
% Daily Value
Carbs

28 grams

Protein

3 grams

Fat

6 grams

Saturated Fat

1 grams

Sodium

961 milligrams

Fiber

9 grams

Sugar

7 grams

Unsaturated Fat

5 grams