You must be signed in to print this content
Author:
Giada De Laurentiis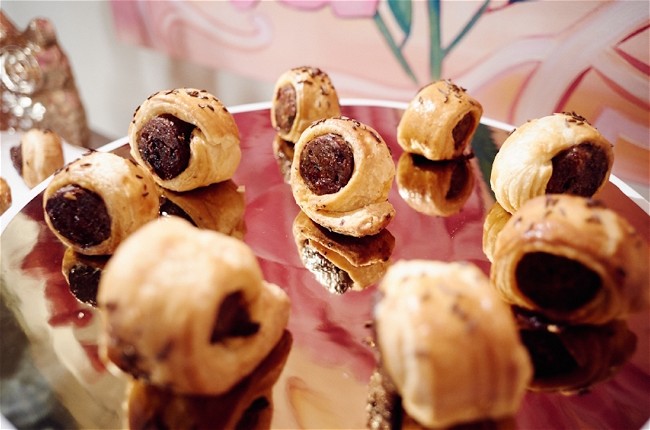 Ingredients
1 tablespoon extra-virgin olive oil
Two 8.5-ounce packages merguez sausage or spicy lamb sausage
10 ounces store-bought puff pastry (cut into 1-by-3-inch strips)
1 egg (beaten)
1/2 teaspoon caraway seeds
1/2 cup sour cream
1/4 cup chopped fresh mint
1/4 teaspoon salt
Instructions
As seen on: Giada's Holiday Handbook, Episode 1. 'Tis The Season.
Line a baking sheet with parchment paper.Preheat a large skillet over medium-high heat. Add the oil to the pan, followed by the sausages. Sear the sausages on all sides, 6 to 8 minutes. Remove to a plate and let cool to room temperature.
Cut the sausages into 1 1/2-inch pieces and roll the each piece in a strip of puff pastry. Place the wrapped sausages, seam side down, on the prepared baking sheet. Brush the tops of the rolls with egg and sprinkle with the caraway seeds. Refrigerate for 30 minutes before baking.
Preheat the oven to 400 degrees F.
Transfer the baking sheet to the preheated oven and bake for 20 minutes, or until the pastry is puffed and golden brown.
While the rolls bake, prepare the dipping sauce. In a small bowl, whisk together the sour cream, mint and salt. Let the flavors marry for at least 5 minutes before serving alongside the sausage bites.
Nutrition
Amount/Serving
% Daily Value
Carbs

1 grams

Protein

1 grams

Fat

2 grams

Saturated Fat

1 grams

Trans Fat

1 grams

Cholesterol

11 milligrams

Sodium

37 milligrams

Fiber

1 grams

Sugar

1 grams

Unsaturated Fat

2 grams