Smoky Turkey and Roasted Grape Pizza
You must be signed in to print this content
Smoky Turkey and Roasted Grape Pizza
Author:
Giada De Laurentiis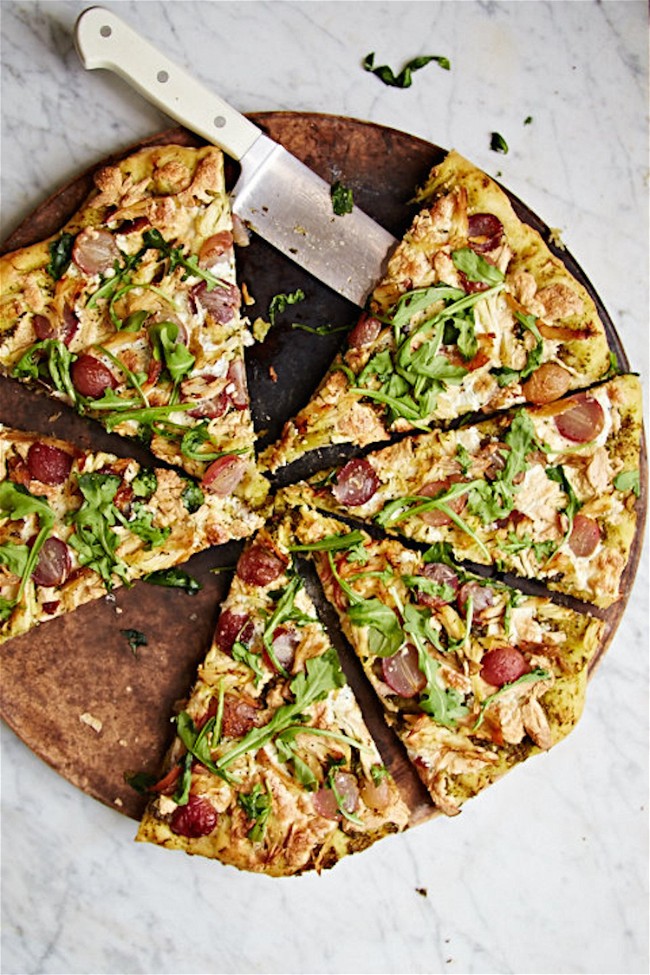 Ingredients
For the Pesto:
1/4 cup toasted pistachios
1 garlic clove
1/4 teaspoon kosher salt
1 cup baby arugula (lightly packed)
1 cup basil leaves (lightly packed)
1/2 cup extra-virgin olive oil
1/2 cup grated Parmesan cheese
For the Pizza:
All-purpose flour (for dusting surface)
1 22-ounce pizza dough, room temperature
1 cup torn mozzarella cheese (about 1/4 pound)
2 cups shredded cooked turkey or rotisserie
chicken
1 1/4 cups red seedless grapes (halved)
1 1/2 cups about 1/2 pound torn smoked
mozzarella cheese
1 cup baby arugula (lightly packed)
1 teaspoon coarsely ground black pepper
Instructions
Preheat the oven to 450°F. Place the pistachios, garlic, salt, arugula, and basil in a small food processor and pulse until the nuts are ground and the greens are chopped. With the machine on, slowly stream in the olive oil and process until the pesto is smooth. Transfer to a small bowl and stir in the Parmesan cheese.
Dust a rimmed baking sheet or pizza stone with flour and form the pizza dough into a large round or rectangle. Spread the dough with the pesto and top with the fresh mozzarella, shredded turkey, grapes, and smoked mozzarella.
Bake for 20 to 23 minutes or until the crust is golden brown and the cheese is bubbly. Top with the arugula and black pepper and serve.