Roasted Chicken Cacciatore
You must be signed in to print this content
Roasted Chicken Cacciatore
Author:
Giada De Laurentiis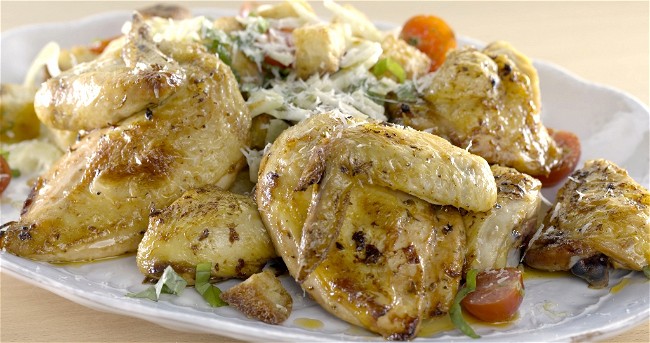 Ingredients
1 clove garlic (peeled and smashed)
1/2 teaspoon onion powder
1 teaspoon fennel seed (toasted)
1 teaspoon dried oregano
3/4 teaspoon kosher salt
1/2 teaspoon smoked paprika
3 tablespoons tomato vegetable juice (such as V-8)
3 tablespoons extra virgin olive oil
1 3 pound chicken, cut into 6 pieces

For the Salad:

3 cups diced bread
2 tablespoons olive oil
1 1/2 cup freshly grated parmesan (divided)
1 cup cherry tomatoes (halved)
1 small fennel (sliced thin)
1/2 cup basil leaves (torn)
1 tablespoon lemon juice (from 1 lemon)
additional olive oil to finish (optional)
Instructions
As seen on: Giada In Italy, Episode 5. Giada's Daily Special.
To the bowl of a small food processor add the garlic, onion powder, fennel seed, oregano, salt, paprika, vegetable juice and olive oil. Puree until it forms a rough paste. Place the chicken pieces in a resealable plastic bag. Add the paste to the bag and rub the marinade all over the chicken pieces. Seal the bag and let marinade in the refrigerator for at least 4 hours or up to 8 hours.
Preheat the oven to 400 degrees F. Place one rack in the middle of the oven and another in the top third of the oven.
Remove the chicken from the bag and place on a rimmed baking sheet. Place in the oven on the middle rack and bake for 30 minutes.
Meanwhile, in a large bowl, toss the diced bread cubes with the olive oil and 1/2 cup of the parmesan cheese. When the 30 minutes has elapsed, remove the tray from the oven and scatter the bread cubes around the chicken pieces. Place the tray back in the oven, this time on the top third, for an additional 15 to 20 minutes or until the bread is toasted and the chicken is golden brown and cooked to 160 degrees. Allow the chicken to rest for 10 minutes.
To the same large bowl add the tomatoes, fennel, basil, lemon juice, the toasted bread cubes, the remaining parmesan cheese and all of the juices from the chicken tray. Add a bit of olive oil if needed depending on the amount of juice from the chicken. Toss well with a large spoon. Serve the bread salad along side the roasted chicken.
Nutrition
Amount/Serving
% Daily Value
Carbs

30 grams

Protein

55 grams

Fat

58 grams

Saturated Fat

17 grams

Cholesterol

168 milligrams

Sodium

1425 milligrams

Fiber

4 grams

Sugar

4 grams