Pan Roasted Asparagus with Crispy Fried Egg
Pan Roasted Asparagus with Crispy Fried Egg
Author:
Giada De Laurentiis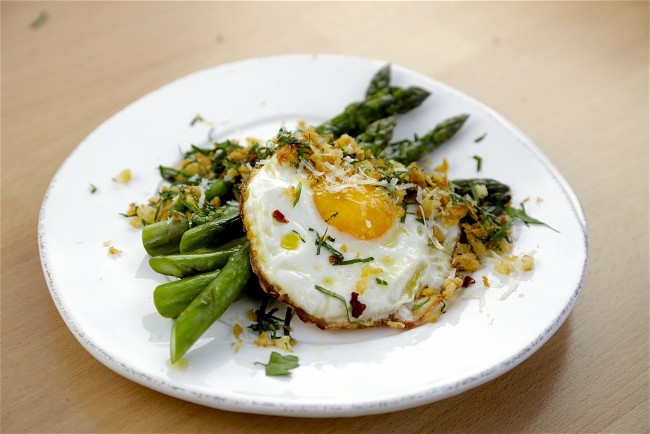 Ingredients
4 tablespoons extra virgin olive oil (divided)
1 pound thin asparagus (trimmed)
1/2 teaspoon kosher salt (divided)
4 large eggs

For the breadcrumb gremolata:

2 tablespoons extra virgin olive oil
1/2 cup Panko breadcrumbs
1 teaspoon lemon zest (from 1 lemon)
1/4 teaspoon red pepper flakes
1/8 teaspoon kosher salt
1/2 cup Italian Parsley (chopped)
2 tablespoons grated parmesan cheese
Instructions
As seen on: Giada in Italy, Episode 5. Giada's Daily Special.
For the gremolata, heat a large skillet over medium heat. Add the olive oil and breadcrumbs and toast, stirring often with a wooden spoon until golden brown. Place in a small bowl and while still hot, add the lemon zest, chili flakes and salt. Mix together and allow the mixture to cool to room temperature. Stir in the parsley and cheese.
Wipe out the pan with a dish towel. To that pan, add 2 tablespoons olive oil and heat over medium high heat. Add the asparagus and 1/4 teaspoon salt. Cook for about 4 to 5 minutes, stirring and flipping often with tongs until they are bright green, cooked through and slightly browned. Divide among your serving plates.
Crack 2 eggs into the pan, being careful as it may splatter, season it with salt and reduce the heat slightly and cook for about 2 to 3 minutes or until the edges are light brown and crispy and the whites are just set. The yolk should still be runny. Using a slotted spatula slide the 1 egg on top of 2 of the plates. Repeat with the remaining eggs. Sprinkle each dish with the breadcrumb gremolata and a drizzle of olive oil if desired.
Nutrition
Amount/Serving
% Daily Value
Carbs

11 grams

Protein

10 grams

Fat

27 grams

Saturated Fat

5 grams

Cholesterol

166 milligrams

Sodium

528 milligrams

Fiber

3 grams

Sugar

3 grams