Author:
Giada De Laurentiis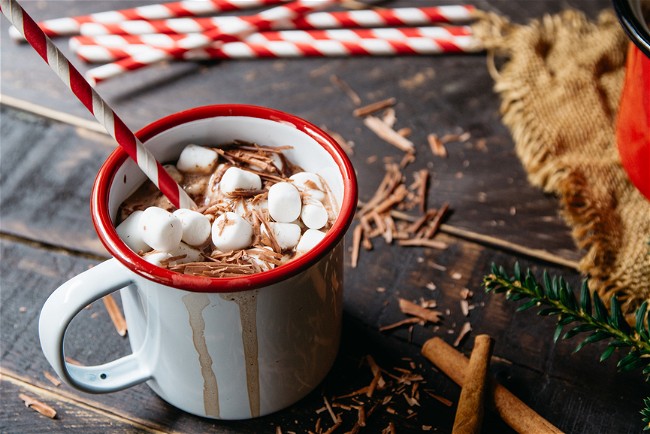 Ingredients
Hot Chocolate:

4 1/2 cups whole milk
1/4 cup unsweetened cocoa
1/4 cup sugar

Garnishes:

Espresso shots
1 to ffee candy bar (crumbled (recommended: Heath Bar))
Mini marshmallows
Shaved chocolate
Cinnamon-Sugar (recipe follows)

Cinnamon-Sugar:

1 vanilla bean
1/2 cup sugar
1 tablespoon ground cinnamon
Instructions
For the hot chocolate: In a medium saucepan, heat 4 cups of the milk over low heat, being very careful not to let the milk boil. In a small bowl, mix together the cocoa, sugar, and the remaining 1/2 cup milk. Add the cocoa mixture to the warm milk, and continue to warm the cocoa until hot.
Pour into 4 mugs and serve along with the garnishes.
For the hot chocolate bar: On a large serving tray, arrange the mugs of hot chocolate, a small pitcher of espresso shots, a bowl of crumbled toffee candy bar, a bowl of mini-marshmallows, a bowl of shaved chocolate, and a bowl of Cinnamon-Sugar. Invite your guests to flavor and garnish their hot chocolate as they desire.
Cinnamon-Sugar: Cut the vanilla bean in half, lengthwise. Using the back of a knife, scrape along the inside of the vanilla bean to collect the seeds. Scrape vanilla bean seeds into a small bowl. Add sugar and cinnamon and stir to combine. Set aside in a small serving bowl.