Halloween Tie-Dye Meringues
You must be signed in to print this content
Halloween Tie-Dye Meringues
Author:
Giada De Laurentiis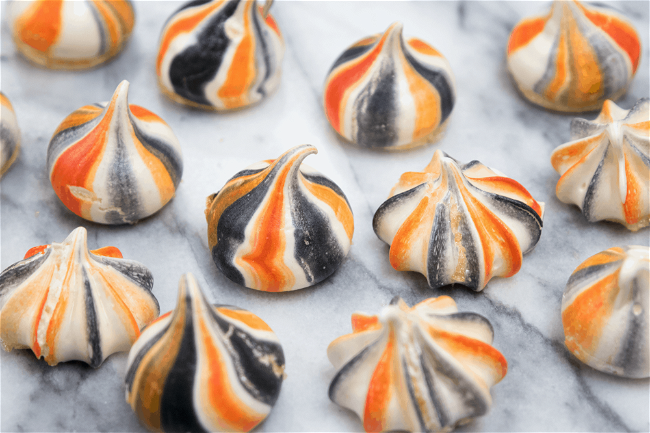 Ingredients
Whites from 6 large eggs
1/2 cup + 2 tbsp sugar
2 cups powdered sugar (sifted)
Black and orange food coloring
Instructions
Preheat the oven to 225 degrees F.
In a large bowl, whisk egg whites with a handheld mixer. After about 5 minutes, when soft peaks begin to form, add half of the sugar. Mix until fully incorporated, and then add the other half. Continue to mix until the peaks are stiff and glossy, and stick to the mixer paddles in a big glob. With a rubber spatula, fold in half of the powdered sugar until fully incorporated, and then the rest.
Prepare 2 baking sheets with parchment paper.
In a piping bag (or plastic sandwich bag) attach your piping tip. Take a toothpick or butter knife and add thin stripes of food coloring from the tip to the top of the bag. With your rubber spatula, add the meringue mixture into the bag (you will likely have to do this twice, depending on the size of your piping bag). Pipe the meringues on the prepared sheet, leaving just enough space so they don't touch each other.
Bake the meringues for 2 hours. Once out of the oven, allow them to cool before eating. Store in an airtight container at room temperature for up to 3 weeks.