You must be signed in to print this content
Author:
Giada De Laurentiis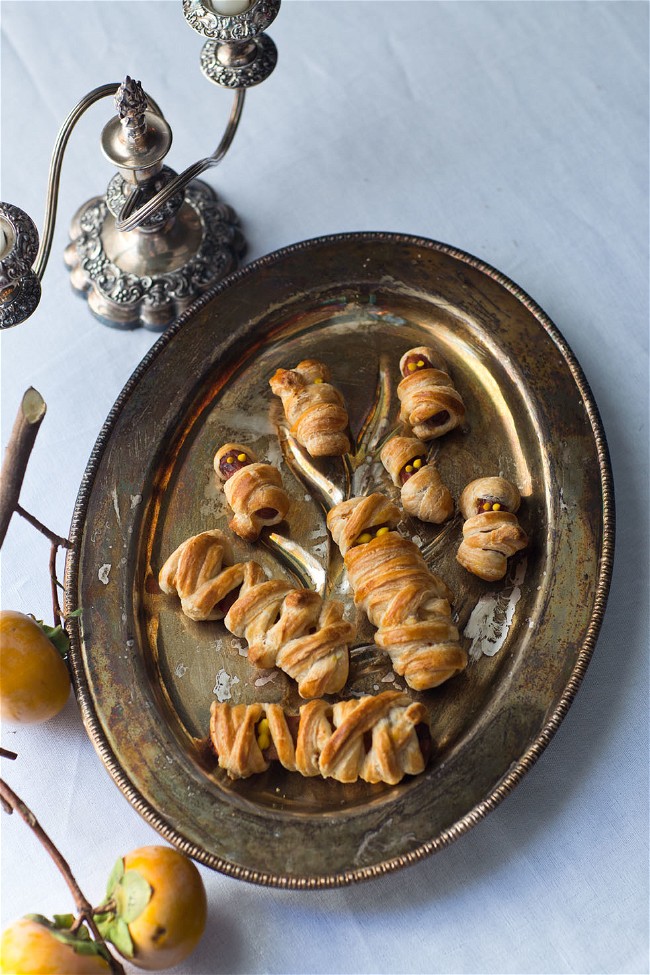 Ingredients
1 14 ounce box puff pastry
4 precooked Italian chicken sausages (halved lengthwise)
1 egg (beaten)
Sriracha (ketchup, or mustard for the 'eyes')
Instructions
Preheat the oven to 400°F. Lay the puff pastry sheet flat. Cutting the pastry sheet lengthwise, cut thin ¼-inch strips. Set aside.
Pinch 3 strips of puff pastry together, connecting them at the ends to make 1 long strip of pastry. Roll a sausage half in the long strip, crisscrossing as you go to make it look like mummy wrapping, leaving a little open space at one end where the eyes will eventually be. Set on a rimmed baking sheet and continue with the remaining sausages and pastry.
Brush the pastry with the egg and bake for 15 minutes, or until the pastry is golden brown and puffed. In the open space toward the end of each pastry, make two indentations for the eyes, and fill with the condiment of your choice. Serve warm.