You must be signed in to print this content
Author:
Giada De Laurentiis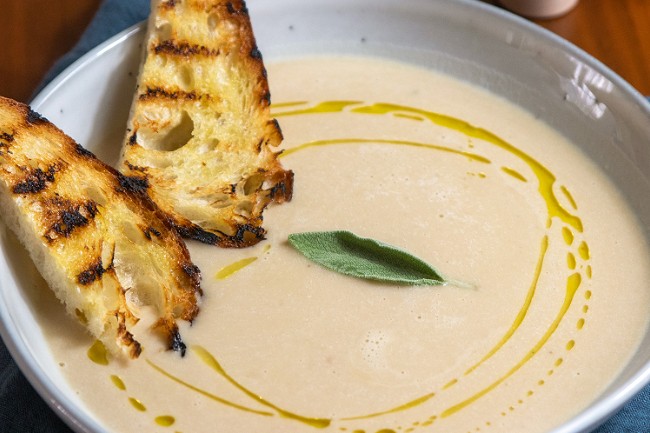 Ingredients
2 tablespoons butter
1 tablespoon olive oil
2 shallots, chopped
1 sage leaf
2 (15-ounce) cans cannellini beans, drained and rinsed
4 cups low-sodium chicken broth
4 cloves garlic, cut in 1/2
1/2 cup cream
1/2 teaspoon freshly ground black pepper
6 slices ciabatta bread
Instructions
Place a medium, heavy soup pot over medium heat. Add the butter, olive oil, and shallot. Cook, stirring occasionally, until the shallots are softened, about 5 minutes. Add the sage and beans and stir to combine. Add the stock and bring the mixture to a simmer. Add the garlic and simmer until the garlic is softened, about 10 minutes. Using an immersion blender, puree the soup until smooth. Alternatively, if using a blender, pour the soup into a large bowl. Carefully ladle 1/3 to 1/2 of the soup into a blender and puree until smooth. Be careful to hold the top of the blender tightly, as hot liquids expand when they are blended. Pour the blended soup back into the soup pan. Puree the remaining soup.

Once all the soup is blended, add the cream and the pepper Keep warm, covered, over very low heat.

Place a grill pan over medium-high heat. Drizzle the slices of ciabatta bread with extra-virgin olive oil. Grill the bread until warm and golden grill marks appear, about 3 minutes a side. Serve the soup in bowls with the grilled bread alongside.