Tequila Ceviche with Citrus & Fennel Salad
You must be signed in to print this content
Tequila Ceviche with Citrus & Fennel Salad
Category
Main Course Salad
Author:
Giada De Laurentiis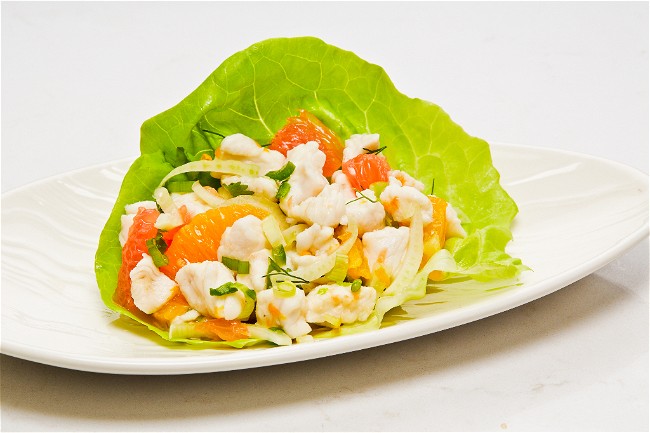 Ingredients
For the Ceviche:

1 grapefruit
2 medium oranges
1/3 cup lime juice (from 3 limes)
2 tablespoons silver tequila
1 teaspoon kosher salt
10 ounces sole (3 to 4 fillets, skinned and chopped into ½-inch pieces)

For the Salad:

1 fennel bulb (cored and shaved)
1 jalapeño (seeded and minced)
2 scallions (pale green and white parts, finely chopped)
1 tablespoon plus 1 teaspoon chopped fresh cilantro
2 tablespoons extra-virgin olive oil
1/2 teaspoon kosher salt
1/4 teaspoon freshly ground black pepper
12 large butter lettuce leaves
Instructions
For the ceviche:
Grate the zest from the grapefruit and oranges and put in an 8-inch square glass or ceramic baking dish. Add the lime juice.
Working on a cutting board, cut the ends from the grapefruit and oranges so that some of the flesh shows. Stand each fruit on one of its new flat ends and work your knife around the fruit to remove the peel along with a sliver of flesh.
Set a sieve over the baking dish. Hold the grapefruit over the sieve and, using a paring knife, cut along the membrane on both sides of each grapefruit segment. Free the segments and let them fall into the sieve. Squeeze the grapefruit membrane over the sieve to extract as much juice as possible. Repeat with the oranges. Transfer the citrus segments to a large bowl.
Stir the tequila and salt into the citrus juices. Add the sole in an even layer, cover the dish with plastic wrap, and refrigerate, stirring halfway through to distribute the marinade, until the fish is firm and no longer pink in the center, 3 to 4 hours.
For the salad:
Add the fennel, jalapeño, scallions, 1 tablespoon of the cilantro, the olive oil, salt, and pepper to the citrus segments. Cover and refrigerate.
Drain the sole, add it to the citrus fennel salad, and toss gently to combine.
To serve, nest 2 lettuce leaves inside each other on each plate. Spoon ¼ cup ceviche into each leaf and sprinkle with the remaining 1 teaspoon cilantro.
Nutrition
Amount/Serving
% Daily Value
Carbs

15 grams

Protein

8 grams

Fat

6 grams

Saturated Fat

1 grams

Cholesterol

21 milligrams

Sodium

744 milligrams

Fiber

3 grams

Sugar

8 grams