Grilled Swordfish with Candied Lemon Salad
You must be signed in to print this content
Grilled Swordfish with Candied Lemon Salad
Author:
Giada De Laurentiis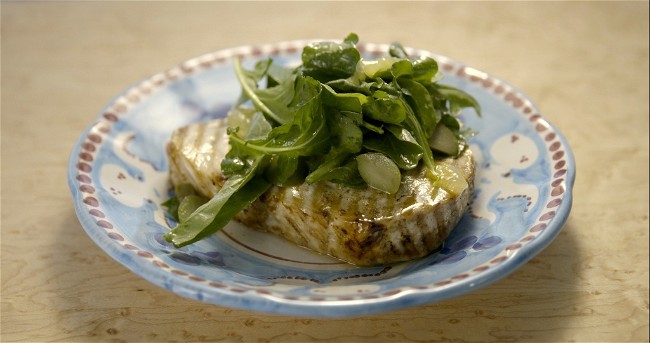 Ingredients
1/4 cup sugar
2 tablespoons water
2 lemons (segments removed)
1 teaspoon Dijon mustard
2 tablespoons extra virgin olive oil
1 tablespoon chopped basil
1/8 teaspoon (plus 1/4 teaspoon kosher salt)
3/4 cup castelvatrono olives (pitted and halved)
4 cups baby arugula
4- 6 ounce skinless swordfish or tuna steaks*
1 teaspoon kosher salt
2 tablespoons extra virgin olive oil
Instructions
As seen on: Giada in Italy, Episode 7. Citrus and the Sea.
In a small sauce pan combine the sugar and water. Place over medium heat and bring to simmer, stirring occasionally to dissolve the sugar. Add the lemon segments and simmer for another 2 minutes. Turn off the heat and allow the lemons to cool in the liquid.
Remove the segments form the liquid using a slotted spoon and reserve. In a medium bowl, whisk together the Dijon mustard and 2 tablespoons of the liquid from the lemons. Whisk in the olive oil, basil and 1/8 teaspoon salt. Reserve half of the dressing for the fish. To the remaining dressing add the olives, arugula and reserved lemon segments but do not toss. Set aside.
Heat a grill pan over medium high heat. Dry the fish well using paper towel and season with the salt and olive oil. Place the steaks on the preheated grill pan and grill for 3 to 4 minutes per side depending on the thickness of the steaks. They should be golden brown and release easily from the pan. Toss the salad in the dressing adding the remaining ¼ teaspoon salt. Place a piece of fish on each plate and top with some of the salad. Spoon any remaining dressing around the fish.
*Cooks Note: In America, I suggest using tuna steak. In Italy, swordfish was readily available.
Nutrition
Amount/Serving
% Daily Value
Carbs

19 grams

Protein

15 grams

Fat

23 grams

Saturated Fat

4 grams

Cholesterol

47 milligrams

Sodium

1054 milligrams

Fiber

3 grams

Sugar

14 grams