Grilled Chicken and Broccoli Pesto Panini
You must be signed in to print this content
Grilled Chicken and Broccoli Pesto Panini
Author:
Giada De Laurentiis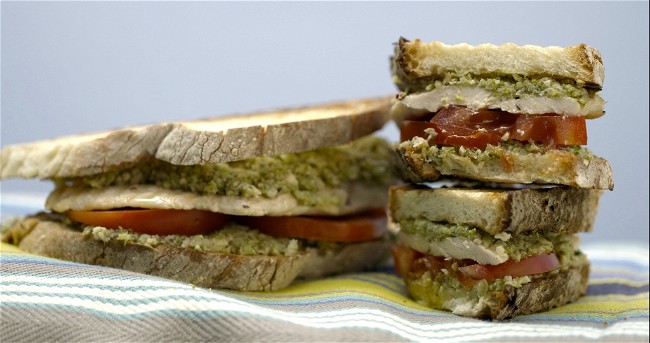 Ingredients
8 slices of rustic bread
4 chicken cutlets
1/2 teaspoon kosher salt
¼ teaspoon red pepper flakes
1 tablespoon extra virgin olive oil
1 teaspoon lemon juice (from half of a lemon)
1 to 2 large beef steak tomatoes (sliced into thick rounds and halved)

For the pesto:

2 small heads of broccoli (about 3 cups)
1 clove garlic
1 cup toasted walnuts
1 tablespoon honey
1/2 teaspoon kosher salt
1 teaspoon lemon zest
1 tablespoon lemon juice
1 cup extra virgin olive oil
1/2 cup freshly grated parmegianno reggiano
Instructions
As seen on: Giada in Italy, Episode 3. Poolside Picnic.
Bring a medium pot of salted water to a boil over medium high heat. Add the broccoli and cook until tender, about 4 minutes. Transfer the cooked broccoli to an ice bath and let it cool, about 3 minutes. Remove from the ice bath and drain well. Transfer the broccoli to a food processor. Add the garlic, walnuts, honey, salt, lemon zest and lemon juice and process until finely chopped. With the machine running gradually pour in the extra-virgin olive oil. Transfer the pesto to a small bowl and stir in the Parmesan. Cover and set aside.
Preheat a grill pan over medium high heat.
Grill the slices of bread until toasted and golden brown, about 2 minutes per side. Season the chicken cutlets with the salt and pepper flakes and drizzle with the olive oil. Place the cutlets on the grill pan and grill until they are golden brown and are cooked through, about 3 to 4 minutes per side. Squeeze the lemon juice over the cooked chicken while still on the grill. Remove the chicken to a plate. To assemble the sandwiches, spread about 1 tablespoon of the pesto on each slice of bread. Place 2 pieces of tomato on 4 of the slices. Top the tomato with a chicken cutlet and the remaining slices of bread. Cut in half to serve.
Cooks Note: The pesto makes more than enough for the sandwiches. It can be stored in the refrigerator in an airtight container for up to 4 days.
Nutrition
Nutrition
per serving

Calories
1450
Amount/Serving
% Daily Value
Carbs

105 grams

Protein

69 grams

Fat

88 grams

Saturated Fat

14 grams

Cholesterol

117 milligrams

Sodium

1744 milligrams

Fiber

14 grams

Sugar

16 grams