Butternut Squash And Mushroom Pizza
You must be signed in to print this content
Butternut Squash And Mushroom Pizza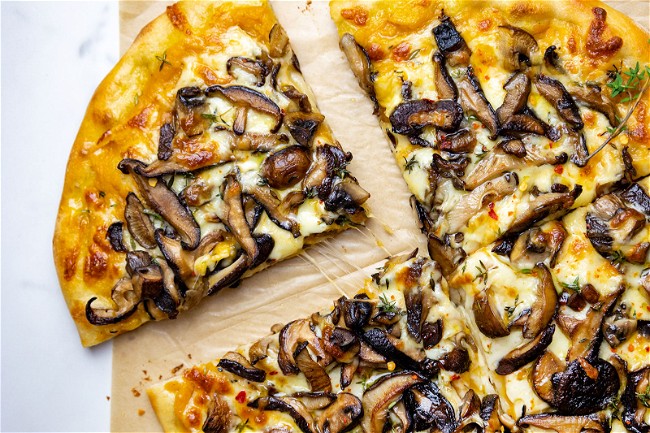 Ingredients
For The Mushrooms:

1 pound wild mushrooms (such as shiitake, chanterelle, oyster, hen of the woods, etc) cut into bite-sized pieces
1 teaspoon kosher salt

For The Pizza:

1 pound pizza dough, storebought or Giada's recipe

1 cup (4-5 ounces) shredded smoked mozzarella or scamorza

Cooked mushrooms
1 tablespoon fresh thyme, chopped
Red pepper flakes for topping, optional
Instructions
For the mushrooms: Heat a medium-large skillet over medium high heat. Once hot, add two tablespoons of olive oil. Add the mushrooms and toss to coat in the oil. Cook for about 10 minutes, stirring occasionally, until all water has evaporated, and the mushrooms start to caramelize. Remove from heat and set aside.
Preheat the oven to 500 degrees F.
Dust a rimmed baking sheet lightly with flour. Place the pizza dough on the flour and gently stretch and form the dough into a 12 by 13-inch oval using your fingertips.
Spread the butternut squash sauce evenly over the dough, leaving a border empty for the crust. Evenly disperse the shredded smoked mozzarella over the sauce. Top with the cooked mushrooms and fresh thyme.
Place the baking sheet in a middle rack in the oven and cook for 10 minutes, until the crust appears fully cooked. Set the oven to broil and cook for an additional 1-3 minutes if needed, until the crust turns a deep golden brown. Be careful to not burn the crust.

Carefully remove the pizza from the oven to a cutting board. Drizzle with olive oil, and sprinkle with red pepper flakes or balsamic if desired.