Giada's Simple Pantry Recipes for Potatoes and Other Root Vegetables
You must be signed in to print this content
Potatoes, onions and root vegetables last for a long time in your fridge - and they're super versatile to cook with.
There are a few unsung heroes in the pantry game that you might not immediately think of as "pantry goods" - and that's potatoes, onions and root vegetables! Like we mentioned in our article on
how to extend the shelf life of food
, these mighty pieces of produce will last for a super long time in your fridge - we're talking 
at least 
a month (assuming they weren't sitting around for a long time at the grocery store!). Because they can stay good for such an extended amount of time, we are turning to them often for making a myriad of pantry recipes - and luckily, they're so versatile, that it's really not much of a challenge!

Potatoes
Not all potatoes are created equal - you have your regular starchy Russet potatoes, and then waxier varieties like Yukon Gold, red potatoes, fingerlings, etc! We can't forget about sweet potatoes, either. Russet and sweet potatoes tend to be the hardiest, and last for an extra long time in the fridge. The smaller waxy varieties still have a long shelf life, but might not stay fresh for quite as long. However, almost all of these recipes can use 
any 
type of potato - just interchange with what you've got!
Recipes: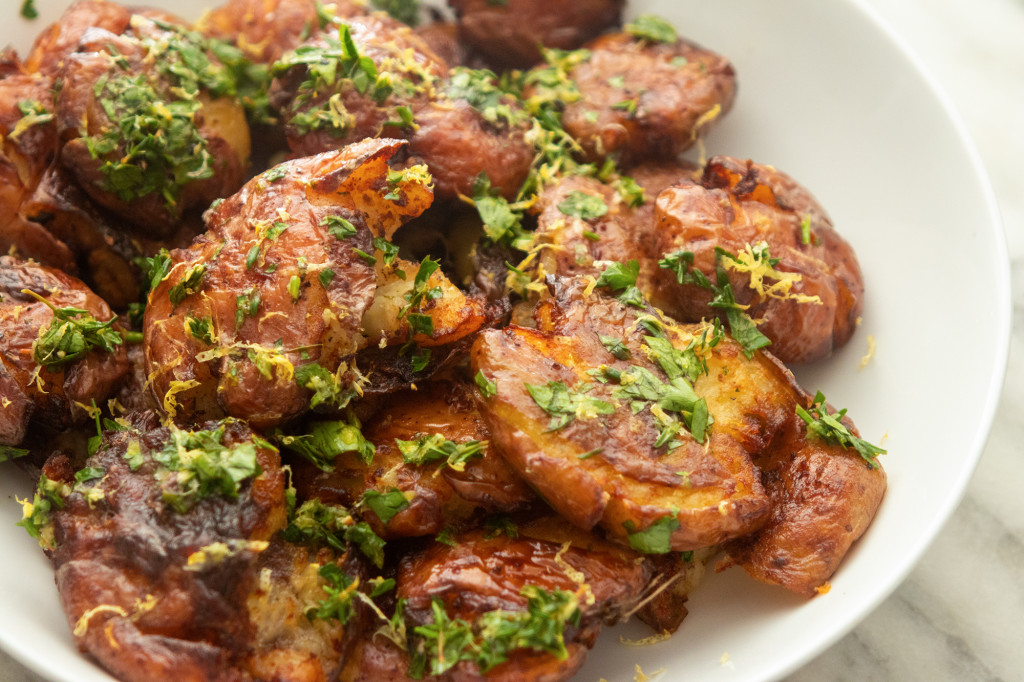 Smashed Lemon Potatoes
These potatoes are a classic Giada recipe! The combination of crispy potatoes and bright lemon is a really fantastic combo, and the fresh acidic flavor adds a lot. If you don't have lemon juice on hand, go for a few splashes of your favorite vinegar - or even vinaigrette - to brighten it up. Forego the herbs if you don't have any!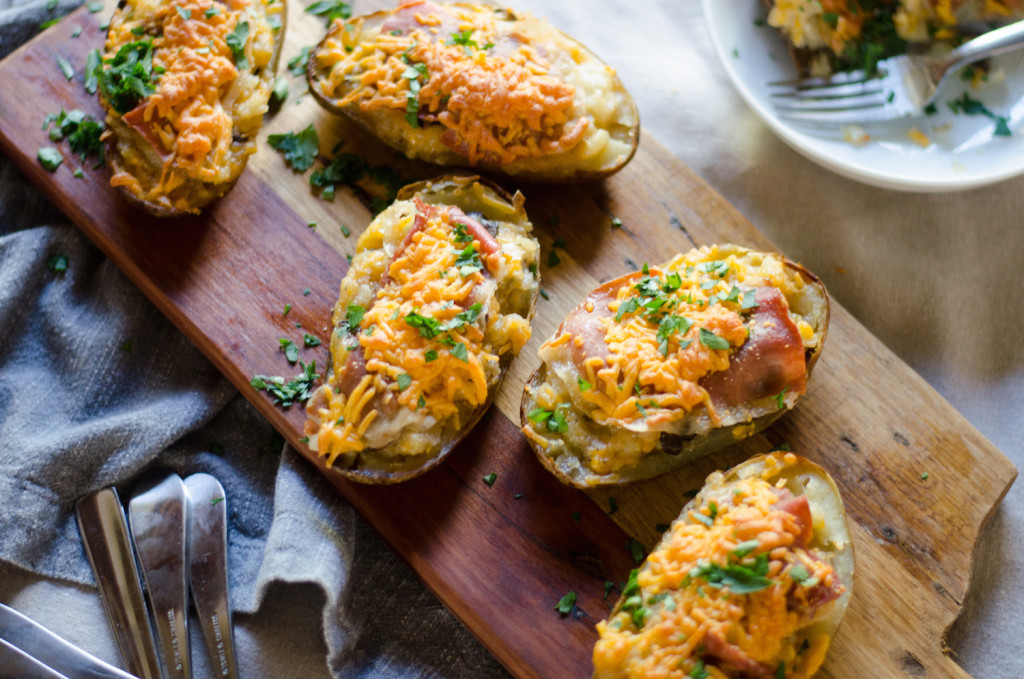 Twice Baked Potatoes With Mushrooms and Prosciutto
A twice-baked potato is a perfect vehicle for odds and ends in the fridge! For this recipe, you can pretty much use any veggie in place of mushrooms that you might have - broccoli, brussels sprouts, even carrots, chopped green beans or asparagus. Use whatever melty cheese you have on hand, such as mozzarella, fontina, gruyere, colby jack... you get the gist! Leave out the prosciutto if you don't have it, or replace it with cooked bacon or pancetta!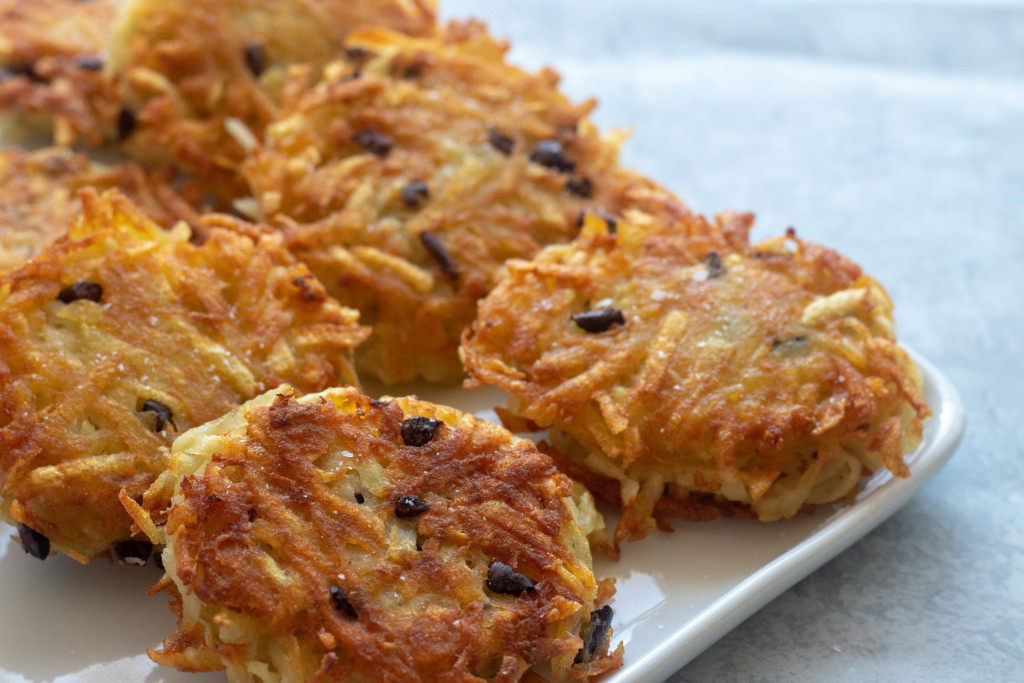 Potato Pancakes
In this recipe, Giada added cacao nibs to make it chocolate-themed for Valentine's day - but go ahead and leave them out, along with the Calabrian chili paste if you don't have it. This is a great, solid recipe for some crispy Latkes-style potatoes. You can use a small amount of onion in place of the shallot, and you can use any flour in place of rice flour.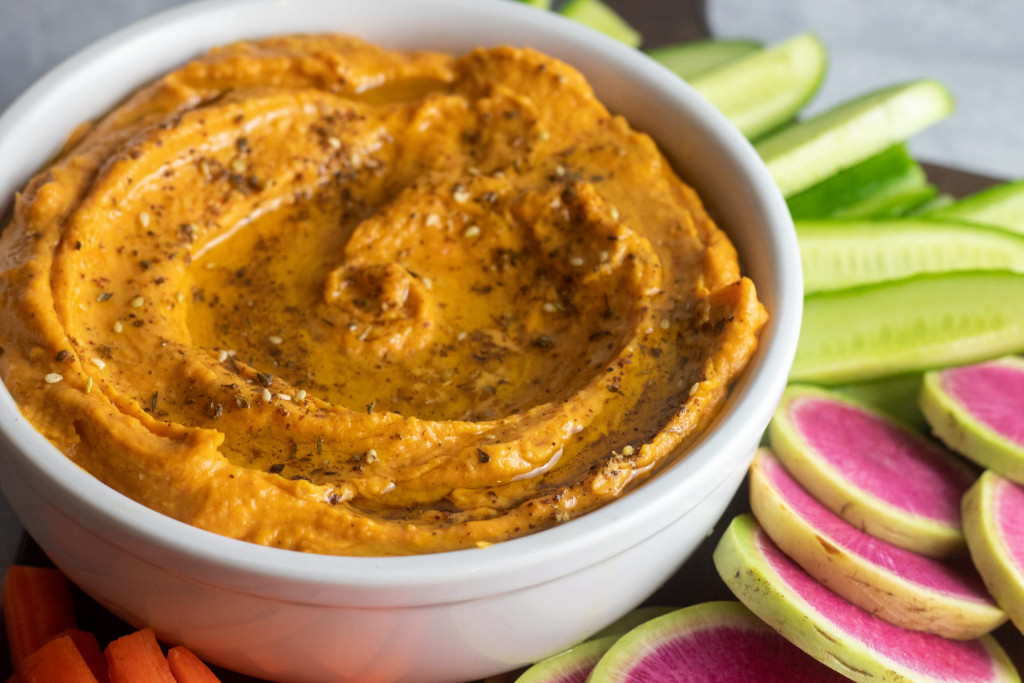 Sweet Potato Hummus
Add some body to hummus with a caramelized, roasted sweet potato! You can use just about any nut butter in place of almond, though peanut could have too strong of a taste.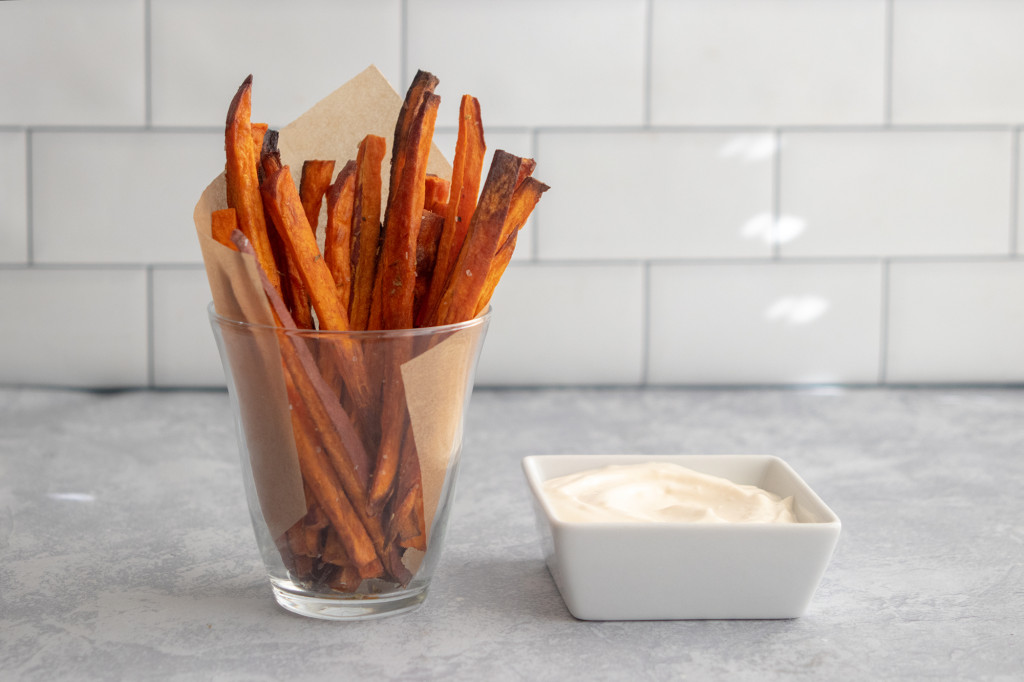 Sweet Potato Fries
We dub these as the crispiest oven-baked sweet potato fries ever. Go ahead and skip the basil salt - and while the garlic mayo is delicious, ketchup will definitely do!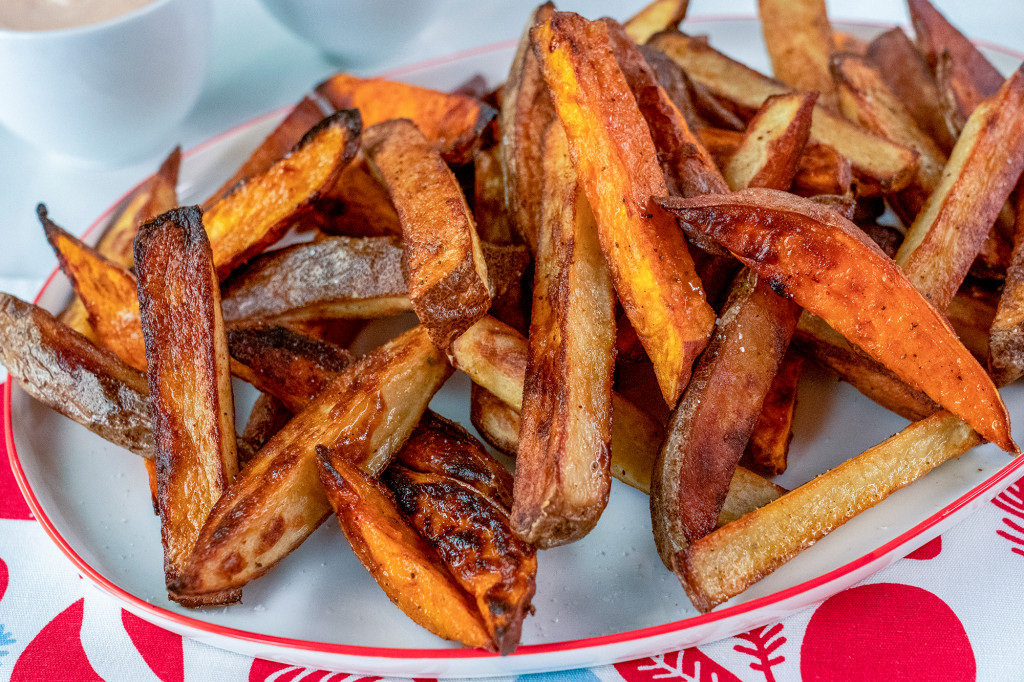 Jade's Home Fries
Got a mix of russet and sweet potatoes? Throw them on a pan together! 
Non-Recipe Ideas:
•Dice potatoes up, and boil for a few minutes until 
just 
tender. Drain, and let them cool down to room temperature. Once at room temperature, you can freeze them in freezer bags. When you want to roast or mash potatoes, simply thaw them out and prepare as you normally would. Frozen potatoes will last for about a year!
•Don't be daunted by the concept of homemade hash browns... it's easy! Carefully grate a potato on your grater, then in a mesh strainer, rinse off the shreds to get rid of the surface starches. Drain and dry the potato shreds well, then crisp them up in a pan with olive oil.
•Add an egg to leftover mashed potatoes, then bread and fry them -
arancini
style! 

Other Root Vegetables
So what is a root vegetable, exactly? In culinary terms, it refers to all those hearty plants that grow underground - potatoes and onions are both actually root vegetables, along with carrots, turnips, ginger, beets and fennel, to name a few! They're a great type of produce to have on hand for longevity, as they don't wilt or go bad quickly.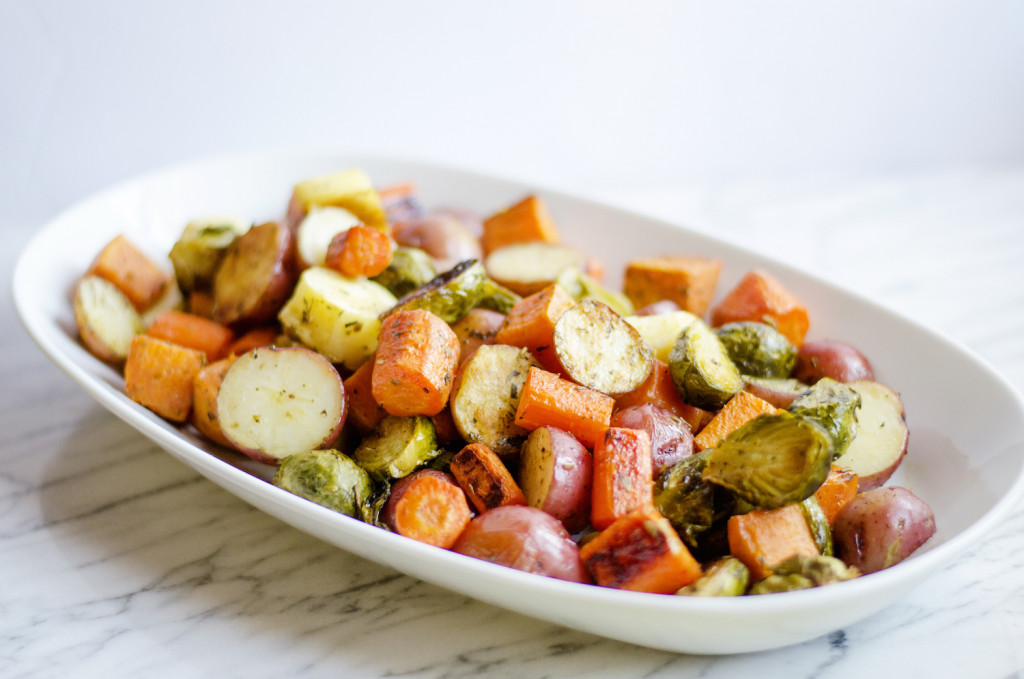 Roasted Potatoes, Carrots and Brussels Sprouts
Consider this recipe the perfect guideline for roasting any root veggies!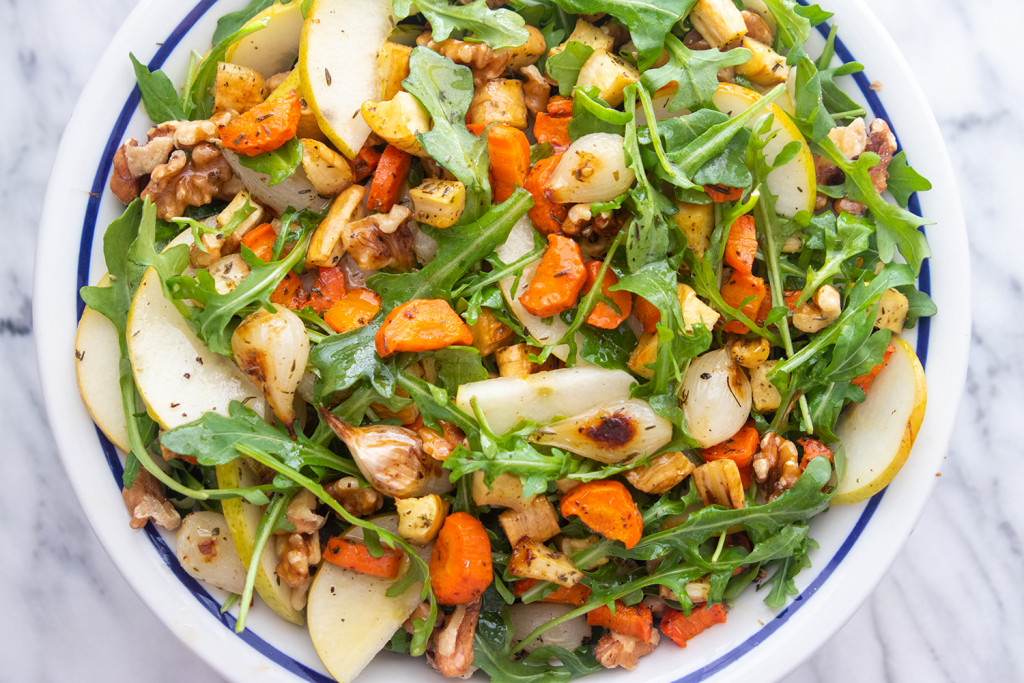 Roasted Root Vegetable Salad
This salad, with roasted pearl onions, carrots and parsnips, is a great vehicle for 
any 
root vegetables you might have. You can use beets, rutabagas, turnips, radishes, sweet potatoes, and even brussels sprouts in this dish. Any lettuce you have will work, and no pear = no problem.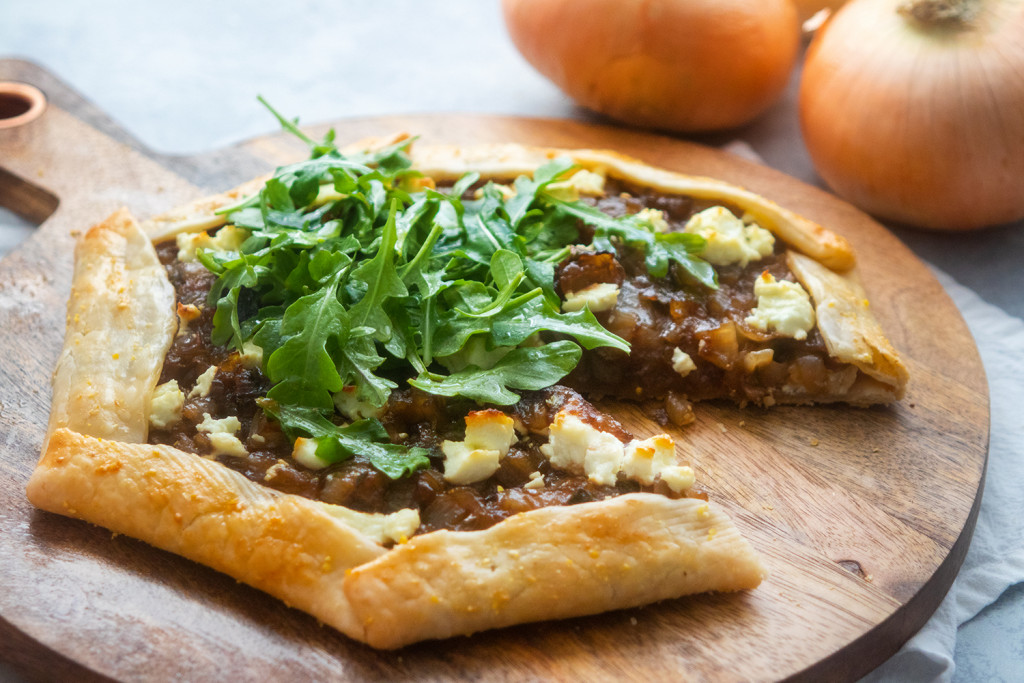 Caramelized Onion Tart
Vidalia onions are the star of this recipe, but you can use white, yellow or any sweet onion to make it happen. If you don't have refrigerated pie crust, puff pastry or (at least 4) layers of phyllo dough brushed with olive oil would be delicious as well!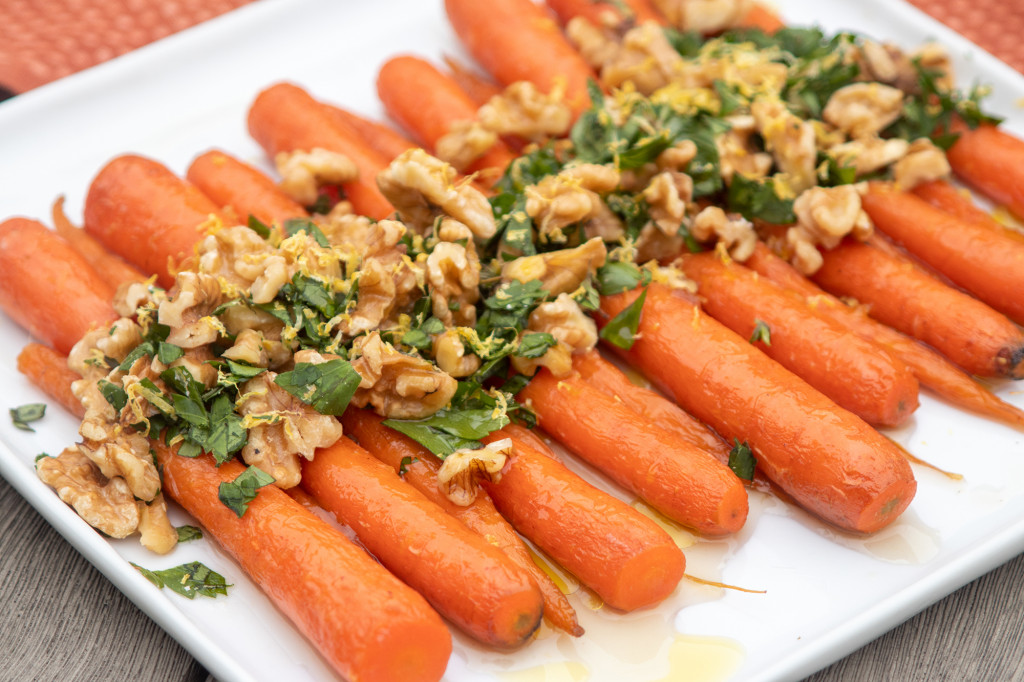 Smokey Candied Carrots with Walnut Gremolata
If you're looking for a fresh new spin on carrots, this is it. Use regular sugar or syrup - but if you happen to have a smoked variety, go for it! Don't worry about the gremolata, either. If you happen to have any nuts on hand, the crunch of them adds great textural variety - so give them a toast and sprinkle them on top.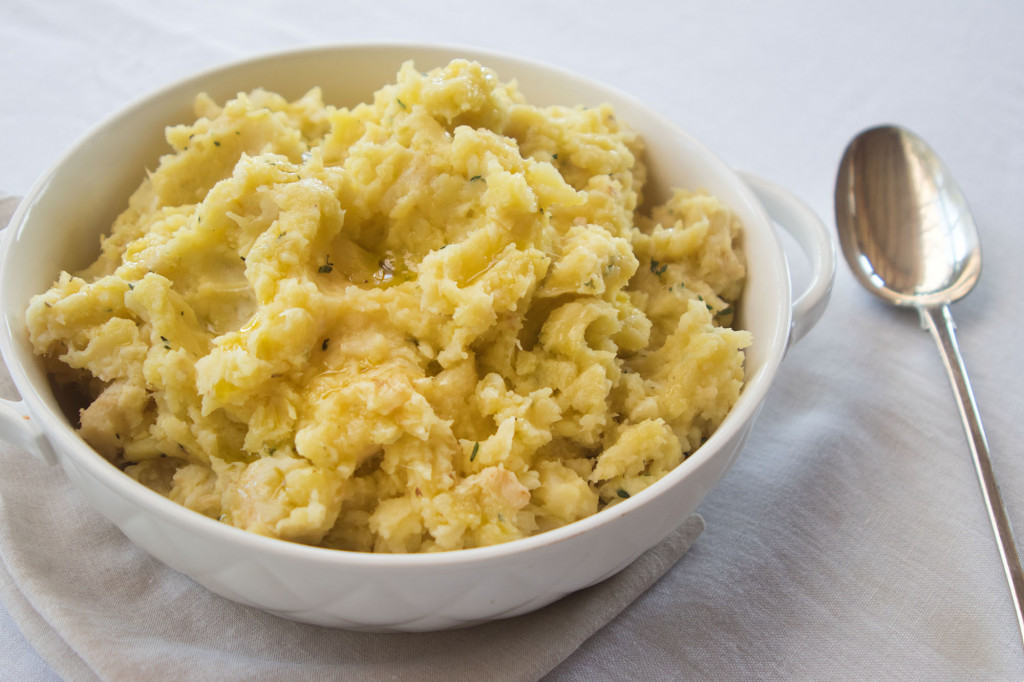 Smashed Root Vegetables
We love this recipe, because it adds a lot of interest to regular mashed potatoes. It's great for a time like this when we might have a random potato or two and a parsnip on the counter! 
Non-Recipe Ideas:
•If you want to freeze any root vegetables to enjoy later, follow the same order of operations noted above for potatoes!
•For a great simple side dish, simply roast off any root vegetables, and toss them in a light vinaigrette or lemon juice once they're done cooking to add a lot of bright, fresh flavor.
•Ina Garten's roasted carrot recip
e is simple, easy and perfect. Skip the parsley if you don't have it!