Roasted Root Vegetable Salad
Roasted Root Vegetable Salad
Author:
Giada De Laurentiis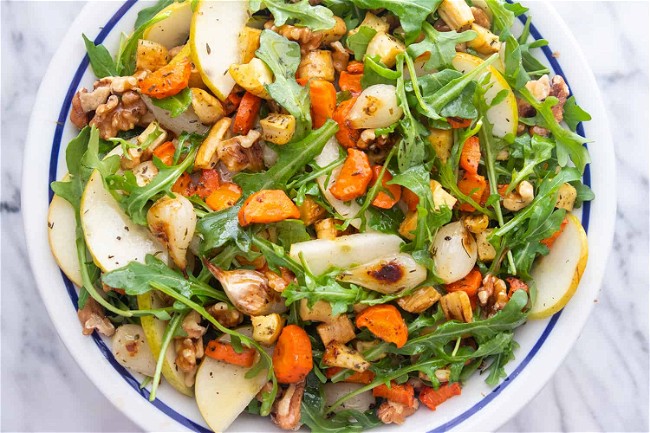 Ingredients
18 red pearl onions (peeled)
2 large carrots (halved lengthwise, cut into 1/3-inch-wide pieces)
2 large parsnips (halved lengthwise, cut into 1/2-inch-wide pieces)
3/4 teaspoon herbes de Provence
3/4 teaspoon kosher salt
1/2 teaspoon freshly ground black pepper
One 5-ounce bag baby arugula
1 ripe pear (halved, cored, cut into thin wedges)
Apple Cider Vinaigrette (recipe follows)
1/2 cup chopped walnuts (toasted)

For The Apple Cider Vinaigrette:

3 tablespoons apple cider vinegar
1/4 teaspoon kosher salt
1/4 teaspoon freshly ground black pepper
Instructions
Preheat the oven to 400 degrees F.
In a large bowl, combine the onions, carrots and parsnips. Add the oil, herbes de Provence, salt and pepper, toss to coat evenly. Scatter the vegetables on a large nonstick rimmed baking sheet and roast for 20 minutes. Turn the vegetables over and roast until tender and beginning to brown, 15 to 20 minutes longer. Set the vegetables aside.
In a salad bowl, combine the arugula, pear slices and roasted vegetables. Add the Apple Cider Vinaigrette and toss until coated. Sprinkle with the chopped walnuts and serve.
For the apple cider vinaigrette, in a medium bowl, whisk the vinegar, honey, salt and pepper until blended. Gradually whisk in the oil.