You must be signed in to print this content
Author:
Giada De Laurentiis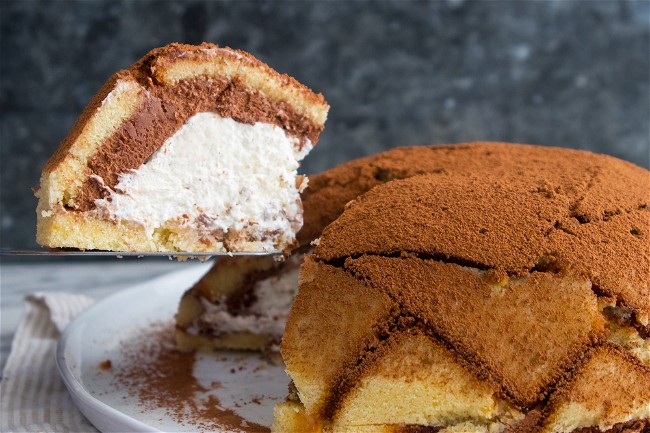 Ingredients
Nonstick cooking spray
1 12-ounce loaf pound cake
1/4 cup brandy
6 ounces bittersweet chocolate (chopped)
2 cups chilled whipping cream
1/2 teaspoon pure almond extract
1/4 cup powdered sugar
1/2 cup sliced almonds (toasted, coarsely crumbled)
Unsweetened cocoa powder
Instructions
Spray a 1 1/2-quart bowl with nonstick cooking spray. Line the bowl with plastic wrap. Cut the pound cake crosswise into 1/3-inch-thick slices. Cut each slice diagonally in half, forming 2 triangles. Line the bottom and sides of the prepared bowl with the cake triangles. Brush some of the brandy over the cake triangles lining the bowl. Reserve the extra triangles.
Stir the chocolate in a large metal bowl set over a saucepan of simmering water until the chocolate melts. Allow the chocolate to cool slightly. Using an electric mixer, beat 1 cup of cream in another large bowl until it is thick and fluffy. Fold 1/4 of the whipped cream into the chocolate. Fold half of the remaining whipped cream into the chocolate mixture. Fold in the remaining whipped cream. Spread the chocolate cream over the cake, covering completely and creating a well in the center. Cover and refrigerate if not assembling cake right away.
In another clean large bowl, add the remaining 1 cup of cream and almond extract. Using an electric mixer with clean beaters, beat on medium speed and gradually add the powdered sugar. Beat until firm peaks form. Fold in the nuts. Spoon the cream mixture into the center of the well of the filling.
Brush the remaining cake slices with brandy and arrange them, brandy side down, over the cake, covering the filling completely and trimming to fit, if necessary. Cover the cake with plastic wrap and refrigerate at least 3 hours and up to 1 day.
Invert the cake onto a platter. Remove the bowl and the plastic wrap. Sift the cocoa powder over and serve.