You must be signed in to print this content
Author:
Giada De Laurentiis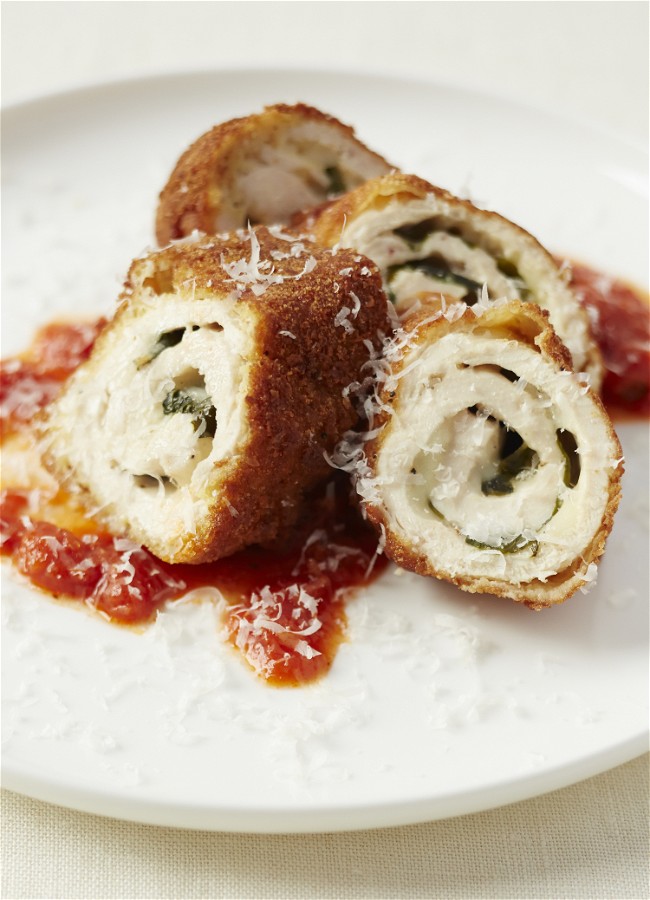 Ingredients
4 boneless (skinless chicken breasts, each cut horizontally into 2 cutlets)
1/2 teaspoons kosher salt
1 teaspoon freshly ground black pepper
1 cup shredded mozzarella cheese
1/3 cup grated Parmesan cheese (plus 1/4 cup for garnish)
24 whole basil leaves
1 cup all-purpose flour
3 eggs (beaten)
2 cups fine (dry bread crumbs 1 cup grapeseed oil)
1 cup extra-virgin olive oil
2 cups marinara sauce (heated 1/4 cup chopped parsley (optional))
Instructions
Preheat the oven to 400°F degrees. Place the chicken cutlets on a board and cover with plastic wrap. Using a meat mallet, lightly pound the cutlets to 1/4-inch thick. (You can ask your butcher to split and even pound the chicken breasts for you to save time.) Remove the plastic wrap and season the cutlets evenly using 1/2 teaspoon salt and 1/2 teaspoon pepper. Sprinkle each cutlet with 2 tablespoons mozzarella and 2 teaspoons Parmesan. Top each cutlet with 3 basil leaves. Starting from one long edge, carefully roll each cutlet into a cylinder and secure with a toothpick.
Place the flour, eggs, and bread crumbs in 3 separate shallow bowls. Season both the flour and the bread crumbs with 1/2 teaspoon salt and 1/4 teaspoon pepper each. Working with one rolled cutlet at a time, dip the roll into the flour, then the egg, then the bread crumbs. Dip the breaded rolls back into the egg a second time and into the bread crumbs again to finish. Repeat with the remaining rolls.
Pour the oils into a 10-inch straight-sided saute pan and heat to 350°F over medium heat. Working in two batches, gently lower 4 rolls into the hot oil and fry for 3 minutes per side or until golden brown and crispy all over. Using a slotted spoon, remove from the oil and drain on a paper towel'Äìlined plate. Transfer the drained rolls to a rimmed baking sheet and bake for approximately 5 minutes or until they register 160°F on an instant-read thermometer. Allow the rolls to rest for 5 minutes.
To serve, place 1/2 cup of warmed marinara sauce on each plate. Remove the toothpicks from the rolls and arrange 2 rolls on each pool of sauce. Top with more grated Parmesan and a sprinkling of chopped parsley if desired. Serve immediately.