You must be signed in to print this content
Author:
Giada De Laurentiis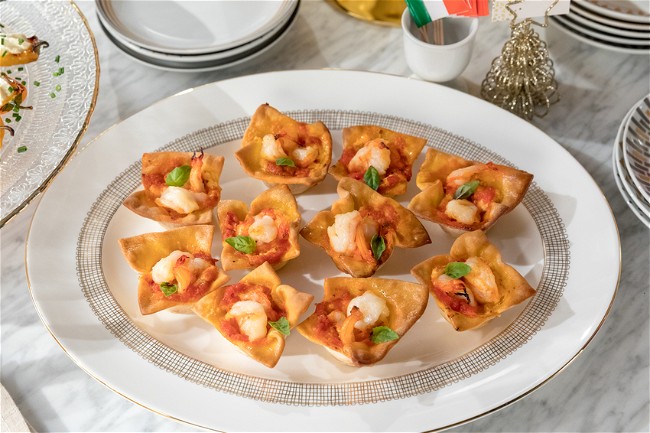 Ingredients
Olive oil cooking spray (for the muffin tin)
2 fresh pasta sheets (each cut into 3-inch squares)
3/4 cup part-skim ricotta
1 1/4 teaspoons Calabrian chile paste
1/2 teaspoon kosher salt
1/4 teaspoon dried oregano
1/3 cup jarred marinara
6 extra-large shrimp (butterflied in half)
12 small fresh basil leaves
Instructions
This recipe originally appeared on Giada's Holiday Handbook. Episode: Small Bites Potluck Party.
Preheat the oven to 400 degrees F.
Spray a 12-cup metal mini muffin tin with the olive oil spray. Press a square of pasta into each cup. Set aside.
Mix together the ricotta, chile paste, salt and oregano in a small bowl. Place a heaping teaspoon of the cheese mixture in the bottom of the pasta shells. Top with 1/2 teaspoon of the marinara. Press a piece of the shrimp gently into the cheese so the ends are sticking out. Spray the bites with the olive oil spray.
Bake until the pasta is brown, the sauce is bubbling and the shrimps are cooked through, about 18 minutes. Remove the bites from the mold to cool slightly. Top with a basil leaf and serve.