Roasted Pork Loin With Fig Port Sauce
You must be signed in to print this content
Roasted Pork Loin With Fig Port Sauce
Author:
Giada De Laurentiis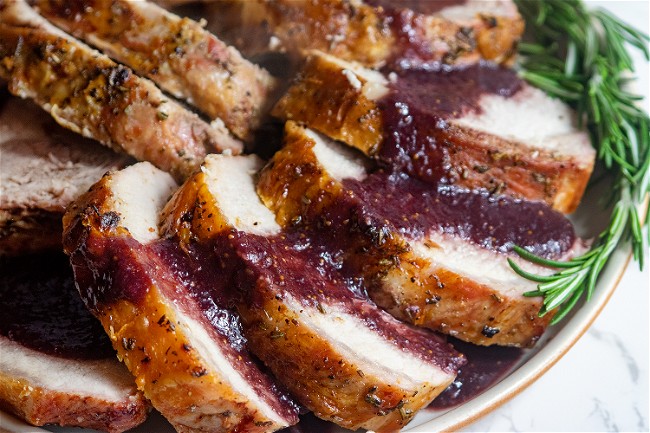 Ingredients
For The Sauce:

2 1/2 cups port
1 1/4 cups reduced-sodium chicken broth
8 dried black Mission figs, (coarsely chopped)
2 sprigs fresh rosemary
2 cinnamon sticks
3 tablespoons unsalted butter, (cut into pieces)
Salt and freshly ground black pepper

For The Pork:

2 tablespoons chopped fresh rosemary leaves
1 1/2 teaspoons freshly ground black pepper, (plus additional for seasoning)
1 cup canned low-salt chicken broth
1 4 to 4 1/2-pound boneless pork loin
Instructions
For the sauce: In a heavy medium saucepan, combine the first 6 ingredients. Boil over medium-high heat until reduced by half, about 30 minutes. Discard the herb sprigs and cinnamon sticks (some of the rosemary leaves will remain in the port mixture). Transfer the port mixture to a blender and puree until smooth. Blend in the butter. Season the sauce, to taste, with salt and pepper. (The sauce can be made 1 day ahead. Cover and refrigerate. Rewarm over medium heat before using.)
For the pork: Preheat the oven to 425 degrees F.
Stir the oil, rosemary, 1 tablespoon salt and 1 1/2 teaspoons pepper in a small bowl to blend. Place the pork loin in a heavy roasting pan. Spread the oil mixture over the pork to coat completely. Roast until an instant read meat thermometer inserted into the center of the pork registers 145 degrees F, turning the pork every 15 minutes to ensure even browning, about 45 minutes total.
Transfer the pork to a cutting board and tent with foil to keep warm. Let the pork rest 15 minutes. Meanwhile, stir the chicken broth into the roasting pan. Place the pan over medium heat, and scrape the bottom of the pan to remove any browned bits. Bring the pan juices to a simmer. Season with salt and pepper, to taste.
Using a large sharp knife, cut the pork crosswise into 1/4-inch-thick slices. Arrange the pork slices on plates. Spoon the jus over. Drizzle the warm fig sauce around and serve immediately.
Nutrition
Amount/Serving
% Daily Value
Carbs

14 grams

Protein

83 grams

Fat

25 grams

Saturated Fat

9 grams

Trans Fat

1 grams

Cholesterol

246 milligrams

Sodium

1538 milligrams

Fiber

2 grams

Sugar

8 grams

Unsaturated Fat

13 grams