Red White & Blue Tiramisu
You must be signed in to print this content
Red White & Blue Tiramisu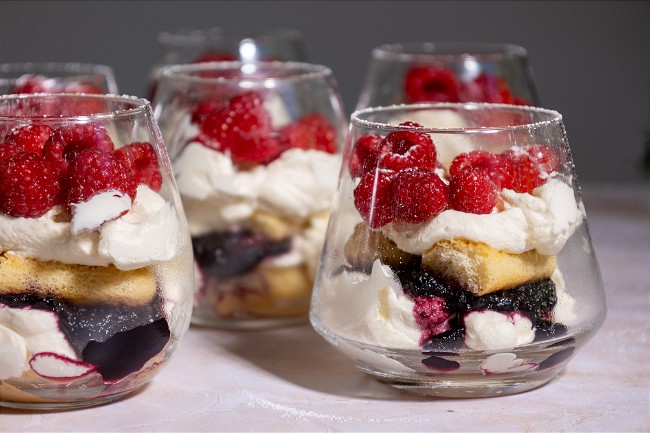 Ingredients
5 tablespoons orange liqueur, such as Grand Marnier, divided

1 pound mascarpone cheese, at room temperature
1 cup whipping cream
1/4 cup sugar
1 teaspoon pure vanilla extract
1/4 cup fresh orange juice, from one large orange
12 soft ladyfingers
1 basket fresh raspberries (about 1 cup total)
Confectioners' sugar, for serving
Instructions
Combine the mascarpone and 2 tablespoons of orange liqueur in a large bowl to blend. In another large bowl, using an electric mixer, beat the cream, sugar, and vanilla until soft peaks form. Using a large rubber spatula, stir 1/4 of the whipped cream into the mascarpone mixture to lighten. Fold the remaining whipped cream into the mascarpone mixture.

In a small bowl, combine the remaining 3 tablespoons of orange liqueur with ¼ cup orange juice.
One at a time, dip 6 of the ladyfingers into the orange liqueur mixture. Do not let them sit and soak in the liquid–just a quick dip. Break each one in half and fit 2 halves on the bottom of each of six 6-ounce coffee cups, wine glasses or ramekins.

Spoon about 1/4 cup of the mascarpone mixture over the ladyfingers in each coffee cup and spread evenly with an offset spatula. Spoon a scant tablespoon of the blueberry jam over the mascarpone mixture in each and spread evenly. Repeat with an additional layer of the ladyfingers, followed by a layer of the mascarpone mixture. Cover with plastic wrap and refrigerate for at least 4 hours, but preferably overnight. Top with fresh raspberries and confectioner's sugar to serve.
Nutrition
Nutrition
Nutrition Serving Size

6
Amount/Serving
% Daily Value
Carbs

52 grams

Protein

8 grams

Fat

40 grams

Saturated Fat

24 grams

Cholestrol

169 milligrams

Sodium

293 milligrams

Fiber

1 grams

Sugar

31 grams

Trans Fat

1 grams