Lemon Crepes with Almond Mascarpone
You must be signed in to print this content
Lemon Crepes with Almond Mascarpone
Author:
Giada De Laurentiis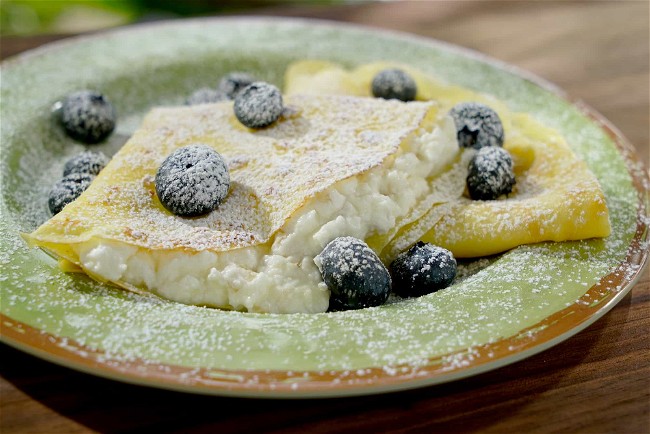 Ingredients
For The Lemon Crepes:

1 cup whole milk
3 large eggs
1 teaspoon vanilla extract
3/4 cup all-purpose flour
2 tablespoons sugar
1/8 teaspoon kosher salt
2 teaspoons lemon zest (about 2 lemons)
1 tablespoon unsalted butter (at room temperature)

Almond Mascarpone Filling:

1/2 cup heavy cream
1/4 cup mascarpone cheese
1 tablespoon sugar
1/4 teaspoon vanilla extract
1/4 cup chopped Marcona almonds

For Serving:

Blueberries
Lemon zest
Powdered sugar
Melted dark chocolate (optional)
Instructions
This recipe originated on Giada In Italy: Episode: Flavors of Capri.
For the lemon crepes:
Whisk together the milk, eggs and vanilla in a medium bowl until smooth. Add the flour, sugar, salt and lemon zest and whisk until smooth. Set aside.
For the almond mascarpone filling:
Combine the heavy cream, mascarpone, sugar and vanilla extract in a separate medium bowl. Using a handheld mixer, beat on medium until stiff peaks form, about 3 minutes. Fold in the chopped almonds.
Heat a medium saute pan over medium heat. Add a teaspoon of the butter and swirl the pan until the butter is melted and coats the pan (you can also use a pastry brush to brush softened butter into the pan). Add 1/4 cup of the batter and swirl the pan to coat the bottom with an even thin coating of batter. Cook for 2 minutes, gently flip the crepe and cook for another minute on the other side. Remove to a plate and continue with the remaining batter, adding more butter as needed.
To serve, place 1 heaping tablespoon almond mascarpone filling on one quarter of a crepe. Gently fold the crepe in half and then in half again making sort of a triangle. Serve 2 per plate, sprinkle with blueberries and dust with more lemon zest and powdered sugar. Drizzle with chocolate, if desired.