Herb Crusted Chicken and Spring Vegetables
You must be signed in to print this content
Herb Crusted Chicken and Spring Vegetables
Author:
Giada De Laurentiis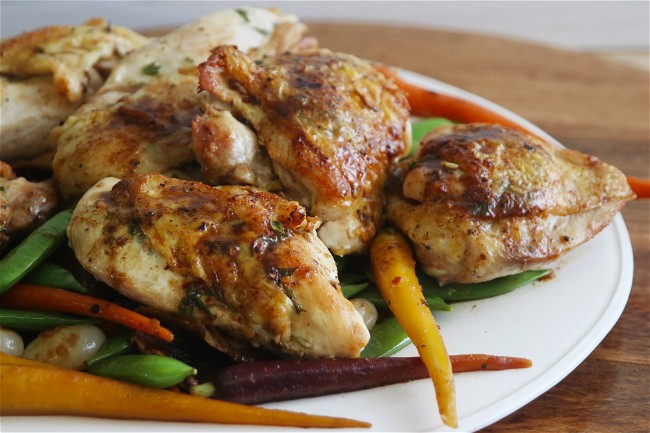 Ingredients
1/4 cup chopped fresh thyme leaves
1/4 cup chopped fresh parsley leaves
3 cloves garlic (minced)
1 teaspoon fennel seeds
1/4 teaspoon red pepper flakes
Kosher salt
Freshly ground black pepper
3 boneless (skin-on chicken breasts)
3 bone-in (skin-on thighs)
3 tablespoons olive oil
1 tablespoon butter
6 cipollini onions (trimmed and peeled)
8 ounces baby carrots (peeled and trimmed, but leaving on a bit of green tip)
1 cup chicken broth
6 ounces snap peas (trimmed)
4 ounces morel mushrooms
Instructions
Preheat the oven to 375 degrees F. In a small bowl combine the thyme, parsley, garlic, fennel seeds, red pepper flakes, and a pinch of salt and pepper. Stir to combine. Place the chicken pieces on a work surface. Gently loosen the skin of the chicken and push the herb mixture under the skin. Season the chicken all over with salt and pepper.
Warm the olive oil in a large skillet over medium-high heat. Place the chicken in the pan, skin side down, when the oil is hot. Cook until the skin is crispy and golden, about 5 minutes. Turn the chicken and cook the same way on the other side. Turn the heat off the pan and reserve. Transfer the chicken to a baking dish, skin side up again, and finish cooking in the oven, about 15 minutes.
Meanwhile return the same pan to medium heat. Add 1 tablespoon of the butter. When the butter has melted add the cipollini onions and carrots. Sprinkle with salt and pepper. Cook until tender and golden in places, about 7 minutes. Add the chicken broth and scrape any brown bits off the bottom of the pan with a wooden spoon. Add the snap peas
and mushrooms. Simmer over low heat until the vegetables are tender and the liquid has reduced by half, about 5 minutes. Season with salt and pepper, if necessary.
Remove the chicken from the oven. Spoon the vegetables onto a serving platter along with the chicken. Spoon the sauce over the chicken. Serve immediately.