Giada's Brown and Wild Rice Stuffing with Mushrooms and Brussels Sprouts
You must be signed in to print this content
Giada's Brown and Wild Rice Stuffing with Mushrooms and Brussels Sprouts
Author:
Giada De Laurentiis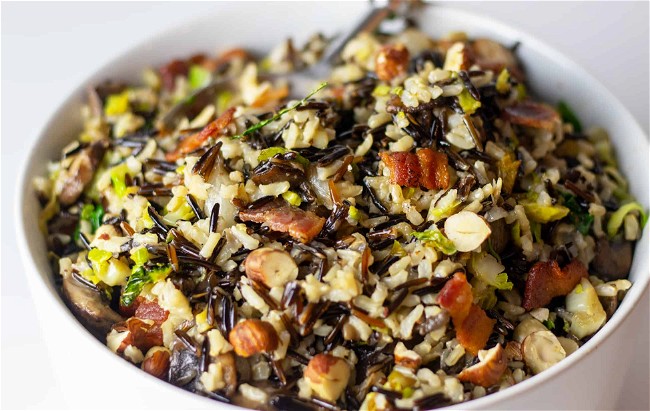 Ingredients
8 ounces applewood-smoked bacon (chopped into 1/2-inch pieces)

For The Rice:

4 1/2 cups low-salt chicken broth
3 tablespoons chopped fresh thyme
1 1/4 cups short-grain brown rice
1 1/4 cups wild rice

For The Vegetables:

2 tablespoons unsalted butter (at room temperature)
2 tablespoons extra-virgin olive oil
One 14-ounce bag frozen pearl onions (thawed)
1 teaspoon kosher salt
3/4 teaspoon freshly ground black pepper
12 ounces 3 large portobello mushrooms, shredded or thinly sliced
8 ounces Brussels sprouts (trimmed and thinly sliced)
1/2 cup hazelnuts (toasted, husked, coarsely chopped, optional)
Instructions
Cook the bacon in a large skillet over medium heat until crisp, 8 to 10 minutes. Using a slotted spoon, drain the bacon on paper towels.
For the rice: In a heavy saucepan or Dutch oven, bring the broth and thyme to a boil over medium-high heat. Add the brown and wild rice. Cover the saucepan and simmer until the rice is tender but still chewy, 30 minutes. Turn off the heat and allow the rice to stand for 10 minutes. Fluff with a fork.
For the vegetables: In the same skillet used to cook the bacon, heat the butter and oil over medium-high heat. Add the onions and season with 1/2 teaspoon salt and 1/4 teaspoon pepper. Cook, stirring occasionally until light golden, about 5 minutes. Add the mushrooms, 1/4 teaspoon salt and 1/4 teaspoon pepper. Cook until softened, about 8 minutes. Add the Brussels sprouts and the remaining 1/4 teaspoon salt and 1/4 teaspoon pepper. Cook for 5 minutes.
Transfer the vegetable mixture to the saucepan of cooked rice. Add the hazelnuts and cooked bacon. Toss until all the ingredients are mixed. Transfer to a large bowl and serve.
Cook's Note: The rice can also be cooked in 4 cups of broth and 1/2 cup of water. To toast the hazelnuts, arrange in a single layer on a baking sheet. Bake in a preheated 350 degrees F oven until lightly toasted, 8 to 10 minutes. Cool completely before using.
Nutrition
Amount/Serving
% Daily Value
Carbs

55 grams

Protein

16 grams

Fat

24 grams

Saturated Fat

7 grams

Cholesterol

26 milligrams

Sodium

535 milligrams

Fiber

6 grams

Sugar

5 grams