Roasted Squash and Gorgonzola Pizza
Roasted Squash and Gorgonzola Pizza
Author:
Giada De Laurentiis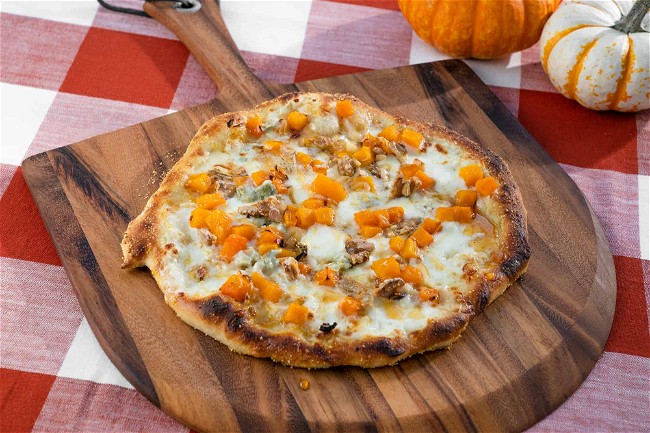 Ingredients
One 12-ounce piece butternut squash (peeled and cut into 1/2-inch cubes)
1 shallot (sliced into rings)
3 tablespoons olive oil
3/4 teaspoon kosher salt
1/4 teaspoon red pepper flakes (optional)
Semolina flour (for dusting)
1/2 pound pizza dough
1/4 pound fresh mozzarella
1/4 pound gorgonzola dolce
1/2 cup roughly chopped raw walnuts
2 tablespoons honey (optional)
Instructions
This recipe first appeared on Giada's Holiday Handbook. Episode: Giada's Fall Festival.
Preheat the oven to 425 degrees F.
Add the squash, shallots, 2 tablespoons olive oil, 1/2 teaspoon salt and red pepper flakes, if using, to a rimmed baking sheet. Toss well to combine and coat in the oil. Roast until the squash is beginning to brown and is cooked through, about 20 minutes. Remove from oven and turn the oven up to 550 degrees F. Position one rack in the top third of the oven and place the second rack in the middle of the oven so it is out of the way.
Dust a separate rimmed baking sheet lightly with semolina flour. Place the pizza dough on the flour and gently stretch and form the dough into a 12-inch round using your fingertips. Brush or drizzle the dough with the remaining tablespoon oil and sprinkle with the remaining 1/4 teaspoon salt. Tear the mozzarella over the bottom of the crust. Sprinkle the squash mixture over the cheese. Crumble or tear the gorgonzola over the pizza and sprinkle with the walnuts. Place the baking sheet on the very bottom of the oven for 5 minutes. Rotate the pizza to the top rack and bake 10 more minutes. Remove to a cutting board and drizzle with the honey, if using. Slice into wedges and serve warm.
Cook's Note: Additional topping options: Shaved Brussels sprouts, the squash, caramelized onion, kale pesto, roasted eggplant, salumi, sausage, broccoli rabe, roasted cauliflower, toasted pumpkin seeds, parm sauce.
Nutrition
Amount/Serving
% Daily Value
Carbs

62 grams

Protein

21 grams

Fat

36 grams

Saturated Fat

12 grams

Cholesterol

44 milligrams

Sodium

1430 milligrams

Fiber

6 grams

Sugar

18 grams