You must be signed in to print this content
Author:
Giada De Laurentiis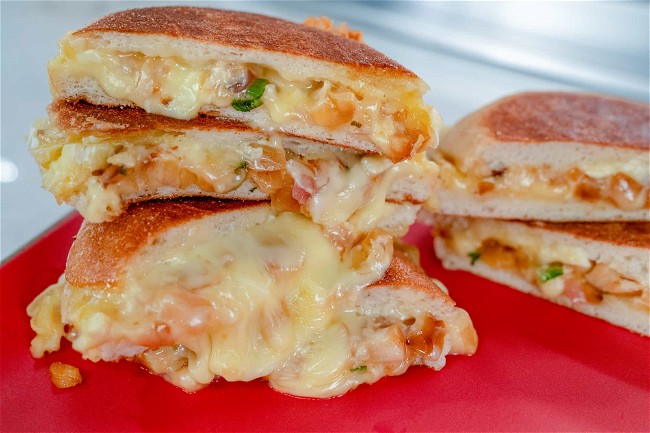 Ingredients
1/4 cup olive oil
2 shallots (chopped)
1/2 teaspoon kosher salt
2 large Pink Lady apples (diced small)
1 teaspoon lemon zest (from 1 lemon plus 1 tablespoon lemon juice (from 1/2 lemon))
1 tablespoon chopped fresh basil
4 ciabatta rolls (sliced in half horizontally)
1 pound Brie (sliced into 1/4-inch slices)
Instructions
This recipe originated on Giada's Holiday Handbook. Episode: Thankful For You.
Heat a medium saucepan over medium heat. Add 2 tablespoons olive oil to the pan along with the shallots and 1/4 teaspoon salt. Cook, stirring often, until soft and fragrant, about 2 minutes. Add the apples and stir to coat in the oil. Add the lemon zest, juice and remaining 1/4 teaspoon salt. Stir well to coat the apples in all the flavors. Cook, stirring occasionally, until the apples begin to brown and are cooked through, about 8 minutes. Stir in the basil and set aside to cool slightly.
Meanwhile, lay the ciabatta halves out so they are open-faced. Scoop out some of the inside of the bread and discard. Divide the Brie evenly among the halves, about 3 slices per half, tearing them as needed to cover the bread. Divide the apple mixture on the bottom halves of each sandwich (approximately 1/4 cup per sandwich). Place the tops on the sandwiches and press slightly to close.
Heat a large skillet over medium heat. Add 1 tablespoon olive oil to the skillet along with 2 sandwiches. Place a lid smaller than the skillet on top of the sandwiches and press down gently. Cook until golden brown on the first side, about 3 minutes. Flip the sandwiches and repeat on the second side until the bread is golden brown and the cheese is melted. Repeat with the remaining oil and sandwiches. (Alternatively, you can use a panini press.) Serve warm.
Nutrition
Amount/Serving
% Daily Value
Carbs

42 grams

Protein

29 grams

Fat

45 grams

Saturated Fat

22 grams

Cholesterol

113 milligrams

Sodium

1281 milligrams

Fiber

3 grams

Sugar

11 grams