Citrus-Herb Spatchcocked Turkey
You must be signed in to print this content
Citrus-Herb Spatchcocked Turkey
Author:
Giada De Laurentiis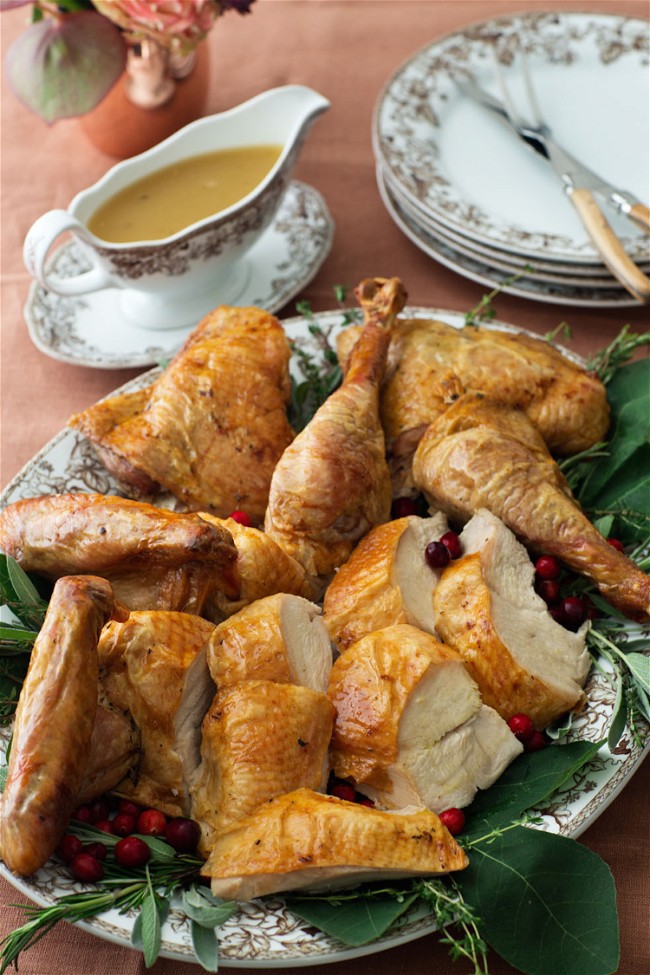 Ingredients
3 tablespoons salt
1 teaspoon lemon zest (from 1 lemon)
1 teaspoon thyme leaves (chopped)
1/2 teaspoon chopped rosemary
1/2 teaspoon red pepper flakes
1 12-pound turkey, backbone and keel bone removed
3 stalks celery (cut in half)
1 onion (peeled and quartered)
2 carrots (peeled and halved)
4 sprigs thyme
2 sprigs rosemary
1/4 cup extra-virgin olive oil

For the Gravy:

4 cups unsalted chicken broth (such as Kitchen Basics)
4 sprigs of thyme
1 bay leaf
1/4 cup cornstarch
1 1/2 teaspoons kosher salt
Instructions
Prepare the turkey the day before. In a small bowl mix together the salt, lemon zest, thyme, rosemary, and pepper flakes. Lay the bird flat on a rimmed baking sheet, skin- side down, and pat dry with paper towels. Generously season the inside of the bird with half of the seasoning, being sure the hit the thicker parts a bit heavier than the thin parts. Flip the bird and season the skin side with the remaining mixture.
Cover the bird with just a piece of loose parchment and place in the refrigerator for at least 12 hours or up to 24. Preheat the oven to 450°F. Remove the turkey from the refrigerator 30 minutes before roasting. On a clean, rimmed baking sheet, scatter the celery, onion, carrots, thyme, and rosemary. Pat the turkey dry one more time and place the turkey on the bed of vegetables, skin- side up. Drizzle the bird with the olive oil and rub it evenly over the skin.
Place the tray in the oven and roast for about 1 hour and 20 minutes or until an instant-read thermometer reads 155°F in both the thigh and the thickest part of the breast. Remove the tray from the oven and place the turkey on a cutting board to rest for 20 minutes before carving. Strain any juices that remain at the bottom of the baking sheet and skim off any fat that may rise to the surface.
In a medium saucepan, heat the chicken broth, thyme, and bay leaf over medium- high heat. Bring the stock to a simmer, then reduce the heat to maintain a simmer. In a small bowl, whisk together the cornstarch and 1'ÅÑ4 cup water until smooth and no lumps remain. Whisk the cornstarch slurry into the simmering broth. Continue to whisk until smooth and thickened, about 5 minutes.
Whisk in the remaining turkey drippings and the salt into the broth. Remove the thyme sprigs and bay leaf and serve alongside the carved turkey. Add the remaining turkey drippings to the pan and serve with the turkey.