Cranberry Zeppole with Ginger Syrup
You must be signed in to print this content
Cranberry Zeppole with Ginger Syrup
Author:
Giada De Laurentiis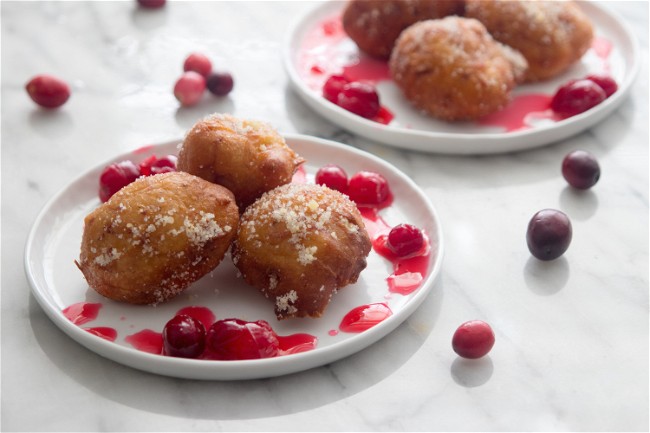 Ingredients
For the Cranberry Zeppole:

1/4 cup sugar
1 stick butter
1/4 teaspoon salt
1/2 cup water
1 cup flour
4 eggs
4 ounces whole fresh cranberries (about 1 cup)
Olive oil for frying

For the Ginger Sugar:

1/4 coarsely chopped crystallized ginger
1/2 cup sugar

For the Cranberry Syrup:

2 cups cranberries
1 cup sugar
1/2 cup water
2-4 pieces crystallized ginger (about 2 ounces)
Instructions
In a medium saucepan combine the butter, salt, sugar, and water over medium heat. Bring to a boil. Take the pan off the heat and stir in the flour. Return the pan to low heat and stir continuously until the mixture forms a ball, about 4 minutes. Transfer the flour mixture to a medium bowl. Using an electric hand mixer on low speed, add eggs, one at a time, incorporating each egg completely before adding the next. Beat until smooth. In a food processor, mince the cranberries. Gently fold the minced cranberries into the zeppole batter.
Pour enough oil into a large frying pan to reach a depth of 2 inches. Heat the oil over medium heat until a deep-fry thermometer registers 375 degrees F.
Using a small ice-cream scooper or 2 small spoons, carefully drop about a tablespoon of the dough into the hot olive oil. Turn the zeppole once or twice, cooking until golden and puffed up, about 5 minutes. Roll the zeppole in the Ginger Sugar. Arrange a 3-5 zeppole on each plate. Drizzle the cranberry syrup around the zeppole and place a few cranberries around the plate. Serve immediately.
For the Ginger Sugar: Place the crystallized ginger and sugar in a food processor. Blend until the crystallized ginger is minced into the sugar.
For the Cranberry Syrup: In a small saucepan combine the sugar and water and cook over medium heat until the sugar dissolves. Add the cranberries and ginger and continue cooking until the simple syrup reaches about 225 degrees F. Remove the ginger and reserve until ready to serve.
Nutrition
Nutrition
Nutrition Serving Size

8
Amount/Serving
% Daily Value
Carbs

63 grams

Protein

47 grams

Fat

57 grams

Saturated Fat

29 grams

Cholestrol

143 milligrams

Sodium

1537 milligrams

Fiber

4 grams

Sugar

12 grams