Sausage & Pepper Polenta Bake
You must be signed in to print this content
Sausage & Pepper Polenta Bake
Category
Main Course Side Dish
Author:
Giada De Laurentiis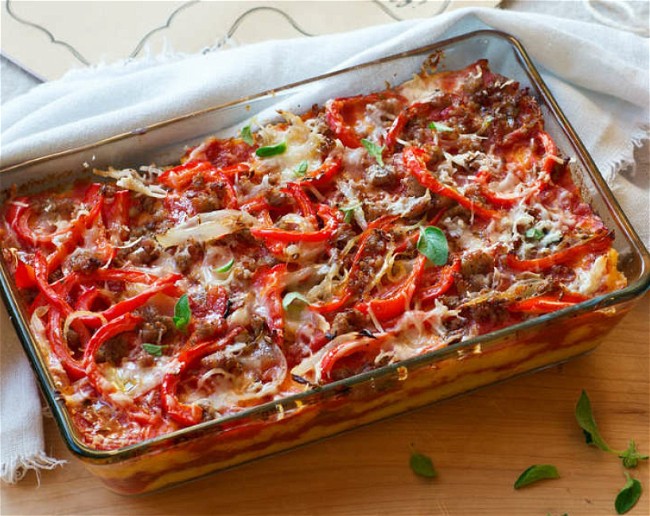 Ingredients
2 tablespoons extra-virgin olive oil (plus 2 teaspoons for the pan)
1 pound sweet or spicy Italian sausage (casings removed)
1 onion (peeled, halved, and sliced)
3 bell peppers (seeded and sliced)
½ teaspoon kosher salt
1 teaspoon chopped fresh oregano
3 cups milk
3 cups chicken broth
1 teaspoon salt
16 ounces quick-cook polenta
8 tablespoons butter (at room temperature)
3 cups freshly grated Parmesan cheese
1 cup jarred marinara sauce (plus more for serving)
2 cups grated aged provolone
Instructions
Oil a 9 x 13-inch baking dish. Heat a large skillet over medium-high heat. Add the oil and heat an additional 30 seconds. Add the sausage to the pan and cook, stirring often with a wooden spoon and breaking the sausage into 1-inch pieces, until the sausage pieces are beginning to brown, about 3 minutes.
Add the onion, peppers, salt, and oregano to the pan and stir to combine. Cover the pan with a lid and cook for 5 minutes, stirring occasionally until the peppers and onions just begin to soften and the flavors have married. Set aside to cool slightly.
In a large saucepan combine the milk, chicken broth, and salt and bring to a simmer over medium-high heat. Reduce the heat to medium and whisk in the polenta, stirring until smooth. Switch to a wooden spoon and cook for about 5 minutes, stirring often. Remove from the heat and stir in the butter and cheese.
Pour half of the polenta into the prepared pan and spread evenly. Ladle ½ cup of the marinara over the polenta and top with half of the sausage mixture. Sprinkle with 1 cup of the provolone. Repeat with the remaining
polenta, sauce, sausage mixture, and cheese. Allow to cool. Cover and refrigerate until ready to bake, at least 20 minutes or up to 2 or 3 days.
Preheat the oven to 400°F. Place a piece of parchment paper over the casserole then cover the dish tightly with aluminum foil. Bake for 30 minutes, then remove the foil and parchment and cook an additional 25 minutes, or until the cheese is melted and browning and the edges are bubbling. Allow the casserole to cool for 15 minutes before slicing and serving with more sauce, if desired.
Nutrition
Amount/Serving
% Daily Value
Carbs

58 grams

Protein

40 grams

Fat

56 grams

Saturated Fat

28 grams

Cholesterol

138 milligrams

Sodium

2338 milligrams

Fiber

3 grams

Sugar

9 grams