You must be signed in to print this content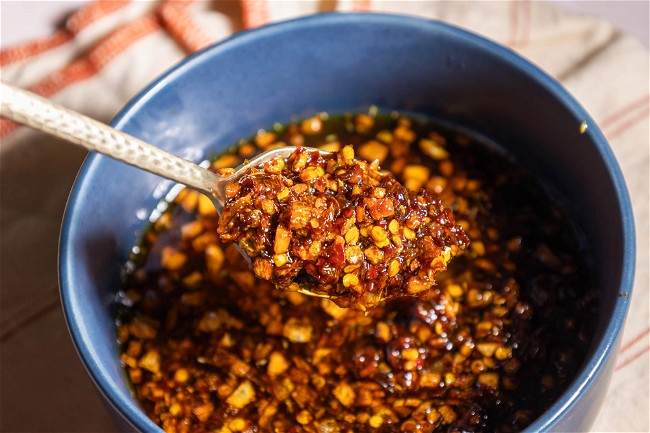 Ingredients
1 tablespoon granulated sugar
2 tablespoons soy sauce
1/4 teaspoon kosher salt
3 shallots, chopped fine
6 garlic cloves, chopped fine
1 cup olive oil 

*Chef's Note: Can also substitute with 3 tablespoons red pepper flakes, but will be slightly less flavorful. To process dried peppers, measure roughly 1/3 cup dried Calabrian peppers, remove the stems and pulse in a food processor until they resemble small flakes. Thoroughly wash your hands after using. The end result should yield 3 tablespoons.
Instructions
In a medium bowl, add the crushed Calabrian chili peppers, oregano, sugar, soy sauce, colatura and salt. Mix to combine. Fit a heatproof mesh sieve or strainer over the bowl.
Add the shallots, garlic and oil to a small saucepan. Set over medium to medium-high heat and bring to a simmer. Maintain the simmer for about 10 to 15 minutes, stirring and rotating the pan occasionally. If you notice any small bits getting dark brown quickly, turn the heat down. The shallots and garlic should look lightly toasted and crispy when done. Turn off the heat.
Very carefully pour the shallots, garlic and oil into the bowl through the mesh sieve. Set aside the sieve with the shallot and garlic to cool in the sieve for 10 minutes, or until completely cooled to room temperature - this will allow them to get more crispy before incorporating into the oil. Meanwhile, stir together the oil to combine all of the ingredients.
Once cooled, mix the shallot and garlic back into the oil. Allow to fully come to room temperature before storing in the fridge for up to one month.
When you're ready to use this out of the fridge, give it a stir or a shake to re-mix the ingredients. Drizzle on eggs, pizza, pasta, avocado or ricotta toast, or any savory application that could use a bit of a spicy kick.