You must be signed in to print this content
Author:
Giada De Laurentiis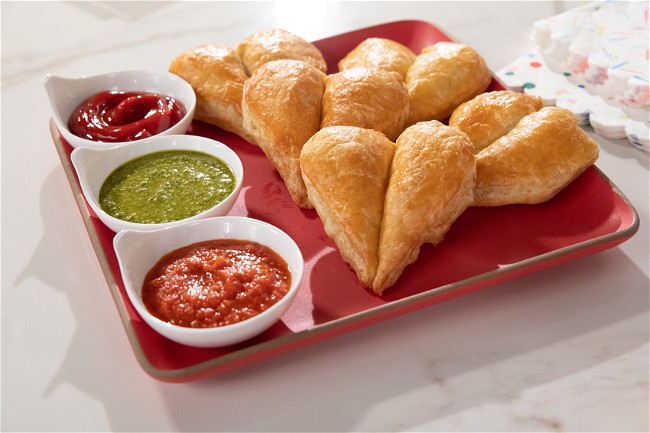 Ingredients
1/3 cup grated Parmesan
1 teaspoon lemon zest
One 17.3-ounce package frozen puff pastry (thawed)
All-purpose flour (for dusting)
10 large (16/20 shrimp, peeled, deveined and tails removed)
1 large egg (beaten)
Pesto (marinara and/or ketchup, for dipping)
Instructions
This recipe originally appeared on Giada Entertains: Jade's Chocolate Factory.
Preheat the oven to 400 degrees F.
Mix together the Parmesan and lemon zest in a small bowl.
Lay the puff pastry on a lightly floured surface and gently roll out to 1/4-inch thick. Cut out 10 hearts using a 4 1/2-inch heart-shaped cookie cutter. Place 1 shrimp on half of a heart. Sprinkle the shrimp with a pinch of the cheese mixture. Brush the edges with egg wash, fold the heart in half and seal. Place on a baking sheet and continue with the remaining shrimp and pastry hearts. Place 2 halves together on the baking sheet so you have 5 full hearts. Repeat with the remaining halves. Brush with the remaining egg wash (it will drip down and glue the two halves together).
Bake until golden brown and puffed, 15 to 20 minutes. Serve with pesto, marinara and/or ketchup, if desired. Pull apart with your best friend.