A Chef's Dream - Bobby And Giada In Italy, Episode 3!
You must be signed in to print this content
Experience the beauty of Tuscany without leaving your couch in Bobby And Giada In Italy, episode 3!
Ah, Tuscany. The rolling hills, the temperate weather, the food, the greenery, the wine - it's a dream, and especially so for a chef. As a matter of fact, that's just what Bobby Flay calls it - "a cook's paradise". In this episode of Bobby And Giada In Italy, it's all about classic Tuscan dishes and taking advantage of the bounty in the Italian countryside.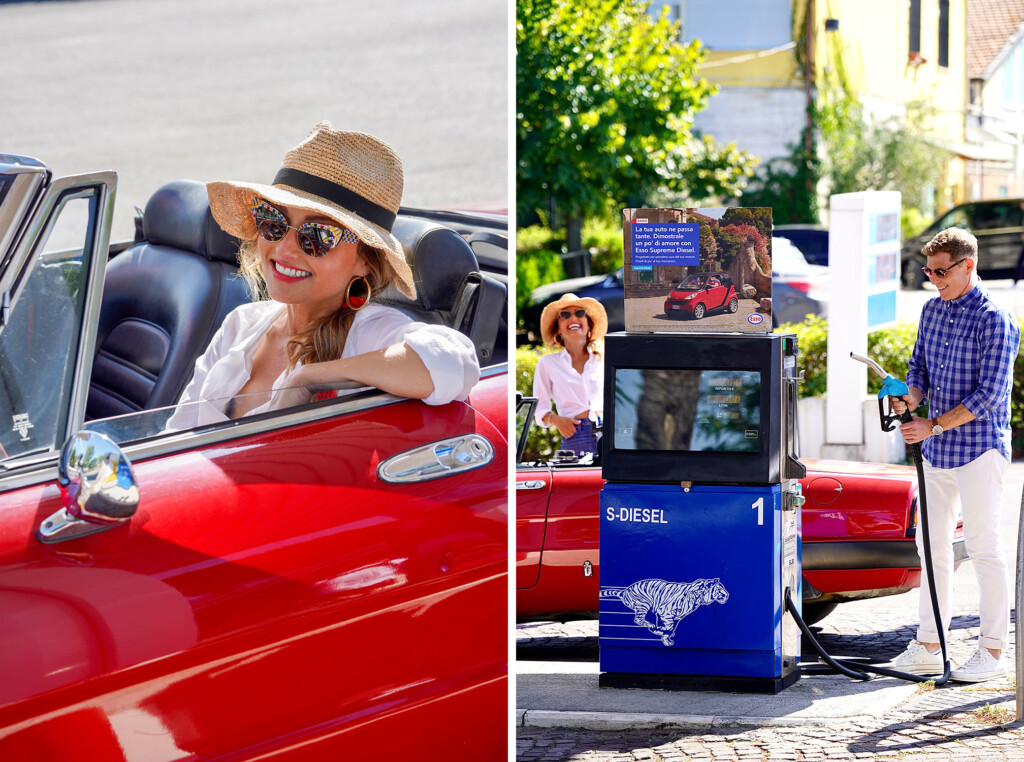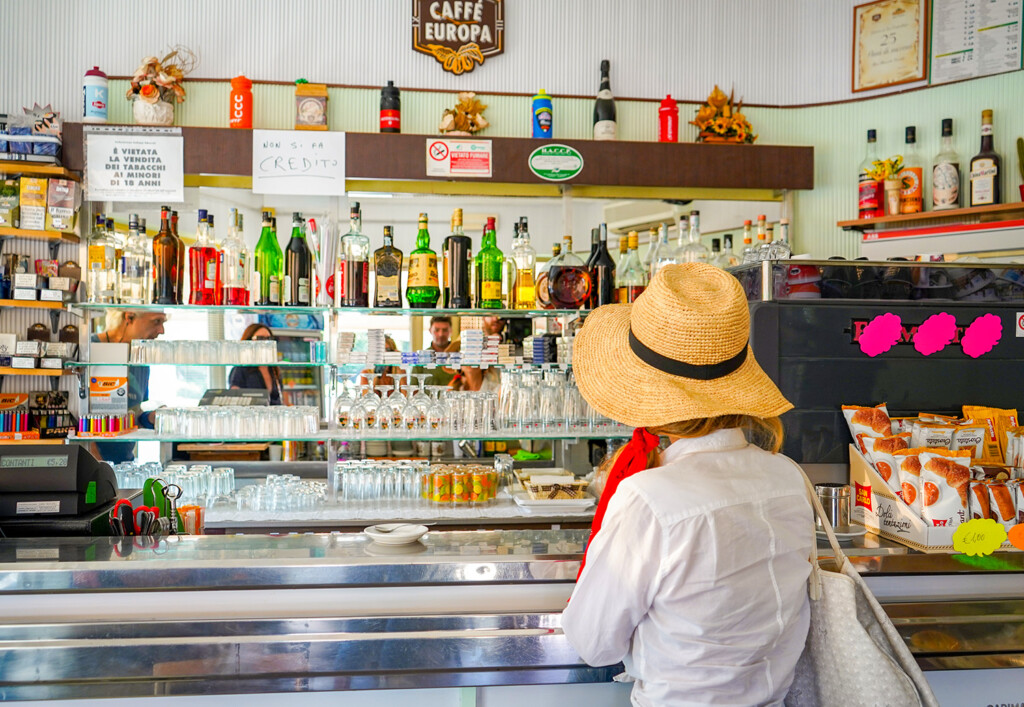 This episode kicks off with a scenic drive from Rome to Tuscany, and a stop at a 
tabacchi - 
aka, a tobacco shop at a gas station. In Italy, many of these shops have been run by families for years and years, and you can even grab a fresh espresso shot.
The destination is a medieval hilltop town called
Monteverdi
, one of
Giada's favorite places to stay in Tuscany
. Monteverdi sits at the top of a big hill that overlooks the stunning rolling hills of Val D'orcia, and Bobby describes it as feeling like he's "landed in heaven".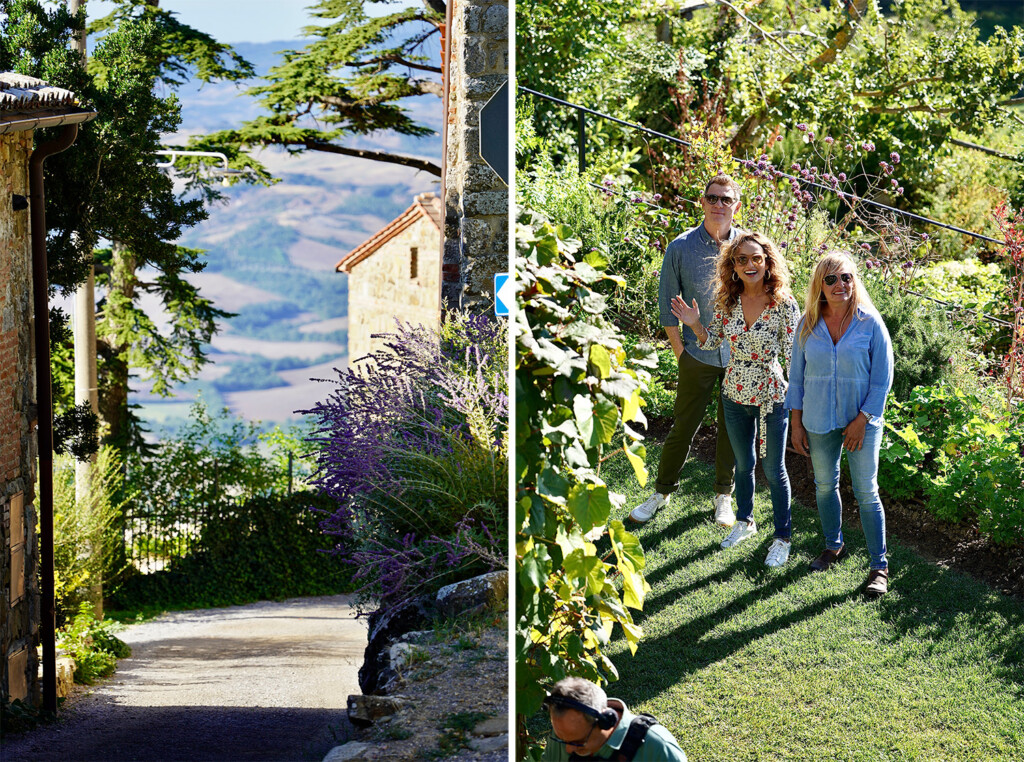 The duo meet up with Chef Giancarla - the award-winning executive chef at Monteverdi. Her passion is creating incredible farm-to-table dishes using all of the local agriculture, and making relationships with Tuscan artisans. When you're surrounded by such incredible food growing everywhere, how could you not take advantage? Bobby and Giada plan to make a homemade dinner using the freshest available ingredients possible.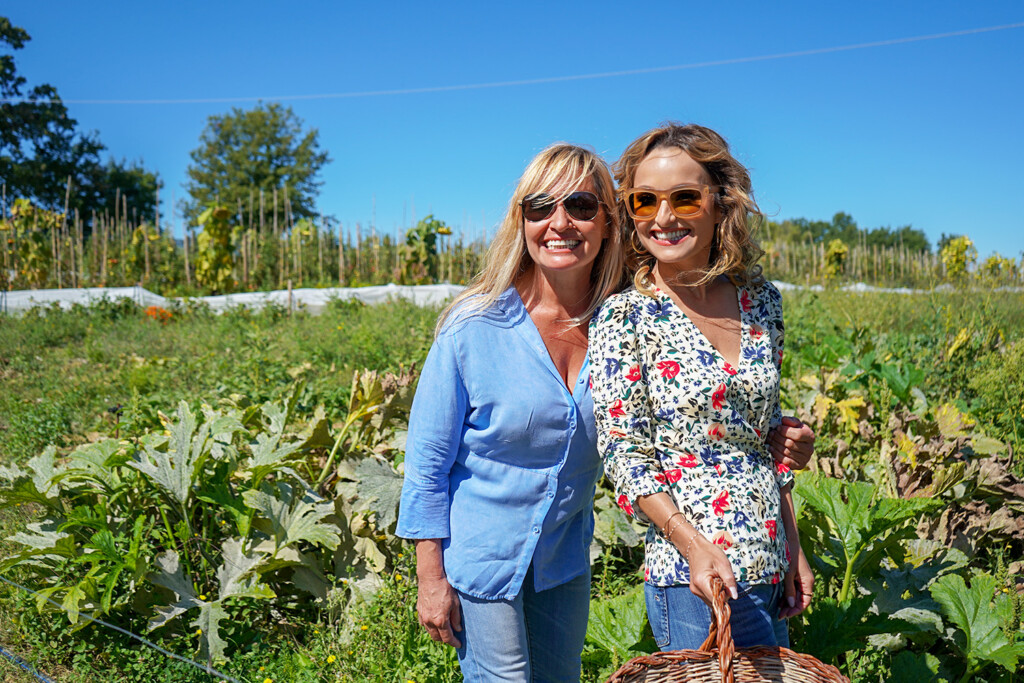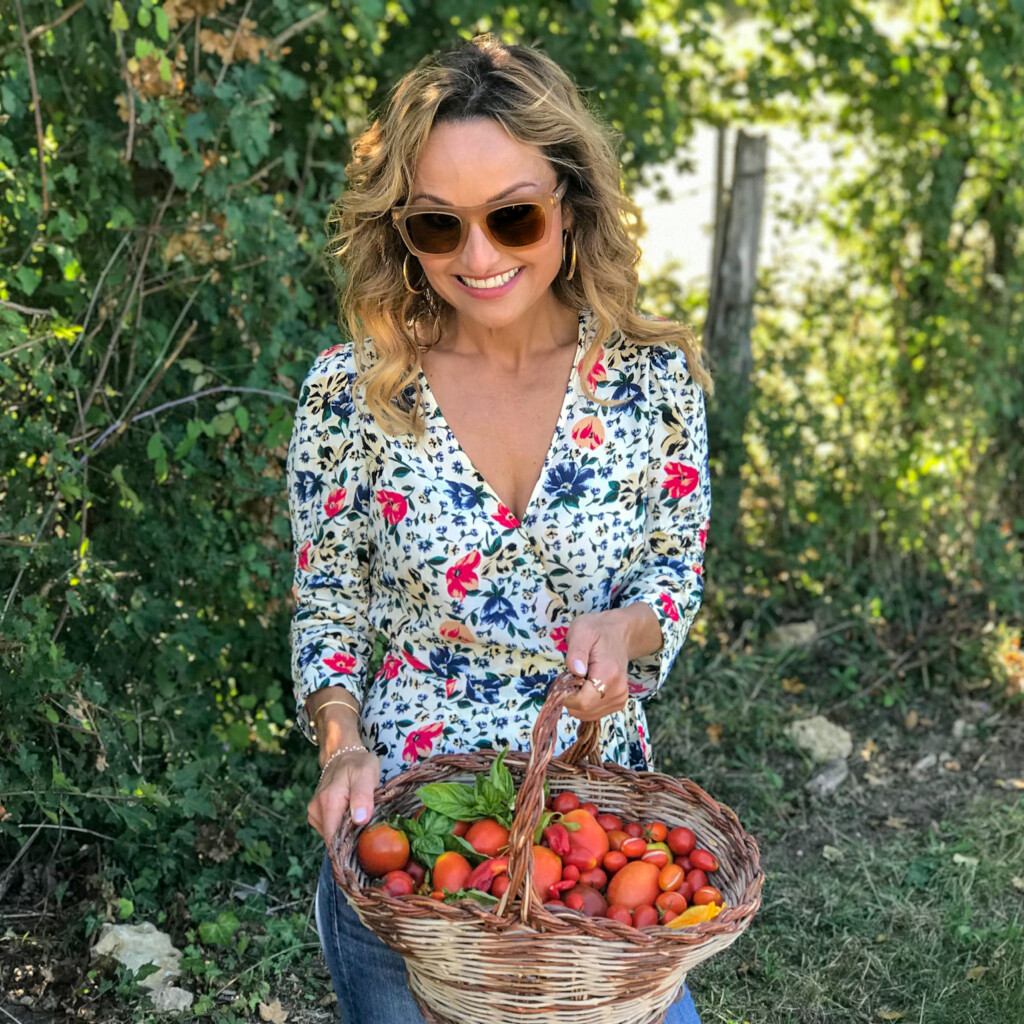 Bobby's dish of choice stars one of the quintessential ingredients in Tuscan cuisine - wild boar, or 
cinghiale. 
He opts to make a succulent ragout by slow-cooking the meat with aromatic vegetables, herbs and wine. For a similar kind of dish, turn to Giada's
Rigatoni With Pork Ragout
or
Tuscan Sausage Ragout
.
For Giada's contribution to the dinner, she made a dish of pan-fried zucchini and eggplant (
a spin on her zucchini with anchovy vinaigrette!
) and topped it with a beautiful tomato sauce and anchovy vinaigrette. It's an especially wonderful dish in the summertime with fresh tomatoes, but it's great year round.
One of our favorite moments? When Giada insists that Bobby adds a Parmesan rind to his pork ragout. It's one of
our favorite ways
to amp up sauces, braises and more! 
Giada's second dish is one we know and love -
her honey ricotta crostini
. It's a great way to showcase particularly high quality ricotta, and with the cheese made fresh that day, it was the perfect bite to make. She tops the crostini off with pink peppercorns, which not only add a beautiful color, but they give it a great earthy flavor as well.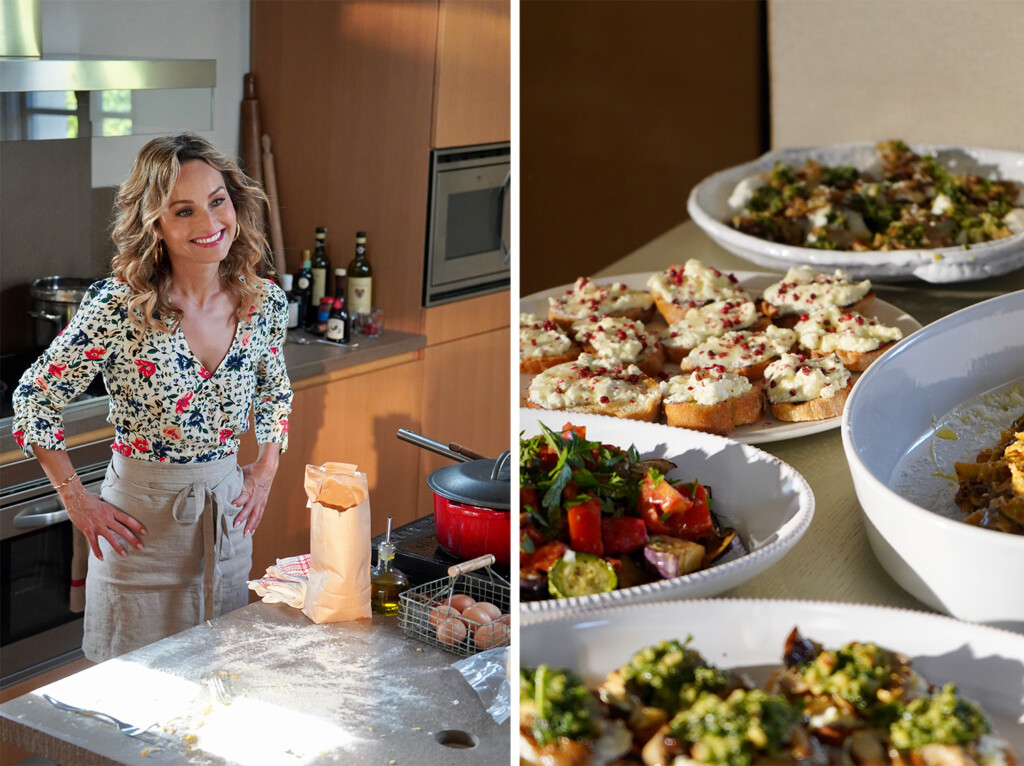 The next day, the pair head over to Podere Il Casale in Pienza for a tour of a sheep farm that produces award-winning Pecorino. What could be better than a farm-to-table cheese tasting with the rolling hills of Tuscany in the backdrop?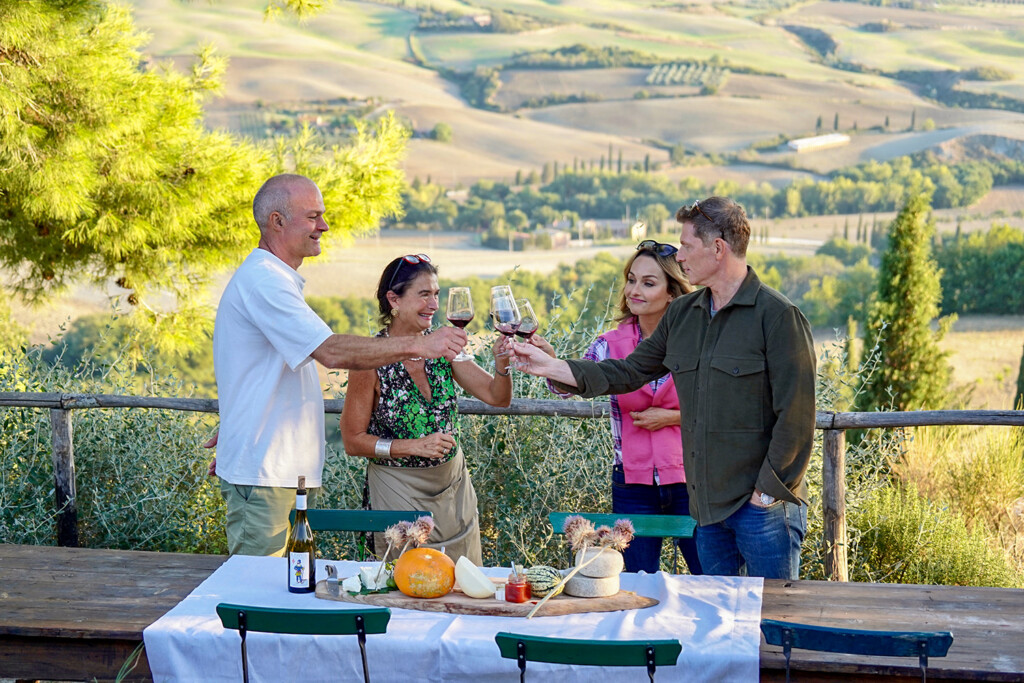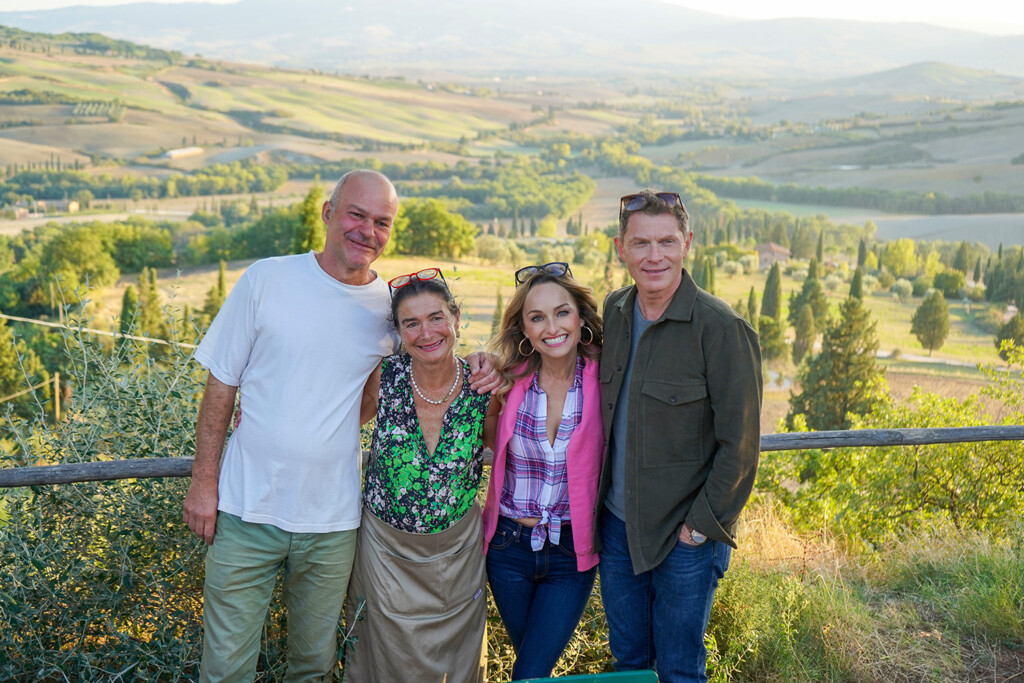 After getting their fill of cheese, Bobby and Giada head over to a region called Sarteano to eat at Tenuta Astrone. Chef and owner Martino Ferri and his wife Luciana run the place, and they've turned their farm into what's known as an agriturismo - essentially, an Italian bed and breakfast. One of their specialties is a delicious Tuscan dish - a pressed pork burger with taleggio cheese. You'll need to watch the episode to check out the incredibly unique ancient technique they use for making these special burgers - but for something similar, Giada developed
a recipe inspired by them!
For some Italian nightlife, they check out the
Palio Dei Ciuchi
... the regional donkey race! Each neighborhood has their own donkey in the race, which creates a culture of local rivalries - and, like Bobby notes, "an excuse to have a party". With tons of Italian street food like candied nuts, fried pizza and porchetta, it's a party we'd certainly like to be invited to!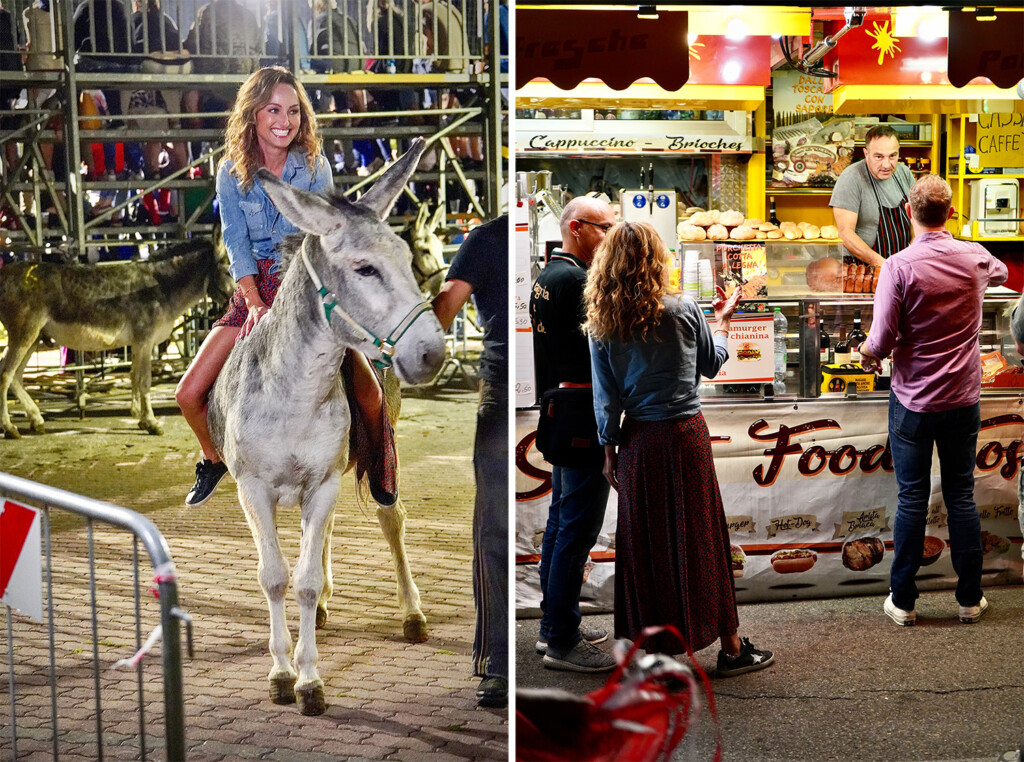 On their last night in Monteverdi, Bobby, Giada and Chef Giancarla opt to make a big Tuscan feast. Bobby heads to Mulino Val d'Orcia, a family-run wheat mill, to grab some special organic flours for the meal. Afterward, Bobby fires up the grill for some pork chops, while Giada and Giancarla make a tomato sauce known as
aglioni 
to top off some homemade pici pasta. 
The other star of the dinner? Giancarla's crispy grape focaccia. She was kind enough
to give us her recipe,
and let's just say - it's pretty unbelievable. Serve this sweet-and-salty treat up at your next family or friend dinner and it will be
certain 
to impress.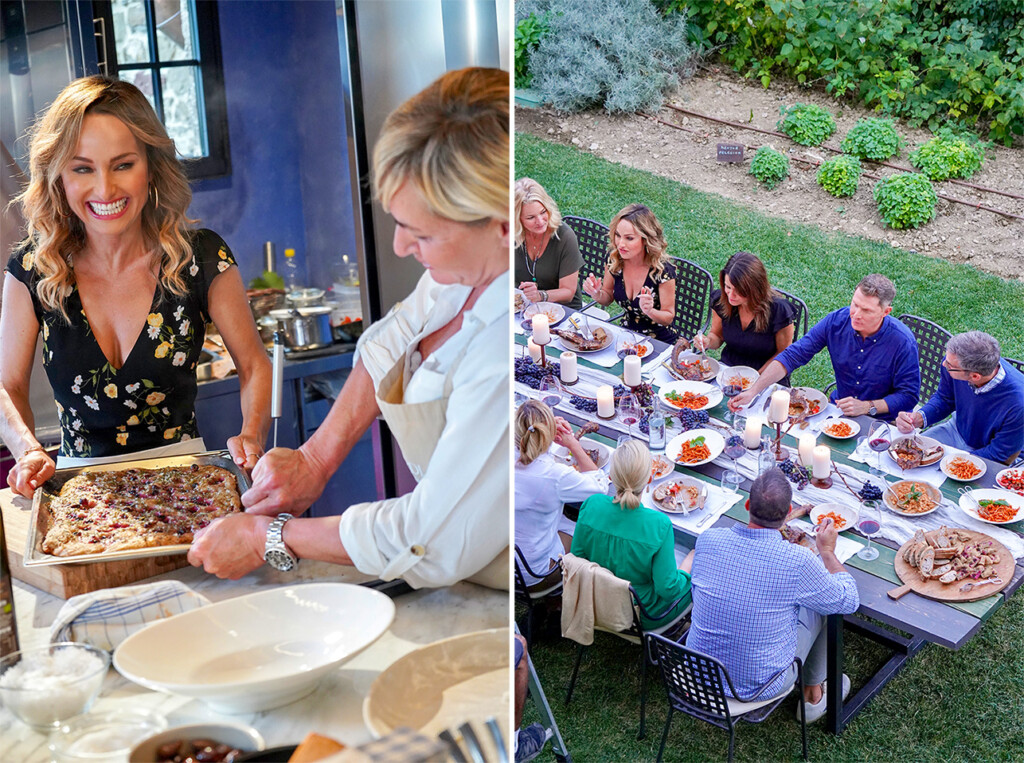 For a simple and beautiful Italian dessert, Bobby grills up some peaches with fresh ricotta and a drizzle of honey. With red wine, a stunning view and good company, it's a pretty fabulous feast.
Tune in next week for our behind-the-scenes coverage and recipes for Bobby and Giada In Italy, episode 4 - the final one! 
 [wptb id=1091853]