Giada's Favorite Spots in Tuscany, Italy
You must be signed in to print this content
From wine tasting to artisanal cheese farm tours, here is Giada's locals guide to Tuscany, Italy.
When I want to go somewhere in Italy to recharge, Tuscany is it.
---
The rolling hills of the region might be one of the most iconic, scenic backdrops of Italy - and it's that land we have to thank for some of the best Italian wines and olive oils. There's something serene and beautiful about the landscape - and it feels so removed from our modern cities and lifestyles. Walking through the vineyards is incredibly peaceful, but there's a whole lot more than meets the eye in this idyllic region. Whether you opt to stay at
Monteverdi
overlooking the dramatic hills of Val D'Orcia, a small mom and pop vineyard or
Inspirato
villas for larger families and groups, you'll be sure to find what you're looking for in this beautiful place. Here is my locals guide to some of the very best kept secrets in Tuscany so you can experience all of the unique things the region has to offer!
Looking for my recommendations for Florence specifically? Tap
here!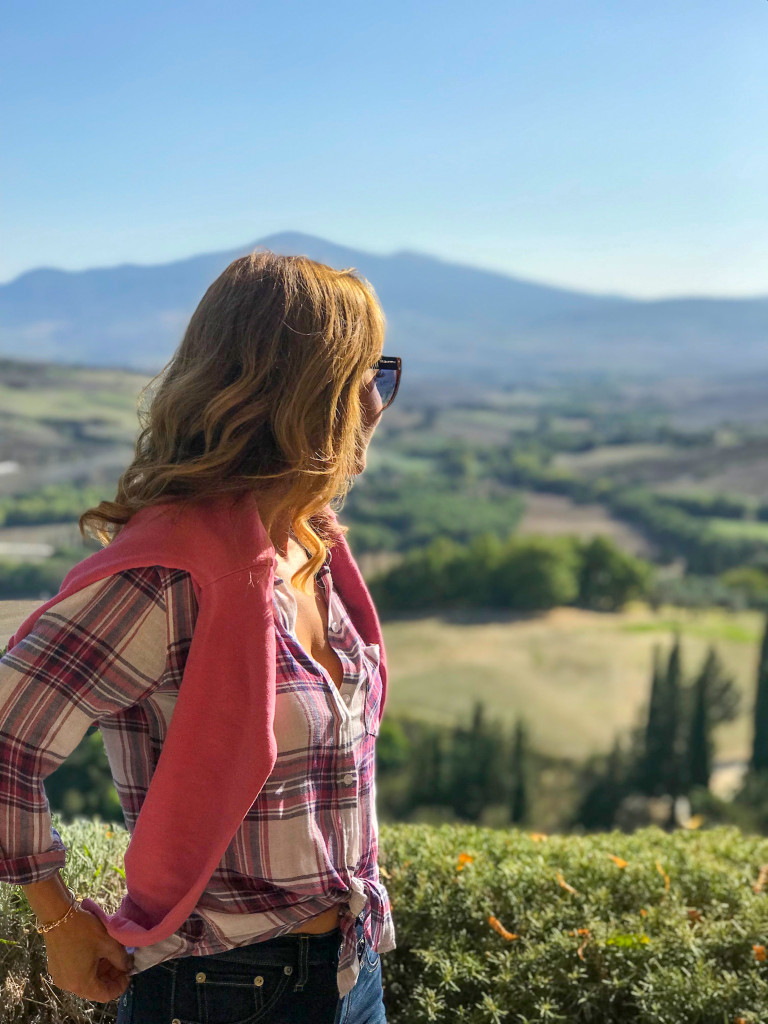 WHEN TO GO?
Like many places in Italy, early fall is a great time to visit - when summer crowds have diminished, and the weather is a little cooler. Specifically, September is generally my favorite time to go. The additional great part about visiting Tuscany in fall is that there are grape and olive oil festivals going on that time of year!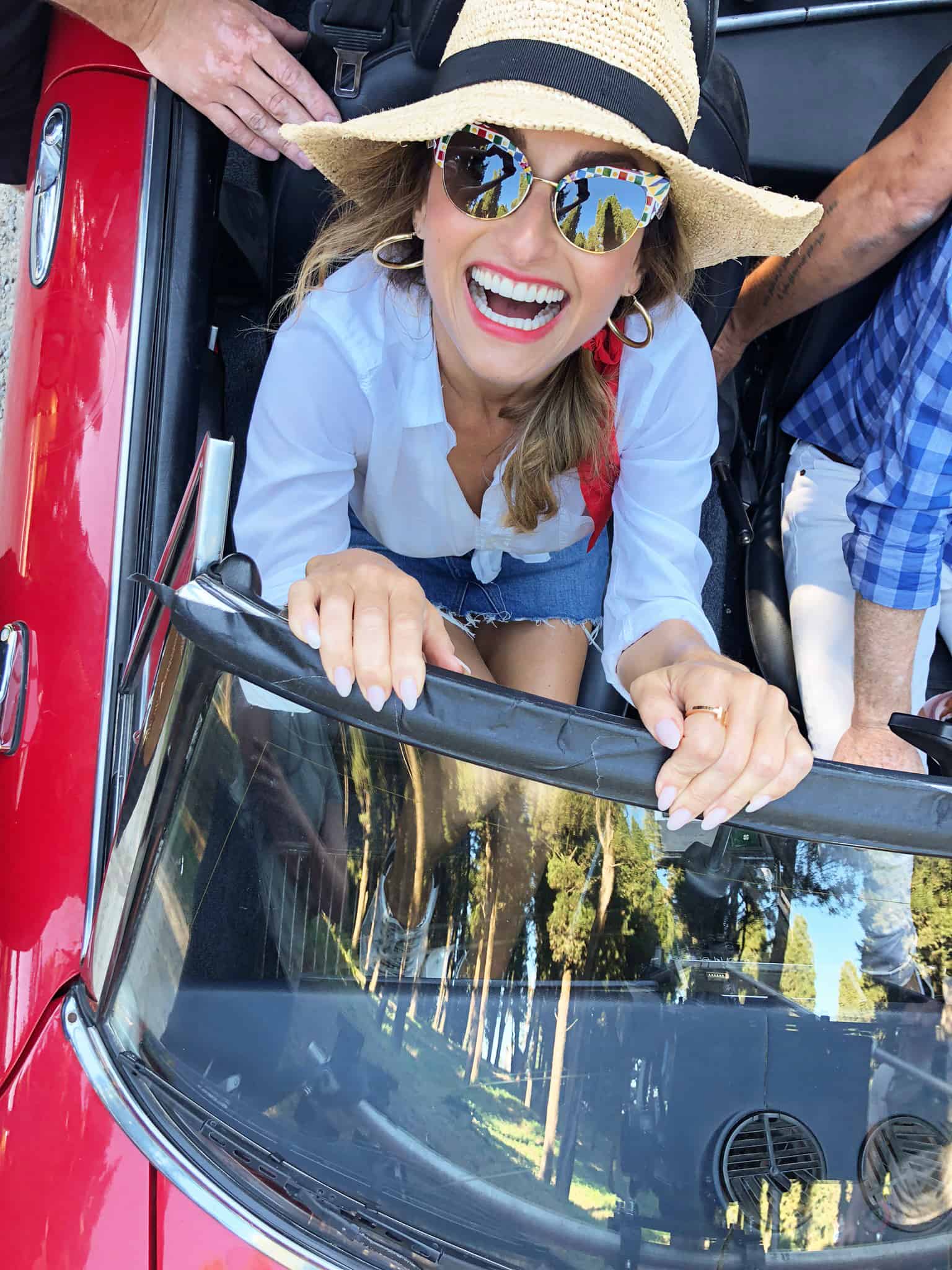 HOW DO YOU GET THERE?
Getting to where you need to go in Tuscany is a breeze. From wherever you are in Italy, you can
get a train
to Florence or Pisa, then grab a private connection to wherever your destination is.
Mydaytrip.com
is a great website to book a driver on, but your hotel might be able to provide accommodations for you too. Another option is renting a car right from the train station you arrive at - then just drive yourself!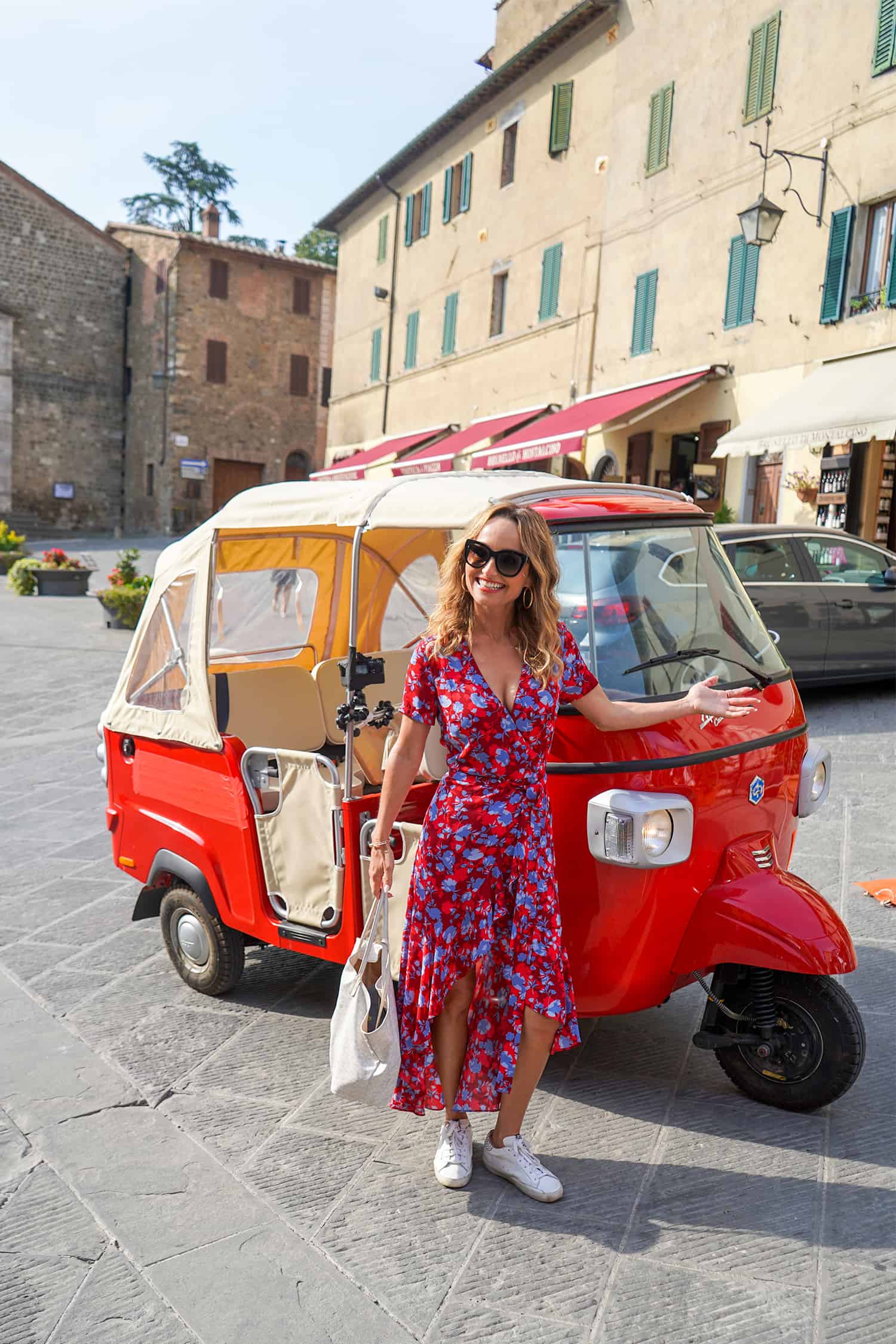 HOW DO YOU GET AROUND?
Tuscany is big and sprawling, and an entire region in itself - so you won't be able to walk everywhere! Grab a cab or private driver to get from place to place. Feeling adventurous? Rent a car, or ride around in an Ape (pictured above!)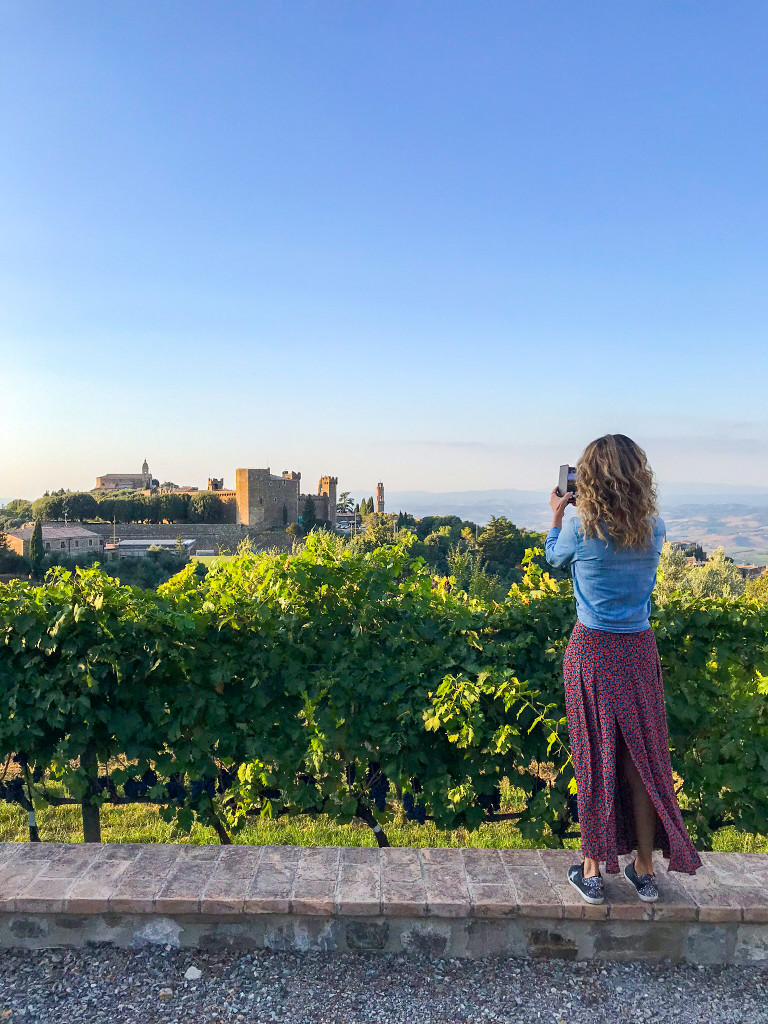 WHAT SHOULD I PACK?
If you visit in fall, the weather will generally stay quite warm and temperate until mid-October. However, if you do Tuscany right, you'll end up having a few alfresco dinners - so definitely pack a few layers for the chillier evenings! Pack a nice outfit if you plan on heading to some of the nicer restaurants, but other than that, bring along some comfortable clothes for walking and sightseeing - including good sneakers!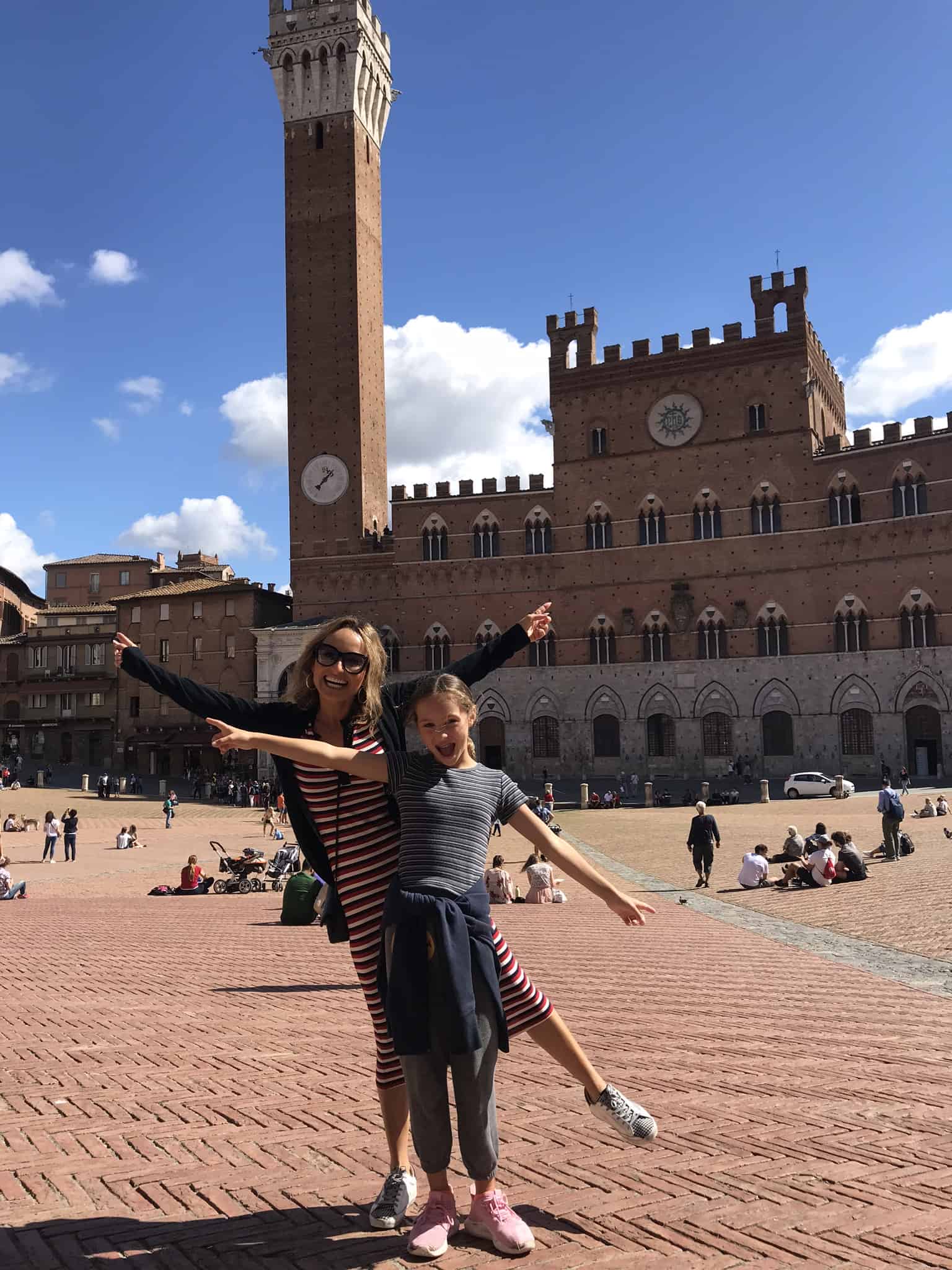 WHAT DAY TRIPS TO TAKE?
Because Tuscany is such a vast region, there are tons of different spots to visit there - and we definitely think you should venture out instead of staying in just one spot the whole time! Our favorite places to visit are as follows:
Sarteano: Sarteano is close to the Monteverdi hotel and some amazing restaurants - like Agriosteria Tenuta Astrone below. Worth visiting for that spot alone!

Montalcino: One of our favorite towns in Tuscany, this area is known for its Brunello wine - so be sure to drink some! It's also home to tons of great restaurants listed below, along with some great unique shopping.

San Gimignano: San Gimignano is just southwest of Florence, and it's picturesque as can be. It's a small, walled medieval town, and past the skyline of old buildings are the beautiful rolling hills of Tuscany. Only makes sense that our favorite rooftop bar (at Hotel La Cisterna!) was found here!

Pienza: Pienza is such a quaint town to visit. With urban garden-lined alleys of brick and cobblestone, and streets named things like Via del Bacio ("Kiss Street"!) it's just about as lovely as can be.

Siena: Siena is one of the more crowded destinations, but still retains tons of charm. This is a great place to come if you're searching for somewhere with a bit of night life - many young people flock to this college town!
---
Giada's Guide To Tuscany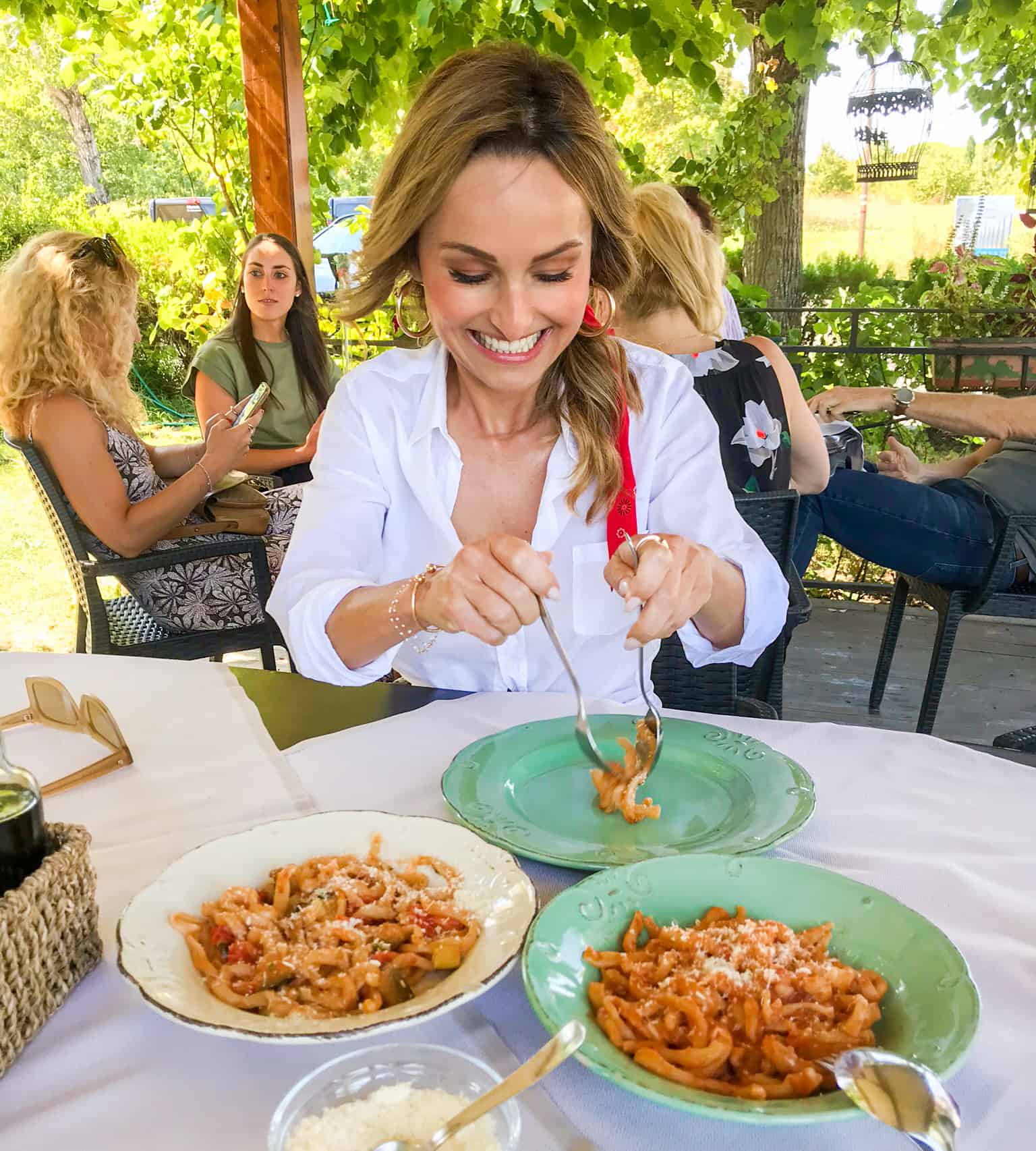 Osteria Perillà
Borgo Maestro, 74, 53023 Rocca D'orcia SI, Italy
+39 0577 887263
This restaurant is located right in the middle of a small medieval town that really makes you feel like you're in another time. They use sustainable, natural food that somehow feels very traditional but contemporary all at once. This is an exquisite meal that you should definitely make the trip to eat! 
Piccolomini Cafe
Corso il Rossellino, 87, 53026 Pienza SI, Italy
+39 0578 748051
Cute lunch spot cafe with lots of outside seating in a quaint plaza! 
Ristorante Gallo Nero

Via del Porrione, 65-67, 53100 Siena SI, Italy
+39 0577 284356
Feels like you're eating in a medieval wine cellar - very pretty! The food is definitely a step up from casual, but worth it. The pastas are wonderful. It's away from the crowds, which can be a really nice reprieve!
Locanda Demetra
Podere La Buca, 221, 53024 Montalcino SI, Italy
+39 0577 150 3199
This is a farm to table restaurant (and cooking school!) owned by 3 siblings with tables outside overlooking the Tuscan hills. It is so beautiful! A great place to have a long Italian lunch. They make a homemade Brunello jam which is delish and unique to the area.
Agriosteria Tenuta Astrone
Palazzo di Pirro San Felciano, 13, 53047 Sarteano SI, Italy
+39 338 874 0631
Cutest little farmhouse restaurant with tons of farm animals!  They're known for their "Tuscan Burgers," which are basically deconstructed burgers (lettuce, cheese and bread come on the side) and they cook the meat in terracotta pots. They can tell how hot the terracotta is based on the color of it once it's over the flame and they cook the meat based off of the color of the terracotta! All super unique and an old method of cooking. 
La Sosta
Via Ricasoli, 48, 53024 Montalcino SI, Italy
+39 0577 848230
Restaurant/wine bar in the heart of Montalcino. Be sure to sit outside in the back area. Great wine selection. They have a blanched green bean salad with walnuts that's lightly dusted with an anchovy and caper dressing- AMAZING. So good we went back again the next day for it!
Il Pino
Via Cellolese, 6, 53037 San Gimignano SI, Italy
+39 0577 907003
Super lovely and pleasant atmosphere! There's a big focus on local food, so order the carpaccio or bistecca - the beef is their specialty!
Ristorante Taverna del Grappolo Blu
Scale di Via Moglio, 1, 53024 Montalcino SI, Italy
+39 0577 847150
Great spot for a classic Italian meal. Super cozy inside, and cute little benches for two outside that have a great view of the Tuscan countryside.
"Why Not" Gelato
Costa Garibaldi, 7, 53024 Montalcino SI, Italy
+39 348 672 6867
Julie says this is the best gelato she's ever had, and I'll leave it at that!
Il Giardino
Piazza Camillo Benso Conte di Cavour, 1, 53024 Montalcino SI, Italy
+39 0577 848026
This restaurant was highly recommended by the villa owner, and we could see why! Very intimate and cozy.
Porta al Cassero
Via Ricasoli, 32, 53024 Montalcino SI, Italy
+39 0577 847196
A great spot for something quick and casual.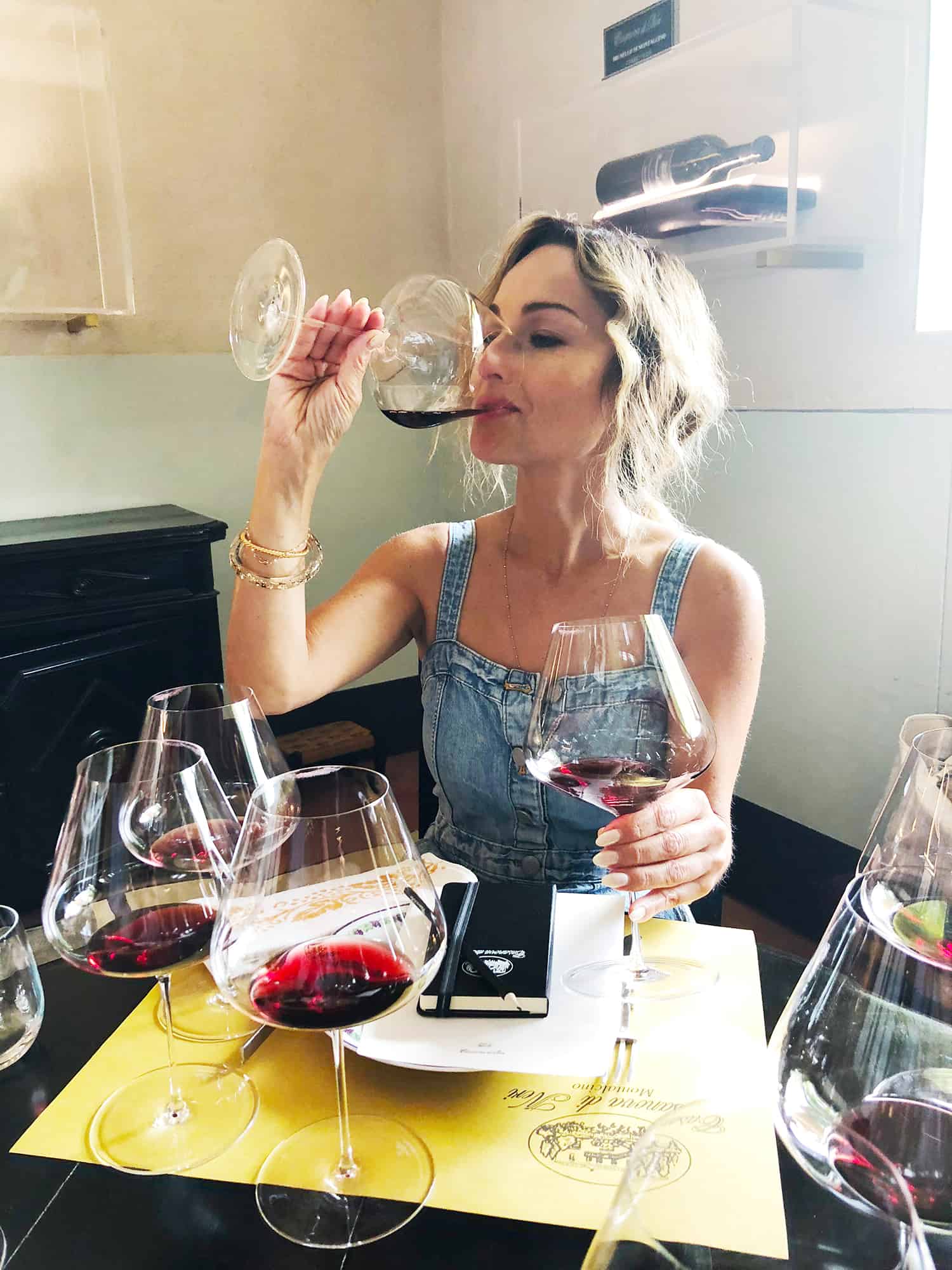 Casanova Di Neri
Podere Fiesole, 53024 Montalcino SI, Italy
+39 0577 834455
Not only are the folks at Casanova Di Neri generous about their wine pours, but also about their information and knowledge, too. You'll walk away feeling truly informed about wines of the region. Not to mention, the grounds of this vineyard are simply beautiful.
Hotel La Cisterna
Piazza Della Cisterna, 23, 53037 San Gimignano SI, Italy
+39 0577 940328
A rooftop hotel bar with a great view!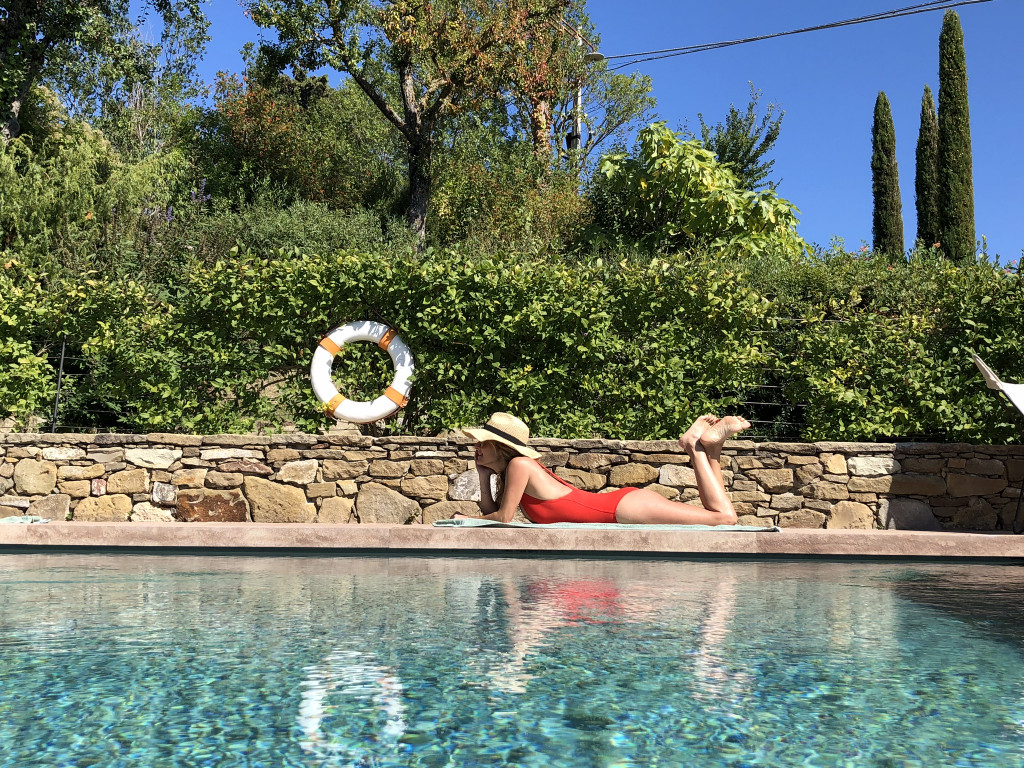 Inspirato
If you plan on visiting Tuscany with a large family or friends often, this membership is fabulous. They offer villas all over the region that make you feel immersed in Tuscany, but offer all of the amenities of a hotel.


Monteverdi
Via di Mezzo, 53047
Castiglioncello del Trinoro, Sarteano SI, Italy
Nestled in the hills of Tuscany, this hotel is my happy place. They have a great spa to relax in, culinary classes where you can learn how to make pastas with their in-house chefs, an art gallery, and beautiful trails to go hiking — a little bit of everything. Chef Giancarla offers cooking classes on the property at their beautiful culinary academy!
Hotel L'Antico Pozzo
Via S. Matteo, 87, 53037 San Gimignano SI, Italy
+39 0577 942014
Elegant and peaceful, this is a great hotel to stay at in San Gimignano. Set in a medieval town, it's picturesque inside and out!
Villa Palazzetta
Via Bellaria, 217, 53024 Montalcino SI, Italy
+39 347 316 1689
The most stunning villa. Elegant and homey all at once! You'll want to spend all day by the pool with the most incredibly views.
Montalcino Town House
Corso il Rossellino, 111, 53026 Pienza SI, Italy
+39 347 3161689‬
Another amazing villa. There's both a hot tub and a garden with unbelievably panoramic views - you'll be eating all your meals alfresco to take advantage!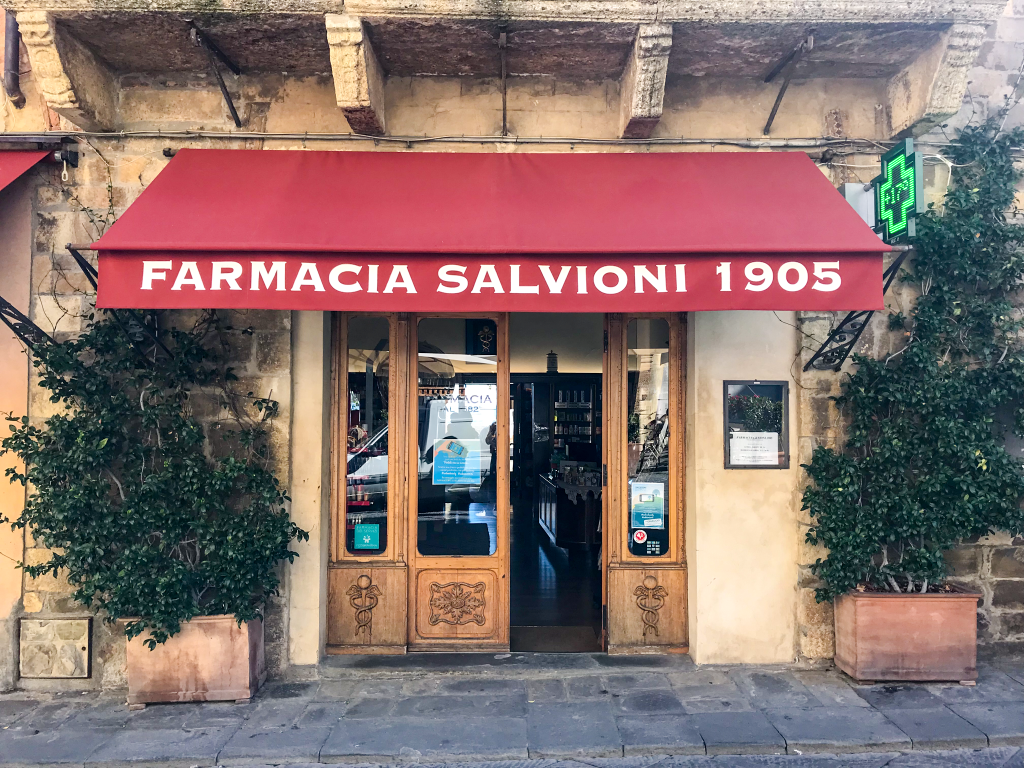 Montalcino 564
Massimo Gorelli Snc P.zza del popolo, 36 53024 Montalcino
Tel. +39 347 5412853
A husband and wife duo own several shops around Montalcino. The husband oversees the linen shop, and the wife has a few hip clothing stores with lots of unique Italian designers. The linen shop is a great place to buy souvenirs- he can create anything you want from linen, from tote bags to bathrobes!  
Farmacia Salvioni 1905
Piazza del Popolo, 42, 53024 Montalcino SI, Italy
+39 0577 848216
Old (founded in 1905!), but beautiful pharmacy (be sure to walk to the back to see the view!) 
Officine 904
16 Via Dogali, Pienza
+39.0578.1900817
GREAT spot for unique and trendy leather bags, purses, wallets, etc!
Aloe&Wolf
Via del Porrione, 23, 53100 Siena SI, Italy
+39 392 181 9681
Almost all designer vintage!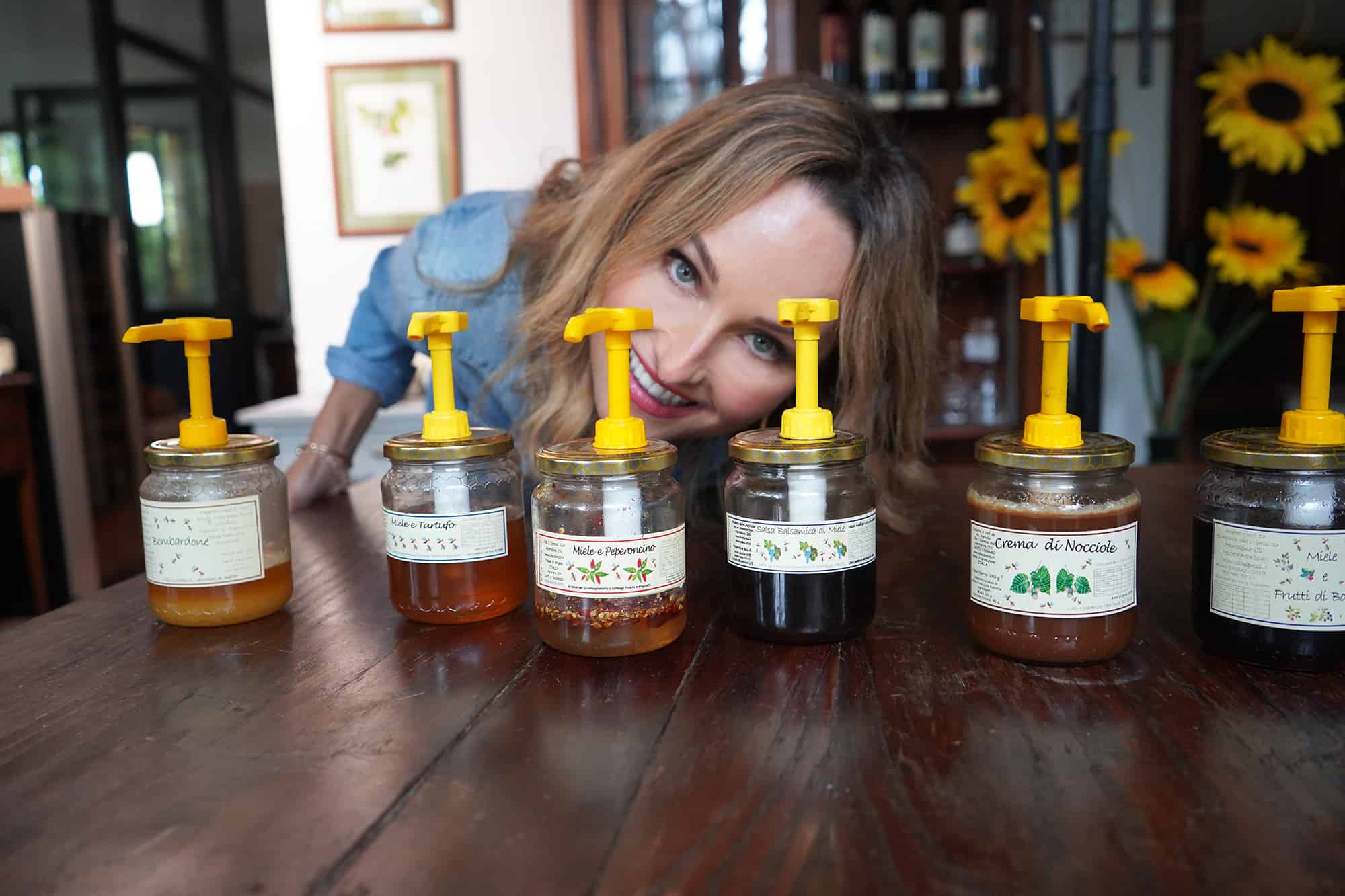 Podere il Casale
Podere Casale 64, 53026, Pienza, Italy
+39 0578 755109
In good weather, there are few experiences in this world more magical than enjoying a glass of local wine, eating the farm's sheep and goat cheese and taking in the stunning views of Val D'orcia. You can even tour the cheese farm with all of the animals, and try all of their raw milk cheeses along the way! 
Villa i Cipressi
Via Bellaria - Loc. Villa i Cipressi - 53024 Montalcino (Siena) Italy
+39 0577 848640
You can tour this estate's beekeeping and local honey, including a tasting of all the different types they produce!