You must be signed in to print this content
Author:
Giada De Laurentiis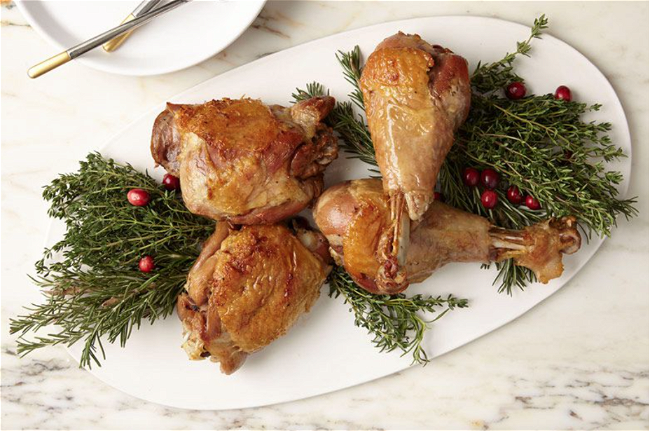 Ingredients
1/4 cup kosher salt
1 tablespoon sugar
1/2 teaspoon cracked black peppercorns
2 bay leaves (crushed)
10 sprigs thyme
2 sprigs rosemary (leaves only, stems discarded)
2 turkey legs (about 2 1/2 pounds)
2 turkey thighs (about 2 1/2 pounds)
4 7-ounce containers duck fat
1 head garlic (top 1/3 cut off and discarded)
Instructions
In a small bowl, mix together the salt, sugar, pepper, bay leaves, thyme sprigs, and rosemary leaves. Place the turkey legs and thighs in a 9 by 13-inch dish. With the tip of a knife, cut 4 slits around each leg and thigh. Sprinkle the salt mixture over all sides of the turkey. Cover with plastic wrap and refrigerate for at least 24 hours or up to 2 days.
Preheat the oven to 250°F. Remove the turkey from the refrigerator 30 minutes before starting to cook. In a large Dutch oven, warm the duck fat and head of garlic over medium heat. Meanwhile, rinse the turkey well to remove the excess salt mixture. Dry very well on paper towels.
Carefully add the turkey to the warmed duck fat. The fat should cover the meat. Allow the heat to recover. When you see the first bubble come to the surface of the oil, cover the pan and place in the preheated oven for about 3 1/2 hours or until the meat is extremely soft and tender. Allow to cool to room temperature. Store the confit in the fat in the refrigerator until ready to use or up to a month.
Preheat the oven to 425°F. When ready to serve, remove the turkey from the fat and scrape off as much excess fat as possible. Place the turkey on a rimmed baking sheet with 2 tablespoons of the duck fat and place in the oven for about 40 minutes, rotating every 15 minutes to crisp the skin evenly.
Nutrition
Nutrition
Nutrition Serving Size

6
Amount/Serving
% Daily Value
Carbs

7 grams

Protein

107 grams

Fat

169 grams

Saturated Fat

55 grams

Cholestrol

519 milligrams

Sodium

1613 milligrams

Fiber

1 grams

Sugar

2 grams