You must be signed in to print this content
Author:
Giada De Laurentiis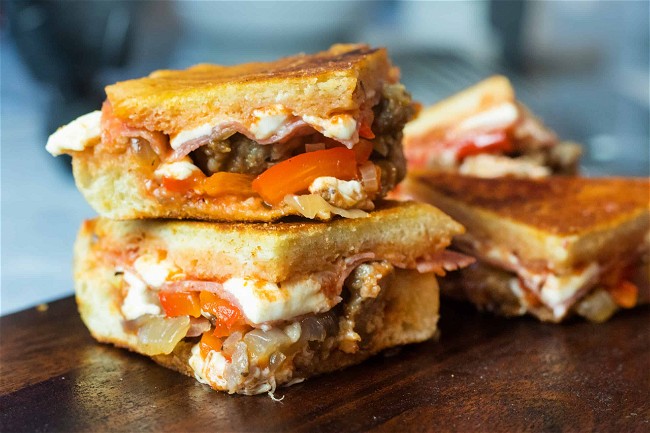 Ingredients
1 pound sweet Italian sausage (casing removed)
1/2 red onion (sliced thin)
1 red bell pepper (seeded and thinly sliced)
1/2 teaspoon kosher salt
4 ciabatta rolls (about 5 inches each)
1 pound fresh mozzarella cheese (sliced and torn)
8 large thin slices peperoni (such as Applegate)
Instructions
This recipe originated on Giada Entertains. Episode: Football Picnic.
Heat a medium skillet over medium high heat. Add 2 tablespoons oil and the sausage. Cook stirring often, for about 5 minutes, breaking apart the sausage with the back of a spoon. When the sausage is cooked, add the onion, red pepper and salt. Continue to cook stirring often until the peppers and onions are soft and the sausage is beginning to brown, another 5 minutes. Set aside to cool slightly.
Halve a ciabatta roll horizontally and scoop out some of the bread from the insides leaving a shell for the toppings. Divide 1/4 cup sauce on each half and tear a quarter of mozzarella over the sauce. Place 2 slices of the pepperoni on the top half and fill the bottom half with 1/4 of the sausage mixture. Sprinkle the sausage with 1/4 cup of the parmesan cheese. Sandwich together and continue with the remaining ingredients.
Heat a large skillet over medium heat. Add 2 tablespoons olive oil to the pan and place two of the sandwiches top side down in the pan. Use a small pan to place on top and press down gently to flatten slightly. Cook for 3 to 4 minutes or until golden brown and crispy. Flip the sandwiches and return the pan to the top, again pressing gently. Cook an additional 3 minutes or until the bread is golden and the cheese is melted. Continue with the remaining sandwiches. Allow to cool to room temperature and then place in the refrigerator to cool completely.
Before serving, slice into wedges like you would pizza.
Nutrition
Amount/Serving
% Daily Value
Carbs

25 grams

Protein

39 grams

Fat

52 grams

Saturated Fat

23 grams

Cholesterol

135 milligrams

Sodium

1920 milligrams

Fiber

2 grams

Sugar

4 grams