Pear And Cheese Fiocchetti
You must be signed in to print this content
Pear And Cheese Fiocchetti
Category
Main Course pasta Side Dish
Author:
The Giadzy Kitchen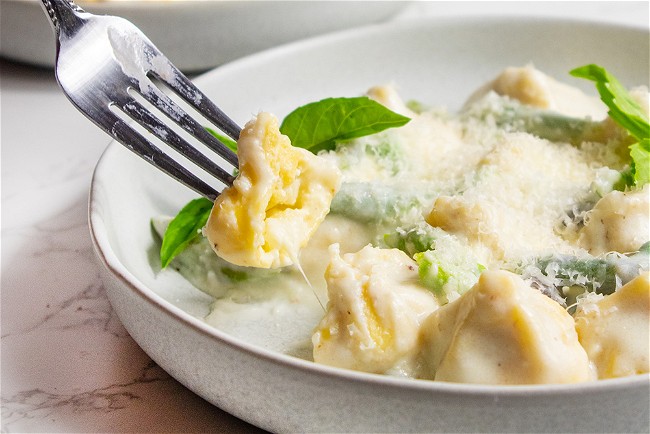 Ingredients
For The Ravioli Dough:

1 batch of Giada's fresh pasta dough

For The Filling:

1 cup whole milk ricotta cheese, (drained)
1/2 cup grated Pecorino Romano
1 large ripe pear, (peeled and cut into small ¼ inch dices)
1 large egg
1/2 teaspoon kosher salt

For The Sauce:

5 tablespoons unsalted butter
4 cups whole milk, (at room temperature)
Pinch freshly grated nutmeg
1 teaspoon kosher salt
1 bunch thin asparagus, (about 25 spears, ends trimmed, and cut into 1-inch slices)
Fresh basil, (chopped, for topping)
Freshly grated Parmigiano Reggiano, (for topping, if desired)
Instructions
Tap here for instructions to make Giada's fresh pasta dough.
For the filling, in a medium bowl mix together the ricotta, Pecorino, Parmigiano Reggiano, diced pear, egg and salt.
For the pasta dough, prepare a sheet tray by dusting it with ¼ cup semolina flour. This is where the assembled ravioli will go before cooking. Prepare a small bowl with water for your work station.
Following the instructions for Giada's fresh pasta dough, roll the dough out into thin sheets using your preferred method.
Cut the first rolled-out dough sheet in half – they should be about 1 foot long each. Using a small round cookie cutter around 2 ½ inches, or the rim of a glass, cut out circles from the sheet of dough. Set aside on the sheet tray with semolina flour. Repeat with all of the dough, using the scraps as well.
Dipping your fingertips into the water in your small bowl, very lightly dab around the circles of dough. Place a heaping teaspoon of filling in the middle of the circle. Gather the edges of the circle up to form a pouch, trying to not have too much empty air in the filling, and pinch together to seal. Set your assembled fiocchetti on the sheet tray.
Bring a large pot of water to a boil. Season with salt.
For the sauce, in a large skillet or braiser, melt 5 tablespoons of butter over medium heat. When the butter has completely melted, add the flour and whisk until smooth, about 2 minutes. Gradually add the milk, whisking constantly to prevent any lumps from forming. Continue to simmer and whisk over medium heat until the sauce is thick, smooth and creamy, about 5 minutes. Set the heat to low and add the pieces of asparagus, stirring occasionally to cook through. Taste the sauce and add more salt if necessary.
While the sauce simmers, cook the fiocchetti in the boiling water. In batches, add them to the boiling water and simmer until they float and are cooked through, about 3 minutes. Remove with a spider or slotted spoon and place directly into the sauce. Gently stir to coat, ladeling in any pasta water if needed to thin the sauce. Serve with fresh basil and more Parmesan, if desired.
Nutrition
Amount/Serving
% Daily Value
Carbs

59 grams

Protein

24 grams

Fat

45 grams

Saturated Fat

22 grams

Trans Fat

1 grams

Cholesterol

111 milligrams

Sodium

1235 milligrams

Fiber

5 grams

Sugar

12 grams

Unsaturated Fat

19 grams