You must be signed in to print this content
Author:
Giada De Laurentiis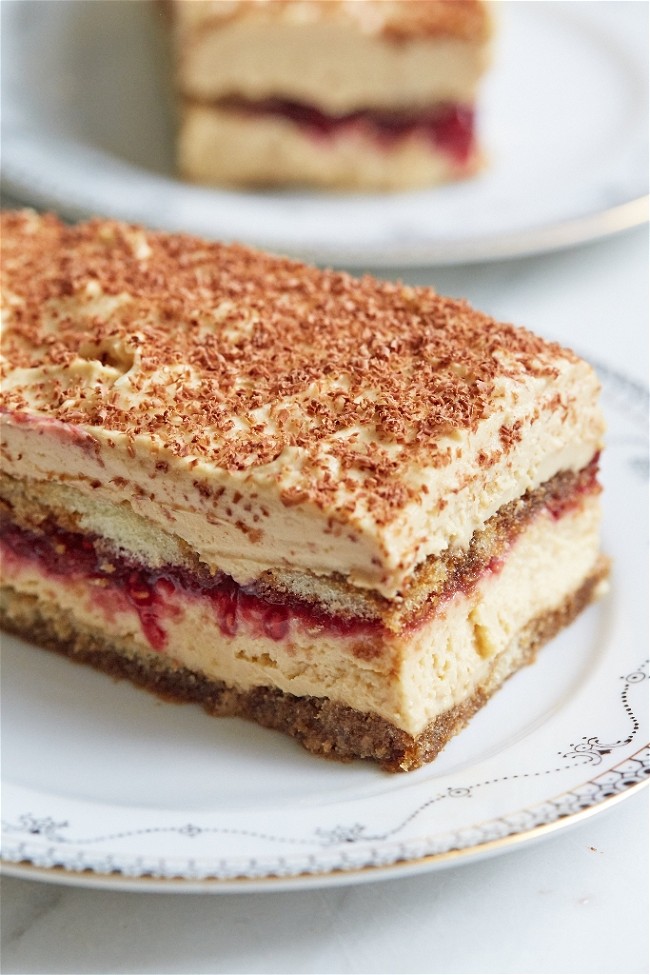 Ingredients
2 tablespoons instant espresso powder
2 egg yolks
2 tablespoons bourbon
2 tablespoons sugar
1 cup mascarpone cheese
½ teaspoon pure vanilla extract
½ cup creamy peanut butter
¼ teaspoon kosher salt
½ cup heavy cream (whipped to soft peaks)
18 ladyfingers
⅛ cup raspberry jam (whisked to loosen slightly)
½ ounce dark chocolate
Instructions
A grown-up dessert gets a playful twist with the addition of peanut butter and raspberry jam.
In a shallow bowl, combine 1 cup hot water and the instant espresso powder and stir until dissolved. Set aside. Bring a saucepan with 2 inches of water to a gentle simmer over medium heat.
In a bowl that fits comfortably over a pan without touching the water, add the egg yolks, bourbon, and sugar. Whisk until combined. Place the bowl over the simmering water and whisk constantly for about 8 minutes or until the mixture is tripled in size and appears ribbon-like when you raise the whisk and drizzle it on itself (you can also use a handheld mixer for this step on medium speed).
Remove the bowl from the heat and continue to whisk for an additional minute to start to cool it down. Add the mascarpone, vanilla, peanut butter, and salt and continue to whisk until well incorporated. When the mixture is smooth and slightly cooled, switch to a rubber spatula and gently fold in the whipped cream. Set aside.
One at a time, dip the ladyfingers into the espresso and lay them in the bottom of an 8 by 8-inch baking dish, breaking them if needed to cover the bottom evenly. Do not let them sit and soak in the espresso, just a quick dip. Spoon half of the peanut butter mixture over the ladyfingers and spread evenly with an offset spatula.
Pour the jam over the peanut butter mixture and spread evenly. Repeat the layering with the remaining ladyfingers and the mixture. Using a microplane, grate the chocolate evenly over the top. Cover with plastic wrap and refrigerate for at least 4 hours. Remove from the refrigerator 10 minutes before serving.
Nutrition
Amount/Serving
% Daily Value
Carbs

28 grams

Protein

10 grams

Fat

30 grams

Saturated Fat

15 grams

Cholesterol

152 milligrams

Sodium

209 milligrams

Fiber

1 grams

Sugar

8 grams