Baby Back Ribs with Spicy Plum Barbecue Sauce
You must be signed in to print this content
Baby Back Ribs with Spicy Plum Barbecue Sauce
Author:
Giada De Laurentiis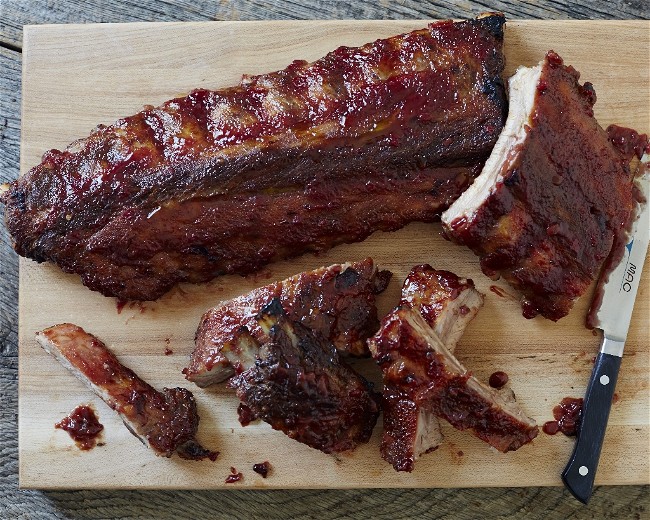 Ingredients
2 racks (about 5 pounds of pork baby back ribs, membrane removed)
2 tablespoons light brown sugar
2 teaspoons paprika
1 tablespoon kosher salt

BBQ Sauce

1 tablespoon extra-virgin olive oil
1 small onion (diced)
1 garlic clove (chopped)
1- to 2- inch piece of ginger (peeled and chopped)
4 plums (about 1 pound, pitted and chopped)
⅛ teaspoon ground allspice
¾ cup apple cider vinegar
½ cup light brown sugar
½ teaspoon kosher salt
1 habanero chili pepper (halved)
Instructions
Nothing like the supersweet plum sauce served in Chinese restaurants, this plum-based basting sauce is spicy-sweet and full of alluring flavors. Habanero chiles areextremely hot, so handle with caution and wash your hands well after touching them.
Preheat the oven to 300°F. Place the spare ribs on two sheets of aluminum foil large enough to enclose them. In a small bowl, mix together the brown sugar, paprika, and salt.
Rub the ribs evenly all over with the mixture. Bring the foil up and around the ribs and crimp closed. Place on a rimmed baking sheet and bake for about 3 hours, or until tender but not falling apart. Remove them from the oven and allow to cool slightly, about 30 minutes.
While the ribs cook, heat a medium saucepan over medium heat. Add the oil, onion, garlic, and ginger to the pan and cook, stirring often with a wooden spoon, until the onions are soft and fragrant, about 4 minutes. Add the plums and allspice and stir to coat with the flavors. Add the vinegar, sugar, salt, and habanero, and stir to combine.
Bring to a simmer and reduce the heat to low to maintain a gentle simmer. Simmer for about 20 minutes or until the plums are very soft. Discard the habanero. Using an immersion blender, puree the sauce until it is as smooth or as chunky as you like.
Preheat a grill to medium, and brush the ribs all over with the BBQ sauce (See Cook's Note). Oil the grill and place the ribs on it meat-side down. Cook until lightly charred. Flip the ribs and grill on the other side. Brush both sides with more sauce and continue to cook until the sauce is thick, sticky, and golden brown. Serve with more sauce on the side if desired.
Cook's Note: Alternatively, you can brown the ribs under the broiler on high. Keep brushing the ribs every 4 minutes until the sauce is thick and sticky.
Nutrition
Amount/Serving
% Daily Value
Carbs

29 grams

Protein

25 grams

Fat

59 grams

Saturated Fat

25 grams

Cholesterol

126 milligrams

Sodium

1458 milligrams

Fiber

1 grams

Sugar

27 grams