You must be signed in to print this content
Author:
Giada De Laurentiis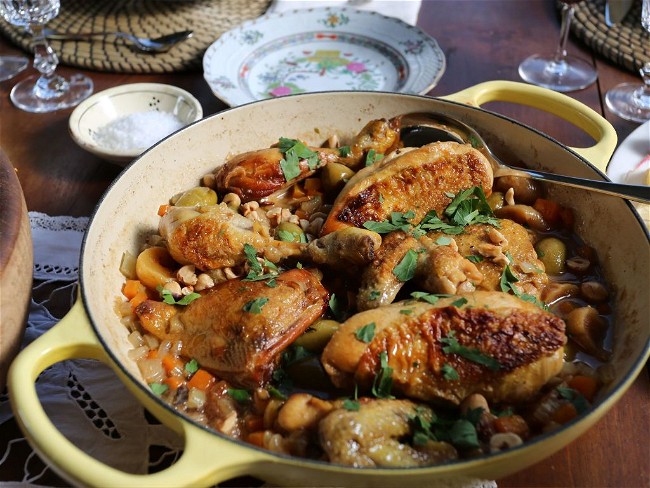 Ingredients
1 4 pound chicken, cut into 8 pieces
1 onion (chopped)
2 carrots (peeled and chopped)
2 celery stalks (chopped)
3 tablespoons hazelnut liquor
2 cups low sodium chicken broth
1/2 cup dried figs (quartered)
1/4 cup Italian parsley (chopped)
Instructions
As seen on: Giada In Italy, Episode 7. Family Feast.
Heat a 5 1/2 quart braising pan over medium high heat. Add the oil to the pan and continue to heat. Using paper towel, dry the chicken pieces well. Season all sides of the chicken with the salt. Add the chicken to the hot pan, skin side down, and cook for about 4 minutes or until the skin is golden brown and the chicken releases easily from the pan. Flip the chicken and sear the other side for an additional 4 minutes or until nicely browned. Remove the chicken to a plate and set aside.
To the hot pan add the onions, carrots and celery. Cook, stirring often with a wooden spoon, for about 3 minutes or until the vegetables are fragrant and beginning to soften. Add the hazelnut liquor and balsamic to the pan and scrape up all the brown bits that may have stuck to the bottom of the pan. Simmer until the liquid is reduced by half. Stir in the chicken broth, olives, figs and oregano. Nestle the chicken pieces into the liquid skin side down, and cover with a lid. Simmer for 30 minutes flipping the chicken half way through.
Remove the braised chicken to a clean plater to rest and simmer the sauce for an additional 5 minutes to reduce slightly. Pour the sauce over the chicken and sprinkle with the hazelnuts and parsley.