You must be signed in to print this content
Author:
Giada De Laurentiis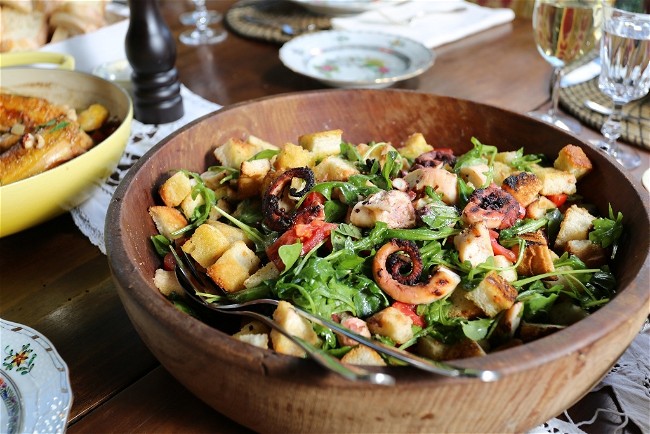 Ingredients
1 750 ml bottle red wine, such as chianti
2 cups water (plus more if needed)
1/4 teaspoon whole cloves
2 cloves garlic (peeled and smashed)
1 shallot (peeled and cut in half)
2 carrots (peeled and cut in half)
1 3 to 4 pound octopus, cleaned and beak removed
1 tablespoon olive oil
1/4 teaspoon kosher salt
4 cups diced (1 inch stale bread, about 2 thick slices)
1/4 cup olive oil
1/4 teaspoon plus 1/8 teasoon kosher salt
1/2 cup freshly grated parmesan cheese
2 cup cherry tomatoes (halved)
1/2 cup pitted kalamata olives (halved)
3 cups baby arugula
1/2 cup basil leaves
1 1/2 tablespoons freshly squeezed lemon juice
1/3 cup extra virgin olive oil
Instructions
Combine the wine, water, cloves, garlic, shallot and carrots in a medium dutch oven or sauce pan. Place over medium high heat and bring to a simmer. Meanwhile, rinse the octopus. Remove the head just above the eyes and then make a cut just below the eyes to remove them completely. Dip the ends of the tentacles in the simmering liquid for a few seconds. Remove and then dip them again. Repeat this process for a total of 3 times. This will curl the tips for a very pretty result. Submerge the tentacles and the head in the simmering wine mixture. Add more water if need to cover the octopus. Reduce the heat to low and simmer gently, covered for about 1 hour 45 minutes or until the tip of a pairing knife inserts into the thickest part without much resistance. Allow the octopus to cool for 30 minutes in the liquid before removing to plate to cool completely. When cool enough to handle, use a piece of paper towel to wipe the skin away. Cut the base into individual legs. Preheat a grill pan over medium high heat. Drizzle the legs and head with the olive oil and salt and place on the preheated grill. Char for about 4 minutes per side or until dark brown in a few spots. Set aside to cool.
Preheat the oven for 400 degrees F.
In a medium bowl, mix together the bread cubes, olive oil, 1/4 teaspoon salt and cheese. Mix well to coat. Scatter the cubes on a baking sheet and bake for about 12 minutes or until golden brown and crispy. Add the toasted cubes back to the bowl along with the tomatoes, olives and arugula. Tear in the basil. Drizzle the lemon juice and olive oil around the edge of the bowl and toss well to marry all the ingredients. Chop the octopus into bite sized pieces and add that to the salad along with the remaining salt. Toss one more time and serve.
Nutrition
Nutrition
Nutrition Serving Size

4
Amount/Serving
% Daily Value
Carbs

26 grams

Protein

63 grams

Fat

61 grams

Saturated Fat

15 grams

Cholestrol

231 milligrams

Sodium

1415 milligrams

Fiber

6 grams

Sugar

13 grams