Green Chicken Finger Sandwiches
You must be signed in to print this content
Green Chicken Finger Sandwiches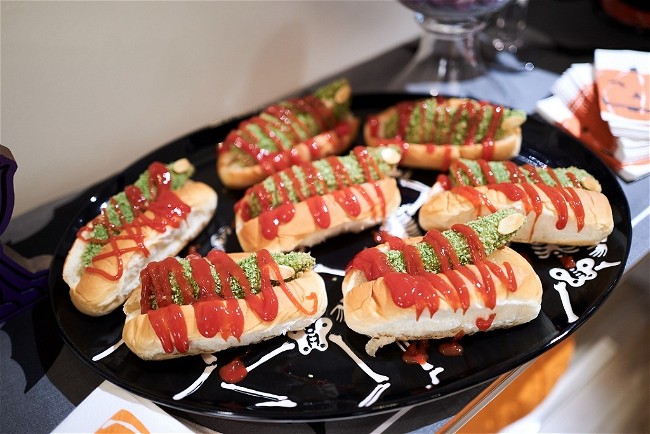 Ingredients
1 1/2 cups panko breadcrumbs
2 teaspoons matcha powder
1/2 cup flour
1 teaspoon salt (divided)
2 eggs (beaten)
1 pound chicken tenders (about 12 tenders)
1/4 cup sliced raw almonds
12 to p sliced hot dog buns
ketchup as 'blood'
Instructions
As seen on: Giada's Holiday Handbook, Season 2, Episode 1. Halloween Open House.
Preheat the oven to 400 degrees F. Line a straight sided baking sheet with parchment paper.
In a pie plate or shallow bowl, mix together the panko and match powder. In a separate bowl, mix the flour and 1/2 teaspoon salt. Put the beaten eggs in a third shallow bowl.
Working with one tender at a time, dredge the chicken in the seasoned flour, then the egg followed by the matcha panko. Place the tenders on the prepared baking sheet. Brush an almond slice with a little egg wash and place it on the tip of the "finger. Repeat with the remaining tenders.
Bake the chicken fingers for about 12 to 15 minutes or until lightly golden and cooked through. Sprinkle with the remaining salt. Place 1 tender in each bun and squirt the ketchup over the fingers.